Ben Simmons Reignites NBA's Emoji Summer with Tweet to LeBron
Ben Simmons tweeted a cryptic message to LeBron James and now everyone is losing their minds.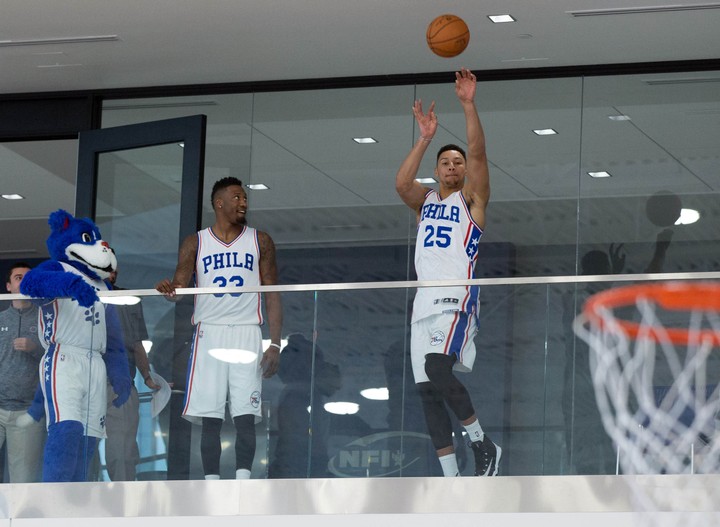 Shoot your shot, young fella. Bill Streicher-USA TODAY Sports
Two summers ago, DeAndre Jordan was at the center of a league-wide emoji blitz that had the sports Twitter world all, uh, atwitter. If you recall, the Clippers and the Mavericks were in a race to sign the then-free agent Jordan, who was having some misgivings about jumping ship to Dallas. Current and potentially new teammates began tweeting emojis as if they, too, were racing to get Jordan. Chandler Parsons (accidentally, he later said) kicked it off with a plane emoji, then J.J. Redick tweeted a car, Blake Griffin a plane, car, and helicopter. You get the idea; they were all trying to get to DeAndre. It was great fun.

Now Redick's new teammate on the Sixers, Ben Simmons, has done it again, with a strange tweet directed LeBron James.
After a long Process, the Sixers appear poised to become the newest NBA darlings, or at the very least to no longer reside at the bottom of the Eastern Conference trash can. After acquiring the No. 1 pick in this year's draft from the Celtics to take Markelle Fultz, picking up the aforementioned Redick in free agency, and hopefully bringing a healthy Joel Embiid and Simmons back into the fold, the Sixers look promising. They're by no means a finished product—we don't even know what this unfinished product is going to look like, really. They could use a few other pieces....or just one. The one.
What makes this tweet so curious is the current state of the Cleveland Cavaliers. They lost to the Golden State Warriors in the Finals for the second time in three years. They fired their widely respected general manager three days before the draft. The East is still well behind the West, but several teams in the conference have gotten better and Cleveland...has not. And the kicker: LeBron James can become a free agent after next season. So, naturally, Philly is feeling some feelings.
You get the picture.
Is this crazy? Maybe. Maybe not. Ben Simmons is represented by Klutch Sports, an agency owned by LeBron's buddy Rich Paul. They've been spotted together a bunch this season. Depending on your point of view, this either stokes the emoji theory or explains it away. And then there's this, from NJ Advanced Media:
The Sixers--after insisting on one-year commitments to free agents this offseason--can have max cap space to pursue a free agent next summer. With so much of the league up against the luxury tax, few suitors will be able to offer LeBron a soon-to-be title contender and a max contract.
Couple this with LeBron's reported increasing frustration with owner Dan Gilbert over the off-season fiasco and it's not totally inconceivable that LeBron takes his talents to South Street next summer.
(I'm already sorry for writing that.)