Kyrie Irving has Redefined Isolation Basketball
Going one-on-one isn't an efficient strategy, but Cleveland's point guard is re-writing the rulebook.
Photo by Ken Blaze - USA TODAY Sports
Since his rookie year in 2011, no basketball player has been more feared, or successful, one-on-one than Kyrie Irving.

Irving's bag of tricks is bottomless. He gets where he wants, when he wants, with a level of precision, speed, and timing that's borderline unnecessary, slashing through defenses like a chainsaw through butter. His 42-point performance in Game 4 of the Eastern Conference Finals was a masterful sample of how dominant one player can be.

"I've always talked about he has no offensive weaknesses," said Cleveland Cavaliers head coach Ty Lue. "He finishes with his left, floaters with his left, floaters with his right, step-backs, threes, off the dribble stuff. So, offensively he has the complete package. That's why he's so hard to stop."

In LeBron James' shadow, Irving quietly slapped together the best campaign of his career this season, averaging 25.2 points with shooting splits that nearly qualified for the 50/40/90 club. Even more impressive than the efficiency is the degree of difficulty at which he gets his. James is an obvious focal point for opposing teams, but so much of what makes Irving—as an individual weapon—special isn't dependent on his surroundings.
All that is due to an iso game that may be unlike any the NBA's ever seen. The percentage of Irving's baskets that are unassisted hasn't changed from year to year. It was 68.9 percent as a rookie and 69.6 percent in his sixth season. In between, it hasn't fluctuated more than two percent in either direction.

Watch his early years and it's remarkable how Irving at 21 looks like Irving at 25. The infamous side-step was in his repertoire from day one, alongside the endlessly sleek spin moves and violent jab steps that momentarily Medusa defenders on a nightly basis.
According to Synergy Sports, his percentile ranking in isolation situations each season since he entered the league are: 95th, 94th, 68th, 95th, 80th, 95th. This is freaking ridiculous. What singular trait, in the entire sport, has been more consistent than this? It's uncanny and unstoppable; arguably the most devastating self-reliant force basketball currently knows.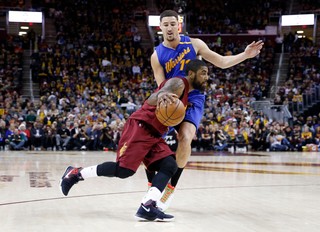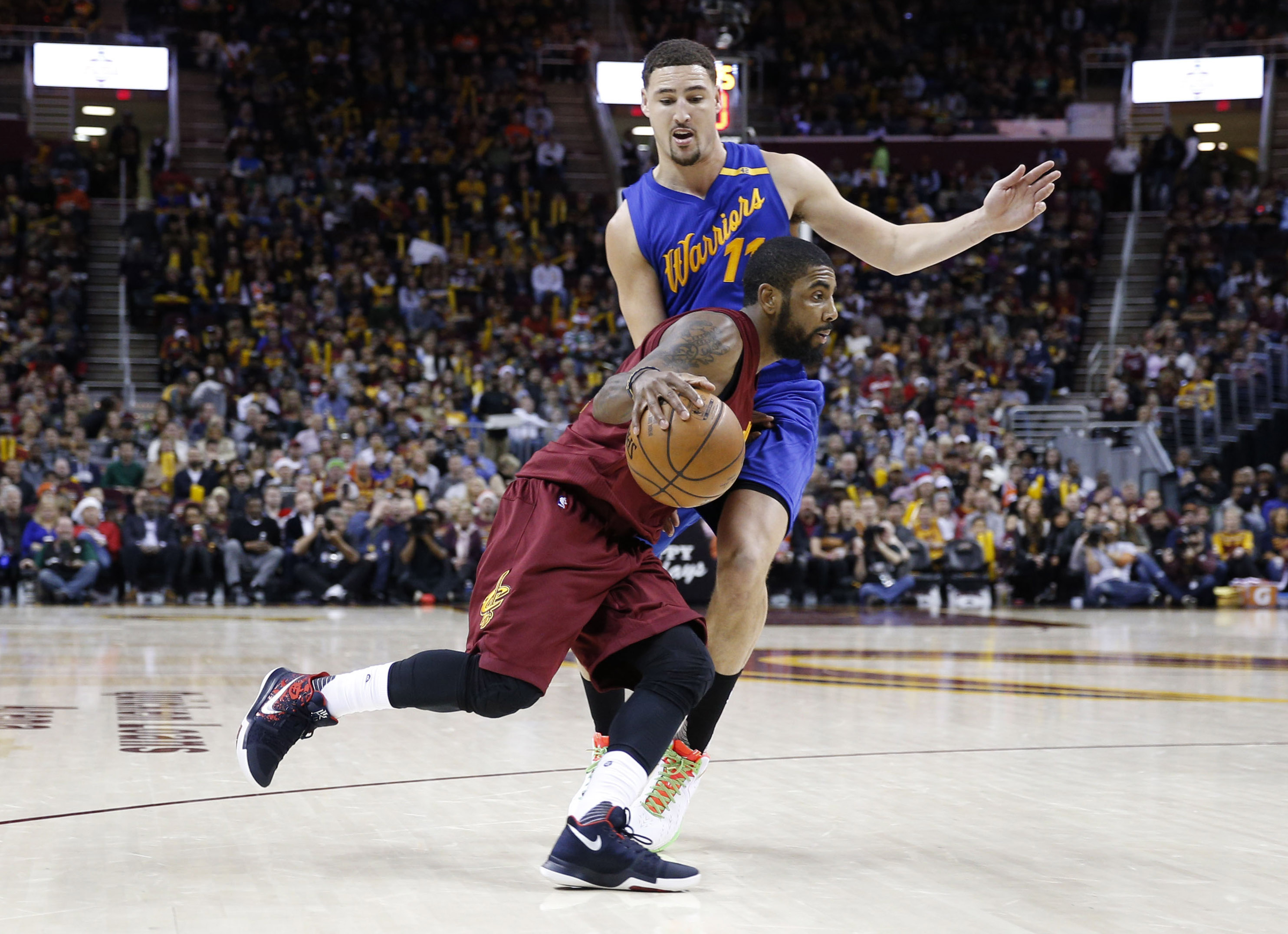 In his second season, only six players isolated more than Irving's 399 times. Only LeBron was more efficient than Irving's 1.02 points per possession. By year four, nobody was better. Irving's adjusted field goal percentage—which accounts for the three-point line—was 52.3 percent in iso-situations. Among all players who logged at least 150 possessions, the next highest was Chris Paul's 47.3 percent.

"He was born to play one-on-one. That's what he do," James said. "I think what he's improved more upon is the feel of the game, taking the time and score and possessions and things of that nature, and grown as a point guard and grown as a leader. But the kid was born to play one-on-one. You have these great one-on-one players in our league history, and he's up there."

In recent years, hot potato systems have prevailed above stagnation. Smart, timely passing isn't as popular as the never-ending obsession with three pointers, but it's widely viewed on the same level—or near it—as a critical ingredient for pro-efficiency offense. There are dozens of reasons why ball movement is beneficial (equal opportunity makes everyone happy!), but the most transparent occurs when side-to-side distribution forces a half-court defense to rotate multiple times inside a 24-second shot clock, increasing the chance one link in the chain makes a mistake and surrenders an open shot or clears a driving/passing lane.

The Cavaliers have gone against the grain a bit since LeBron returned three years ago. They ranked 20th in assist rate and 26th in passes per game this season. That's fine because James' mere presence disallows inefficiency.

But for as awesome as LeBron might be, Irving is the reason they play this way. He's the 25-year-old savior for however many "Hero Ball" fundamentalists are still out there. Contemporary NBA parlance frowns at that phrase, but scorers who don't need a screen and can fill it up from anywhere on the court will always be useful. Most possessions that end in isolation are predictable, but they're not when Irving has the ball.

While the defense is forced to respect his four teammates, everyone else knows when Irving wants to score, and nothing can be done to stop him. Get too close and he'll blow past for a layup, floater, or mid-range shot (the latter being another quality in his game that's demonized by modern basketball observers, but Irving's accuracy from this area more than justifies his high volume). Provide too much cushion and he'll hop back for an open three.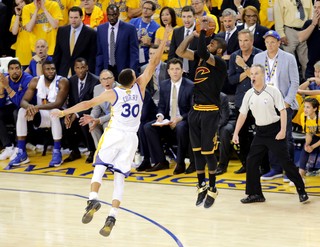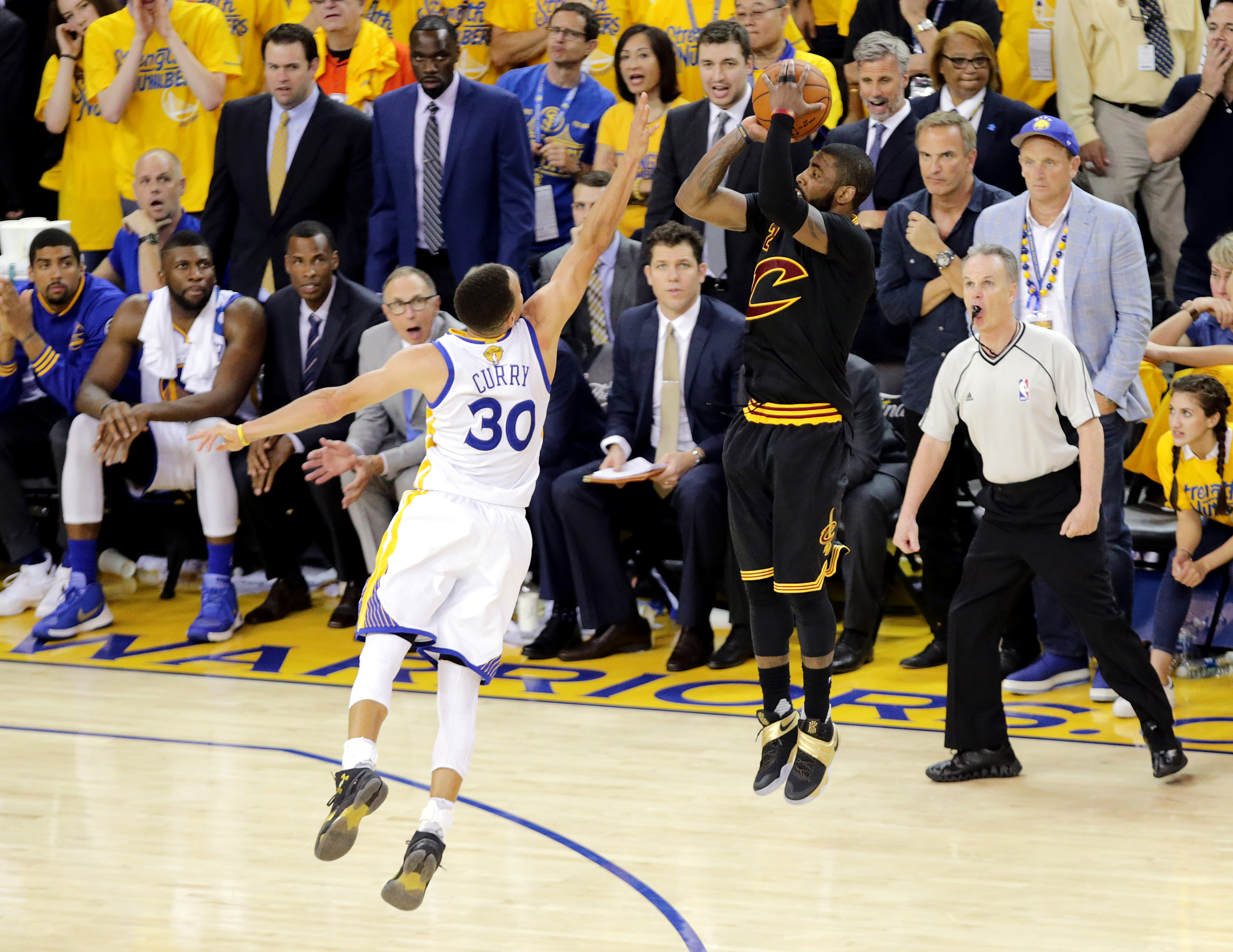 Irving's handles are hypnotic. There are no combinations he can't pull off in any situation, whether it's a behind-the-back, between-the-legs crossover or a semi-hesitation inside out that turns his defender into a toll booth operator. An absurd 35 percent of all of Irving's shots (496 of them!) came after he took at least seven dribbles this season. He shot 42.5 percent beyond the arc and 50.8 percent inside it.

Irving's game was validated on the sport's biggest stage last year. He isolated 10 times in a 41-point Game 5 in the NBA Finals against the Warriors. When Lue called for J.R. Smith to set a ball screen that forced a switch and isolated Steph Curry on Irving Island, he side-stepped from the right wing and nailed one of the most meaningful shots in league history.
99 percent of players in the NBA couldn't sustain this degree of individual excellence, but Irving's iso-game was more reliable than any set play ever could be. To this day, no defense has a good answer for him.