Ric Flair Spent Ten Days on Life Support After Drinking 20 Drinks a Day
"Ten days on life support, it'll wake you up, man," Flair said.​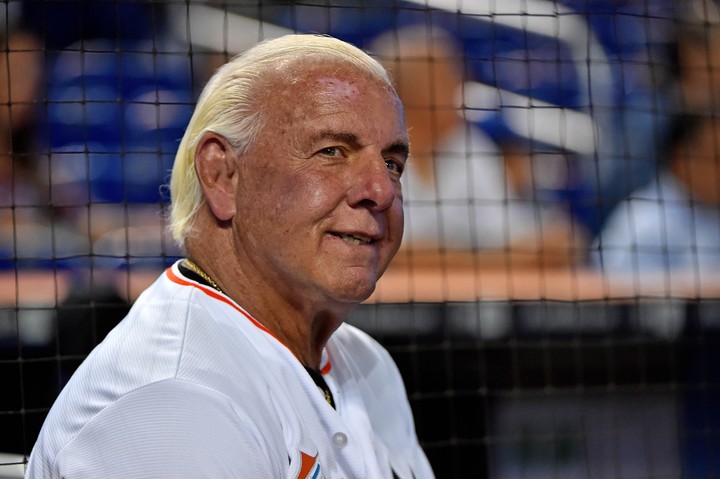 Photo by Jasen Vinlove—USA TODAY Sports
The wrestling legend Ric Flair, aka "Nature Boy," is known for his flamboyant outfits and signature catchphrase, "Wooo!" But recently, the 68-year-old wrestler was caught in a battle with alcoholism—and it almost killed him.
On ESPN's Dan Le Batard Show, Flair opened up to the hosts about his recent hospitalization last month, and the reason for his visit:

Flair told Le Batard and co-hosts about his lifestyle of drinking, insisting that he never drank before a fight. He drank a lot after the fights, though. Flair claims that things escalated to the point where he was having around 20 drinks per day.
Flair insinuated that his hospitalization was a culmination of years of drinking. "If you're ready for this... It would be like putting—because I've done all the math and figured it out with my accountant—between 3,700 and 4,000 calories worth of booze, soda or a splash of cranberry, in my body every day. It'd be like 20 drinks a day."
"Ten days on life support, it'll wake you up, man," Flair said.
On August 11, Flair was taken to the hospital by his fiancé, claiming he had an upset stomach, according to ESPN. Just three days later, he was put into a medically-induced coma.
"What I remember was that I couldn't talk, but I could hear people talking about me. Which is even scarier ... My daughters told me that (the doctor) said to go in and say goodbye to your daddy, he's not going to make it."
"They told my kids that everything had shut down—kidney failure, congestive heart failure, everything shut down," said Flair. "The joke was, with the doctors, that the only thing that was alive and kicking, sitting at the bar waiting for me, was my liver."
Flair claimed that he never drank alone, and that the majority of his drinking was centered around his alter ego, which only fanned the flames. But since his near-death experience, he's sworn off booze. He was given a pacemaker, and is currently going through physical therapy to repair his motor skills.
Co-host Sarah Spain asked Flair at one point during the interview, "Can you be Ric Flair and not be drinking and being the life of the party?" To which Flair responded with a simple, "yes."