Rejoice: The New England Patriots Suck
New England is currently tied for second in the AFC East with the Jets—the JETS.
The sports world is going to hell, one dementia-fueled tweet about proper posture at stadiums during a country's theme song at a time. We covet the sanctuary of cell provider dead zones but know in our hearts that peace will never come.
There is good news, though—the New England Patriots, at long last, suck.
The Donald Trump-lovin', cheatin'-ass Patriots with the quarterback that sells magic pajamas and beet salads like a poor man's Dr. Oz have been reduced to rubble after nearly two decades of deflating and videoing. It's wonderful. It should be savored. When the Patriots miss the playoffs this year, the following Monday should be a national holiday everywhere except New England.
Our long national nightmare is over. At least one of them.
You're probably saying, "You sound like a hater." That's because I am. I hate the Patriots. How do you not hate them? If you don't hate them, you're the weird one. Hell, Patriots fans hate the Patriots. They're your rich, racist in-laws that make you uncomfortable at family gatherings but you don't say a word because they help with bills while you're out of work. And you just learned they have three months to live and you have to pretend part of you isn't happy that you will soon no longer have to defend them to your friends.
The Patriots aren't just 2-2; they're a shitty 2-2. They should be 1-3 and trailing the Buffalo Bills and New York Jets in the AFC East. Instead, they're tied with a team that has been actively trying to sabotage their season since the summer. The franchise that was once the NFL's gold standard has been unable to create any distance in the standings between themselves and the Jets, which is embarrassing in most years but particularly so this year.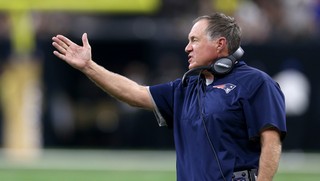 The Patriots should be 0-3 at home but thanks to poor clock management from a coach that lost 29-7 to the Jaguars and a miracle last-minute drive, they are 1-2. Normally, you could chalk this up to small sample size, but when you've hidden microphones in the other team's locker room you should be no worse than 2-2.
We live in a post-Patriots-are-good world. The air smells sweeter. There's something fitting about a team that's happy to be associated with the Trump name collapsing after helping put him in power. It won't be long before Robert Kraft and Bill Belichick declare bankruptcy and have to sell stadium seats and unwashed sleeveless hoodies to pay off creditors. Brady will be in the parking lot hocking game-worn jerseys and Himalayan salt to rubes in Aaron Hernandez jerseys.
How can you not smile when you realize the Patriots are allowing 32 points per game? Holy shit. That's Big 12 football. But look, that number will always be skewed when you allow 42 points against the likes of [rubs eyes, rapidly blinks] Alex Smith? A guy who receives condescending pats on the head when he cracks 200 yards dropped 368 yards on the Patriots in Foxboro. That was our first clue the Patriots were the new Bills.
The Carolina Panthers had 45 points in three games before Cam Newton dropped 33 on them Sunday without Greg Olsen. Newton had seven incompletions and four touchdowns; the AFC East's new overlords — the Bills — held the Panthers to nine points in Carolina. Against the Patriots, Kelvin Benjamin, who could barely walk a few days ago, needed just four catches to get over 100 yards.
The Patriots are allowing 457 yards per game; Rutgers has allowed 364 yards per game. The Patriots are worse than Rutgers. That's math talking, not me. The only D with more holes in the Boston area is that guy Sandra Bullock shot twice in the dick at the end of The Heat.
It's all over, man. Brady doesn't have the drive anymore. He's 40 and cares more about selling an overpriced cookbook that will allow you to "eat clean" or some shit than doing what it takes to win. He's a guy who thinks water prevents sunburns. He [looks up Brady's stats through four games] OK, fine, that 121.5 rating and 8:0 TD:INT ratio looks good now but you know he will derail the season by hiding an injury because he thinks he can cure a concussion by wrapping his head with a MAGA hat and soaking it in TB12 water.
Then again, your completion percentage would be north of 70 percent too if your offensive coordinator's galaxy-brain scheme was Dunk It To James White, Dion Lewis, and Rex Burkhead 10 Times Every Game And Ignore Brandin Cooks. Maybe Brady resents him because "Brandin Cooks" sounds like someone who grills meat and Brady's body violently rejects everything except organic vegetables and quinoa.
Look at the Patriots remaining schedule; how do they get to nine wins? Two games with Buffalo? Two losses. Raiders? Broncos? Steelers? Falcons? Loss, loss, loss, loss. The best-case scenario for this once proud organization is 8-8, and that's assuming Brady's carbohydrate-free body doesn't collapse in November or Rob Gronkowski doesn't jam on his brakes on the Mass Turnpike, jump out of his car, and chase a deer into the woods because "she was sparkly."
The defense isn't getting any better and the offense is bound to hit a wall. And you know Belichick will only be too happy to throw new running back Mike Gillislee under the bus because that dude just got there so he must be the problem. Dummies will call the hit Boston sports talk radio show Sully and The Guinness wondering why Gillislee replaced LeGarrette Blount while mispronouncing both their names during the call.
And this is it for a long time. The Yankees dynasty ended for like 15 minutes before they restocked by throwing money at free agents. The Patriots are old, untalented, injury-prone and playing under a salary cap. The Patriot Way means nothing when you can't doctor footballs or steal signals with impunity and don't have anyone that can cover Devin Funchess. One of the Patriots' slow-ass linebackers should try shouting "THE PATRIOT WAY" as opponents stroll toward the goal line and see if that makes them stop.
Let the light of the Patriots sucking warm your cold and weary existence. Nurture the emotion. Open your heart to the idea of the Patriots losing to Tampa on Thursday because that's what humanity needs more than anything now.