Photo by Justin Ford - USA TODAY Sports
The Outlet Pass: Superstar Kemba, God Mode Horford, and the New Look Knicks
A weekly roundup of observations, questions, and predictions from Michael Pina's NBA notebook.
Photo by Justin Ford - USA TODAY Sports
The first couple weeks of the 2017-18 NBA season have been more fun, unpredictable, and mind-boggling than anyone could've guessed. After Gordon Hayward's injury, the Boston Celtics look like they'll never lose again, Aaron Gordon appears to be a budding All-Star, and Cleveland Cavaliers general manager Koby Altman should probably consider blowing everything up and starting all over (kidding!).
Seriously, though, the season is quickly shaping into an entertaining adventure nobody saw coming: an ongoing drama between belief and skepticism. Between the Little Engine That Could and Small Sample Size Mountain. Let's take a closer look.
---
1. Chandler Parsons Looks (Relatively) Phenomenal
Heading into this season, expectations surrounding Chandler Parsons—at 29, post-several significant knee surgeries, after a year in which no player in the entire league (except, um, his own teammate Andrew Harrison) shot the ball worse—were lower than they will be for Netflix's inevitable rollout of Stranger Things 7. But instead of hobbling around as a $23 million ball mover, Parsons is one of the most efficient players in the entire league—last night's 0-for-4 outing against the Orlando Magic notwithstanding—and possesses its lowest defensive rating.
(When he's on the court, Memphis performs like a 79-win team! When he's off, only 29.)
Parsons isn't blowing by defenders (unless they're named "Frank Kaminsky"), but has finally rediscovered some confidence in his shot after starting the season with a petrified look on his face every time someone passed him the ball. He's averaging more points per 36 minutes than ever, and has spent nearly all his time at the four (a smart, new development that's partly due to JaMychal Green's ankle injury).
Parsons recorded two dunks in his first 100 minutes after a grand total of three in 674 minutes last season. On one play against the Charlotte Hornets, he grabbed a defensive rebound, leisurely dribbled to the top of the arc, and launched an open three. It clanged off the front iron, but that's still an encouraging level of comfort to see from a guy who was booed by his own fanbase a couple weeks ago.
What does all this mean for the Memphis Grizzlies? Parsons has only logged 19 minutes beside Mike Conley and Marc Gasol, and in that time they were outscored by 14.2 points per 100 possessions. But if they can gel some on an upcoming five-game road trip, and Parsons is able to sustain some of his efficiency in a larger role without suffering any health-related setbacks, there's a very good chance this team can not only qualify for the playoffs, but make some genuine noise once they're there.
2. Big Men and Closeouts
This might seem obvious, but with even more traditional centers stepping behind the three-point line this year, the guys asked to stop them are also drifting towards the perimeter more than they used to. The following qualifies as anecdotal evidence within a small sample size, but according to NBA.com Dwight Howard is contesting 2.7 threes per game this season, up from 1.5 last year. Marc Gasol is at 3.7 three-point contests, and last year he averaged 1.8. Steven Adams contested 2.7 threes last year and now he's at 3.6.
Again, these numbers are circumstantial—reliant on minutes, opponents, and scheme in a tiny sample size—and should be read with a grain of salt. Some centers (like Rudy Gobert and DeMarcus Cousins) haven't seen any uptick at all. But what matters here is the reminder that as NBA offenses continue to evolve, individual defenders are being forced to need to sharpen tools they barely used to need.
Centers who bite at Joel Embiid's pump fake, or wildly race out at Brook Lopez with no plan other than to run him off the line, put pressure on help defenders who're forced to either foul, take a very painful charge, or desert their own assignment and surrender an open look elsewhere.
Sprinting to a dead stop and then trying to laterally stick with a ball-handler is incredibly difficult, but in today's NBA this is what once-plodding seven-footers have to do if they want to stay on the floor.
3. Apologies to Jakob Poeltl
I don't think my opinion on a prospect has ever shifted faster than it has with Jakob Poeltl. It was unclear watching him last year how a seven-footer who can't shoot and doesn't possess leap-off-the-screen athleticism could carve out a meaningful role on a winning team.
This opinion was bad. Poeltl is awesome. Not only is he a putback monster who can control the offensive glass against the right matchup (Toronto's offensive rebound rate is 9.3 percent higher with him in the game), but the 22-year-old has also proven to be an agile pick-and-roll finisher, with touch and strength around the rim. His defense is phenomenal, too, particularly when switching out on the perimeter. Poeltl keeps one hand high to bother the shooter's vision, swivels his hips, and slides step for step.
This is valuable, but thanks to Jonas Valanciunas and Bebe Nogueira, Poeltl's playing time isn't as high as his skills suggest it should be.
4. Philly's Expanding Playbook
It's oh so very early, but according to Synergy Sports, the Philadelphia 76ers boast the NBA's most efficient offense after a timeout. This is a massive leap from last year, when, well, they came in dead last, averaging a measly 0.819 points per possession. Some of this is thanks to Brett Brown's willingness to experiment with the most talented and complementary roster he's ever had, and some is just because said talent is able to savage defenses that aren't as focused as they should be.
Ben Simmons is as perceptive as he is physically imposing; the 21-year-old has already figured out how to make opponents pay when they don't execute as tightly as they should (or when they're simply unable to squeeze the ball out of his hands).
After an Iverson cut towards the left wing, Simmons attacks away from the screen once he notices that Dallas Mavericks big Dwight Powell is hugged up on Amir Johnson instead of in position to ice the pick-and-roll.
The next play starts the same, with Simmons once again opening things up by cutting across the elbow. But instead of Johnson setting a screen, Joel Embiid posts up on the left block while three other Sixers (who're all respectable outside threats) clear out to the weakside. Trevor Ariza isn't in position to force Simmons towards the sideline, so the phenom behaves like a phenom and instead plows into the middle towards an open lane.
These two positive results come off action that isn't especially creative. But Brown is smart enough to realize that sometimes all he has to do is get out of the way. Wind up your franchise player, point him towards a simple two-man action, then let him wreak some havoc. Simmons's ability to read and react at warp speed is one of the many unteachable gifts he already has, and the scheme that can slow him down might not currently exist.
5. Is Ricky Rubio Finally Evolving?
Watch what happens when a defense goes out of its way to prevent Rubio from shooting the ball.
As he spins middle off Gobert's screen, Brandon Ingram leaves Joe Ingles (you know, the guy who made 44.1 percent of his threes last season and is even more accurate this year) to stunt and force a pass. The ball is eventually swung to the opposite corner, where Rodney Hood drills an open look.
This is probably more due to an antsy 20-year-old trying to make a play than a tactical decision from Lakers head coach Luke Walton, but it hints at a reality many thought we'd never see. Rubio is making shots. What's even more impressive than him making 38 percent of his threes (and a completely unsustainable 54 percent of his long twos) is a newfound bravery attached to his shot selection.
Rubio's three-point rate is currently 16.7 percent higher than his career average. Above-the-break treys are still all over the place and he still can't finish at the rim, but a willingness to fire away could change how defenses treat him over the course of the season. Off reputation alone, Rubio's gravity won't ever sniff most of his contemporaries, but an ability to make defenders pay every now and again is significant.
(Also, he has the best hair in the league.)
On Wednesday, Rubio finished with 30 points (three short of his career high) on 17 shots. For just one moment, imagine an alternate reality where these developments are taking place on a Jazz roster that also has a healthy Gordon Hayward and Derrick Favors nearly back to the borderline-All-Star plane where he ascended before injuries weakened his antithetical impact. Is that the second or third-best team in the Western Conference? Does a Rubio, Hood, Hayward, Favors, Gobert lineup make the Warriors sweat?
6. Reminder: Giannis is Huge!
The sight never gets old. In the opening few minutes of Milwaukee's blowout loss against Oklahoma City on Tuesday night, Giannis glided around the floor as a taller, stronger, longer, version of all the various wing defenders employed by the Thunder. It was funny, watching OKC's fundamental identity and nightly advantage look so delicate standing beside the NBA's very own Cloverfield. On the same court as Giannis, Paul George, Andre Roberson, and Jerami Grant looked like raptors flailing around in Jurassic Park's final scene.
7. Reminder: De'Aaron Fox is Fast!
Keep an eye on the shot clock.
8. Is 2017-18 Kemba Walker About to Become 2016-17 Isaiah Thomas?
Meaning, are we in store for a second unexpected leap from a spunky Eastern Conference point guard, one season after it felt like they already spilled out all they had to offer? Earlier this week, Walker ranked third in fourth-quarter scoring (he's now at 10th, with a number that would be top five last season), has never been more efficient from inside or outside the arc, and has damn near doubled his free-throw rate.
Walker has been fantastic inside the paint, and the Charlotte Hornets look deprived of all five senses when he's off the court. This is somewhat due to the fact that they don't currently have a backup point guard, but Charlotte is still an unbelievable 33.6 points per 100 possessions better when he's in there.
There's a jumpy, unpredictability to Walker's game right now. On one recent possession against the Memphis Grizzlies, Walker pushed the ball in transition and nearly penetrated beneath the basket before he decided to pump the brakes and dribble back out to set up the offense. But once he realized no Grizzlies were nearby to escort him to the perimeter, he curled baseline and knocked down a wide open jumper. Splash.
With more pressure to shoulder a heavier load after Nicolas Batum went down in the preseason, Walker is playing with an unseen self-belief that's steadily elevating his game even higher than last year's All-Star campaign showed it could go. Taming a tiger is less complicated than corralling him off a high screen right now. He's a virtual lock to make his second-straight All-Star team.
9. The New York Knicks are Rebounding the Shit out of the Ball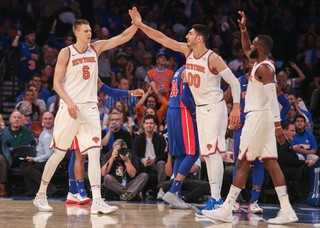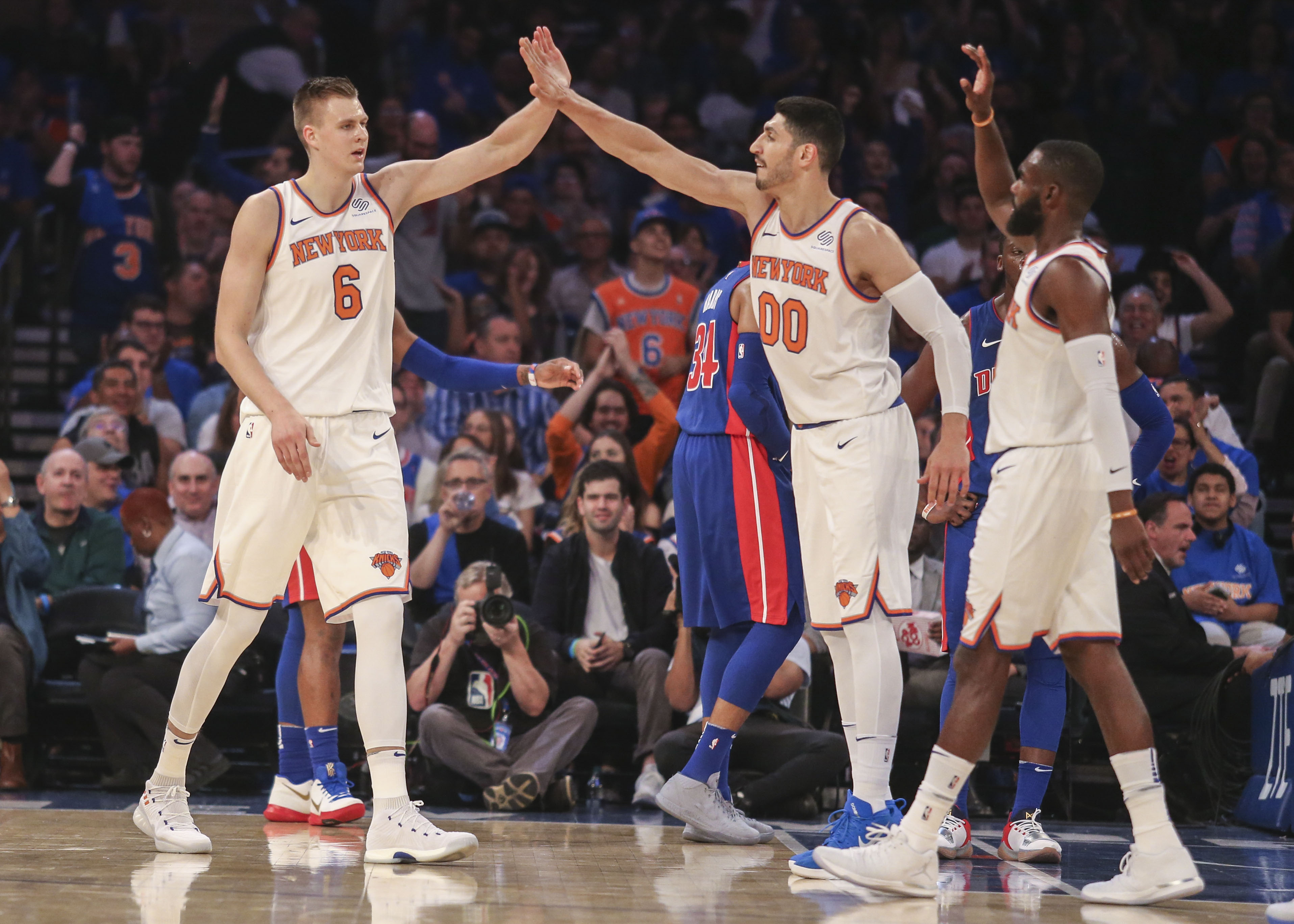 Remember when the Knicks were mocked for constructing a roster that essentially barred Kristaps Porzingis from spending any time at center (only three percent of his minutes have been at that position this year, down from 21 percent last year)? Well, even after three-straight wins against the Brooklyn Nets, Cleveland Cavaliers, and Denver Nuggets that took place before they were slapped back to Earth by the Houston Rockets, these personnel decisions probably still weren't the way to go.
But what those personnel choices have done is help New York formulate a fun, possibly sustainable (?) Porzingis + Putbacks identity. With Carmelo Anthony out of the picture, Porzingis has spent the opening chapter of his third season mushrooming into an unguardable beanstock. Only Giannis, Boogie, and Steph Curry are averaging more points than Porzingis. Zero players have a higher usage rate.
Instead of spacing issues caused by the likes of Enes Kanter and Kyle O'Quinn, those two have butchered teams on the glass. The Knicks rank second in offensive rebound rate and third in total rebound rate. While almost every other team around the league is downsizing, New York has firmly positioned their 7'3" franchise player at the four. And, relative to some depressing expectations, it's working!
10. I Can't Wait for the Atlanta Hawks to be Good
If you've happened to catch any recent Hawks game at Philips Arena, you might remember sideline reporter Andre Aldridge posted up at a brand new bar that just opened along the court's baseline. It looks like the most amazing place on Earth.
The team is horrible, but have openly cuddled up beside a full-on rebuild that should (if all goes according to plan) make Philips Arena one of the NBA's most lively atmospheres a few years down the road. Until then, Dominique Wilkins and Bob Rathbun need to broadcast every home game games directly from the bar.
11. Let's Trade Jamal Murray for Kyle Lowry
The likeliness of a trade involving these two players is microscopic—the idea disintegrates if the Toronto Raptors and Denver Nuggets both look like solid playoff teams in late January (Lowry can't be dealt until that month)—so I won't spend too much time rationalizing why I think it should happen.
But it sorta makes sense! Big picture, Toronto has a rapidly progressing core simmering beneath its veteran, All-Star-caliber contributors. The aforementioned Poeltl, rookie OG Anunoby, recently signed Norm Powell, and intriguing rotation players like Delon Wright and Pascal Siakam have the future looking solid.
They're successfully rebuilding on the fly while Lowry, DeMar DeRozan, and Serge Ibaka begin to decline on big-money contracts. Trading (at least) one of those three for valuable assets would punt meaningful playoff contention from 2018-2020, but allow continuity to accelerate within a new, modernized offensive system.
If they can somehow land someone with Murray's upside and turn him into their new franchise player, the Raptors would seamlessly glide from a stagnant also-ran to a promising up-and-comer. Dwane Casey has already relented a bit, playing lineups that feature four or five young pups at the same time.
The main holdup here, besides contractual issues that make matching money a little difficult with these two teams, is Denver's cooperation. Why the hell would they give up on a 20-year-old who defends his position and may own the most invaluable offensive trait in basketball: an ability to knock down pull-up threes at a reliable rate?
Denver is almost an inverse of the Raptors. Both teams are operating on two timelines, but the Nuggets are more clearly loaded to do damage five years from now. Nikola Jokic is 22, Gary Harris just turned 23, and Emmanuel Mudiay (who's made 45.5 percent of his threes this year!) is 21. Common sense says "wait." But Paul Millsap's decision to climb aboard turns maximizing the present into a conversation.
Lowry has been pretty bad this year, but he's still one of the five or six most effective all-around players at his position. Imagine how he'd look next to Jokic and Millsap. How much better would Denver be if he's there this season and next?
Again, a trade like this is extremely complicated and would dramatically shift the direction of two franchises that seem to be content with where they are. But the word impossible doesn't exist in today's NBA.
12. Can Rashad Vaughn Maybe Become a Thing?
Vaughn (who recently said "that's what we lived for" in reference to the McGriddle sandwich) entered his third season with one foot in the league and the other on a banana peel. He logged a grand total of four and a half minutes in Milwaukee's first four games (during which he was trade bait) before draining four threes in an 11-point win against the Hawks.
On Halloween, the team decided not to pick up his fourth-year option, making Vaughn an unrestricted free agent this summer. For a team that has little financial flexibility going forward, completely whiffing on a first-round pick can have painful consequences. Giannis is clearly ready to win now, and the Eastern Conference is begging someone to usurp the Cavaliers.
As Malcolm Brogdon, Jabari Parker, and Khris Middleton each become eligible for a significant pay raise in the next couple summers, the pressure will be on Milwaukee's front office to complement their franchise megastar with a championship-caliber supporting cast before he can flee as a free agent.
On paper, Vaughn is an ideal puzzle piece: a 6'6" three-point threat who may one day be able to reliably knock down threes, make plays when the ball is swung his way, and threaten defenses by pulling up off a dribble hand-off or initiating his own pick-and-roll. Maybe the Bucks believe waiting to see if Vaughn pans out is a waste of everybody's time, especially now that Tony Snell already fills the role he was meant for.
But money issues constrict ways in which Milwaukee can improve from the outside. Internal improvement is key. Vaughn's team option feels negligible now, but giving up on him so soon may come back to haunt this team in one way or another.
13. The Spurs are Perfect Even When They're Not
Even though Patty Mills' game-tying three didn't fall, San Antonio's execution of this elevators action at the end of a recent loss against the Indiana Pacers exemplified why they're the coolest cucumbers around.
Everything about this is ideal...until the ball leaves his fingertips.
14. Jordan Clarkson's Usage Rate is Higher than Anthony Davis, Russell Westbrook, and Just About Everybody Else
To suggest Clarkson has made the most of his reduced playing time is to suggest that Kendrick Lamar sometimes steals the spotlight when he's on other people's songs. In ten fewer minutes than he averaged last year, Clarkson is averaging the same amount of points, knocking down threes at a more accurate clip, posting the highest assist rate of his career, and, generally standing out as a quality contributor off Los Angeles' bench. (He launched six threes in 14 freaking minutes against the Toronto Raptors!)
He's efficient for the very first time despite his usage percentage soaring into the rarified air normally reserved for All-Stars. Some of this is because he's the only shot creator on the floor, often paired with the likes of Corey Brewer, Kyle Kuzma, and Josh Hart. And some of it's because he's been instructed to attack. It's too early to speculate whether this is a breakout campaign or just an early-season surge, but Clarkson's production is flying under the radar in a city that thinks Lonzo Ball is the only player who ever lived.
15. Al Horford is Playing Better Defense Than Everybody Else
The Boston Celtics have the best defense in the NBA because Al Horford is playing like its best defender. When he's off the floor they guard like a bottom-10 unit, but when he's out there, nailed down as a human lighthouse guiding Boston's young pack of swarming athletes everywhere they should go, the Celtics are well-choreographed misery.
Individually, the overwhelming talent Horford has had to corral is beyond impressive: Giannis (twice), Ben Simmons, LaMarcus Aldridge, Kristaps Porzingis, and Kevin Love. All opponents are shooting just 56.2 percent at the rim when Horford is on the floor. When he rests, that number spikes all the way up to 74.6 percent. The difference ranks in the 98th percentile among players at his position, according to Cleaning the Glass).
For the fleeting minority that still scoffs at Horford's occasional humdrum box score, and are fed up with the Ambien-akin side-effects commonly linked to what happens after repeated exposure to negated entry passes, crisp high screens, and perfect execution of myriad pick-and-roll coverages, Horford remains an overpaid waste. Nearly a dozen years of evidence proves they're wrong, and this year he's definitively worth every penny.
Using priceless instincts, flawless habits, and a wingspan that allows him to cover more ground than anyone his size should (only seven players contest more shots every game, per NBA.com), Horford has glued himself inside the all-too-early Defensive Player of the Year (pseudo-MVP?) conversation. He shouldn't leave it anytime soon.
16. Tristan Thompson is a Black Eye on Cleveland's Bloody Face
The Cavaliers have dropped five of their last six games, with all five losses coming up against teams few, if anybody, projected to make the playoffs. Life is rough. But on a team with defensive woes that are as much due to mental indifference as they are physical fragility, Thompson's struggles across the board are particularly worrisome.
Two years ago, the Cavaliers allowed 101.7 points per 100 possessions with Thompson on the floor. This season, his defensive rating is 111.2. His minutes are down, his confidence is low, and his offensive role is non-existent. It's obviously possible for the Cavaliers to bounce back after Isaiah Thomas returns and LeBron James starts to feel like a superhero.
But up until he suffered a calf injury against the Indiana Pacers that will sideline him about a month, Thompson was a non-threat off the ball who launched more long twos than he ever should. If James leaves in free agency this summer, the $36 million Thompson is owed over the next two years turn that contract into one of the league's roughest (from Cleveland's perspective!) agreements.
To be fair, once he's healthy, Thompson's numbers should stabilize once Cleveland works an actual point guard into their rotation. Teams were able to switch James-Thompson pick-and-rolls, and the sliver of opportunity born from that action mainly arrived after a mistake. Here's an example, as miscommunication between Jrue Holiday and Dante Cunningham leads to an easy dunk.
17. Dillon Brooks is Found Money
I wonder how a lucky a front office feels whenever they draft someone 45th overall and then immediately watch him flourish in consequential ways. Is this like finding a $20 bill in your back pocket or hearing your train approach the second you descend onto a subway platform?
The Memphis Grizzlies have had their fair share of first-round blunders, but scoring with guys like Brooks has helped keep this organization afloat, stiff-arming a rebuild further out than it probably should be.
I don't have much to say about Brooks. He seems to be a cagey one-on-one defender, someone who's relentless and difficult to screen. That's nice. He's also committed a bunch of rookie mistakes and isn't really making his threes. But the fact that he's averaging 30 minutes per game on one of the league's most pleasant surprises is telling.
The value of a second-round pick is never more clear than in transcendent figures like Manu Ginobili or Draymond Green, but they still feel like an undervalued commodity. Think about how different the Los Angeles Clippers might look today if they drafted someone like Brooks a few years ago?
Plucking a helpful contributor in the second round takes quite a bit of luck, but some teams have an ability to carve their own more often than others.
18. Your Weekly Reminder that the Golden State Warriors are Unfair
Kevin Durant is shooting 49 percent from behind the three-point line, and his three-point rate has never been higher.