LeBron Goes toe-to-toe with "Bum" Heckler in Chicago
It sure looks like he says ""I hope that ain't your girl next to you because she's filming me. Bum."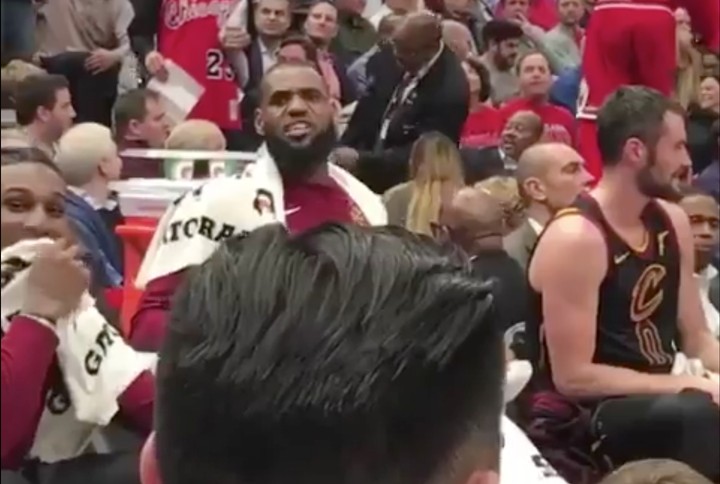 Screenshot via @FootBasketcom Twitter
It's probably a bad idea to mouth off to the King—or any basketball player for that matter. These guys play in the shit-talkingest sport in the history of sports, and you know LeBron has had to clap back at more than a couple of haters before. His PR image might be spit-shined, but the court is a different place. So what happens if you're a fan of the trash-ass 3-20 Chicago Bulls right now? Forget about it.
Listen (ever so faintly) as LeBron rips this guy a new one, including the presumably devastating line at around the 25 second mark mentioned in the tweet below.
It's a pretty bad situation for Dude right here on a lot of levels—aside from being a Bulls fan right now. Better step to the King with more than the low hanging fruit about his hairline, not being able to keep a point guard, and for crying. Because LeBron just called him a "bum," and we know who else he reserves that word for. What could possess this guy to go after LeBron? Maybe the dude was just salty LeBron went all MJ in Chicago.
And even if you can't make out all the words here, just look at Jae Crowder's face, to the left of LeBron. You know whatever it was was good. Best not miss.