Report: Rick Pitino Expects to be Fired [UPDATES]
The Cardinals program was implicated in a pay-for-play scheme unearthed by a federal investigation into corruption and bribery in college basketball.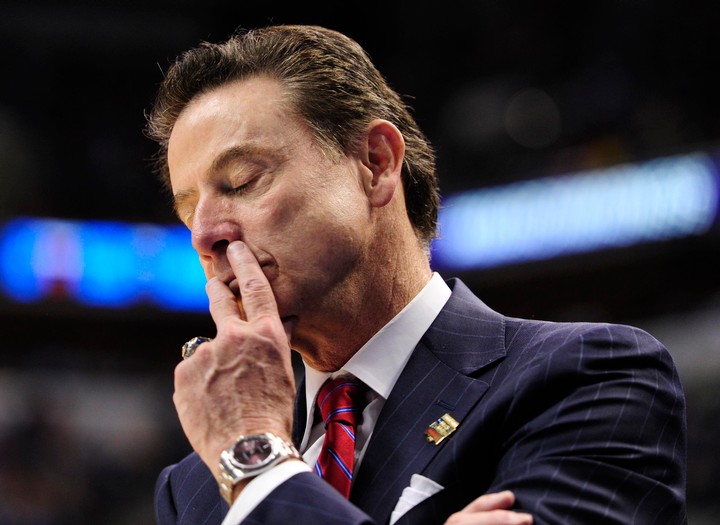 Thomas Joseph-USA TODAY Sports
According to a report from ESPN's Michael Eaves, Louisville men's basketball coach Rick Pitino is expecting to get fired today in the wake of a federal investigation alleging corruption and bribery that implicates his program.
Although no one associated with the school was among those charged in the criminal complaint announced yesterday, the documents do allege that between May and September 2017, Louisville and Adidas engaged in a scheme to pay a top recruit's family upwards of $100,000 in exchange for his commitment to the program. That June, Louisville landed Brian Bowen, which was seen at the time as a surprise. The documents reference two unnamed coaches working with third-party consultants to funnel the money to the family in a way that would escape NCAA notice, in part because Louisville was already facing sanctions from a previous scandal, involving a graduate assistant who paid an escort to bring strippers to dorm parties while recruits were visiting, which has resulted in vacated wins, and earned Pitino a five-game suspension.
Now Pitino appears to have run out of lives. According to a post on Eaves's Facebook page, Pitino has told his staff that he knows he's out:
Louisville head basketball coach Rick Pitino has told members of his coaching staff that he expects to lose his job over allegations the Cardinals basketball program is involved in a federal investigation into fraud and corruption in college basketball recruiting.
A source told ESPN's Michael Eaves that Pitino "knows it's coming" after a staff meeting of the basketball coaches Wednesday morning in Louisville.
Reporters spotted Pitino walking out of the Louisville facility, and asked whether he was being fired, but he did not answer.
Eaves, who says he's been in contact with someone inside the Louisville athletic department, also tweeted that athletic director Tom Jurich is also likely out.
Interim school president Greg Postel has told reporters that there will be a press conference at 1 PM local time. We'll update this post as we learn more.
UPDATE: Multiple reports now state that both Pitino and Jurich have indeed been fired. According to Kent Taylor of local outlet WAVE, Jurich was asked to fire Pitino and refused, and was subsequently fired himself. Louisville blog Cardchronicle.com has report that states Jurich has been fired, but does not include any information regarding Pitino.

ESPN, however, reports that both have been fired:
Louisville men's basketball coach Rick Pitino is out, a source tells ESPN's Michael Eaves.
Athletic director Tom Jurich is also out at Louisville, a source tells ESPN's Jeff Goodman, after the program was linked to a federal investigation into fraud and corruption in recruiting.
We will continue to update when and if the university confirms the reports.
UPDATE 12:10 pm: And now the university spokesman has said those reports are "inaccurate," leading some to speculate that the two men have been placed on leave.

UPDATE 12:39 pm: According to Pitino's attorney he is on "effective discharge."

UPDATE 1:08 pm: Louisville interim president Greg Postel announced at the scheduled press conference that Rick Pitino has been placed on administrative leave with his employment to be reviewed some time in the future. Postel also said that Tom Jurich had been placed on paid administrative leave, also to have his employment reviewed at a later date. But, there is also this:
The move to place both in limbo most likely is related to the contracts both men have with the university. As reported by WDRB, Pitino is entitled to written notice of the reasons for his firing, as well as an opportunity to present his own evidence to the contrary. Depending on the reasons cited for his potential firing, Jurich could be entitled to a 30-day period to "cure" the reasons.