The Grizzlies Should've Rebuilt Around David Fizdale
Through struggles that aren't his fault, Memphis fired its head coach after just 101 regular-season games. It was probably a huge mistake.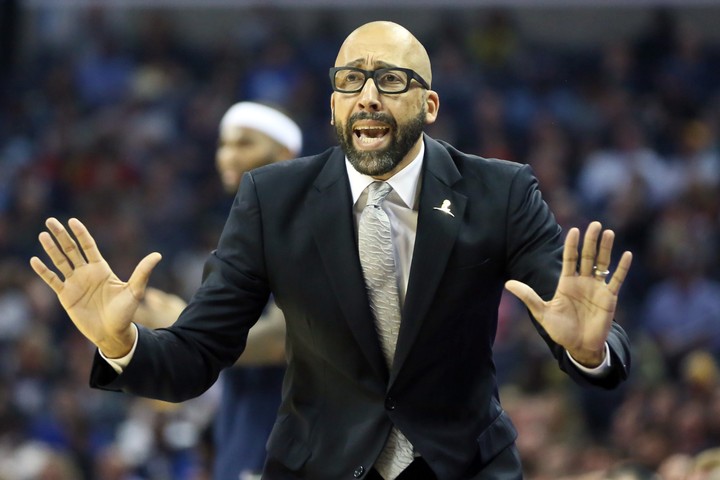 Photo by Nelson Chenault-USA TODAY Sports
A few months ago, I pitched a story to one of my editors that essentially boiled down to a list of reasons why the Memphis Grizzlies should look towards the future, be gone with the present, and rebuild around their most intriguing asset: head coach David Fizdale.
An intelligent, charismatic, culture-shifting coach who has two championship rings, Memphis's front office could've worked with the 43-year-old to build a roster that fit both the modern game and his vision. Marc Gasol and/or Mike Conley's contracts would be exchanged for as many long-term assets as they could squeeze, and the organization's future would have a reputable bridge to drive across as it decamped from the Grit N' Grind era.
I never wrote that story but regularly thought about why it made sense. It popped into my head when Conley hurt his Achilles, and then again when I proposed a fake (but still fun!) trade that would've shipped Gasol to the Cleveland Cavaliers for Tristan Thompson, Iman Shumpert, and Brooklyn's unprotected first-round pick in this year's draft. (An admittedly unlikely hypothetical because Cleveland isn't [that] dumb but whatever it should still happen.)
---
---
The concept was arguably never more relevant than early Monday morning—a few hours after Gasol was benched in a gruesome home loss (their ninth in 10 games) against the Brooklyn Nets—but died when Memphis decided to shock a league that, as of late, has done a great job turning unpredictable news into a familiar face.

Fizdale was fired 101 games and one playoff series into a tenure that never got off the ground. He is not perfect—no coach shepherding an eight-game losing streak is—and the Grizzlies have spent the past few weeks floundering in ways they haven't at any time in their recent history. But in any situation where friction exists between coaches, players, and/or management, rational expectations and logical thought should lord over any big-picture judgement. Outside of Conley (30 years old) and Gasol (32), Memphis entered this season with very few contributors who belong on a playoff team.
That's a front office handicap more than anything else. Fizdale did not draft Jordan Adams or Wade Baldwin Jr. He did not sign Ben McLemore or make Chandler Parsons the team's second-highest paid player. Andrew Harrison and Jarell Martin (who currently sport a combined PER of 13.5) were in Memphis's starting lineup when they beat the Golden State Warriors and Houston Rockets (the NBA's two best teams) last month, and it's not Fizdale's fault the front office stuffed names of that stature into his rotation. (A coach can not be at fault when their players brick 76.2 percent of their corner threes in a 19-game stretch.)
A source close to The Commercial Appeal's Ronald Tillery, who apparently works for the team, said this about the decision:
"You want to try to get some traction. We still have time to hopefully fix things and go on a run. We do have injury issues. There's no question. But we just were trending down in several categories. We felt it was time to make a change."
It's not fair to brand this quote as "hallucinogenic delusion," but Memphis's second-leading scorer is Tyreke Evans. They aren't going anywhere in an unforgiving Western Conference. Based on their first 19 games, they're currently projected to win 35 games (only three clubs in their conference are worse) and perform like a 31-win team when Conley is on the floor.
NBA rebuilds take time, luck, patience, and a cast-iron stomach. In markets as small as Memphis, they require daily prayer. It's impossible to say if Fizdale was an inarguable solution to their looming and present-day problems, but even going at a snail's pace with a roster that's drowning in below-average talent, he at least had the Grizzlies playing a smart brand of basketball.
The only team that launched a lower rate of long twos at the time of Fizdale's dismissal was the Houston Rockets. The only team that ate more frequently at the rim was the Los Angeles Lakers. Memphis hustled back in transition and only two teams (the Milwaukee Bucks and Oklahoma City Thunder) had a higher percentage of their defensive possessions take place in the half-court.
This team had decent principles, but talent still rules the day in a league that's spoiled with it. Injuries, coupled with questionable personnel moves, were the reason for Memphis's (unsurprising) ruination. Instead of forging into an uncomfortable segment of their life cycle with a young, respected coach at the helm—someone beloved by important players around the NBA—Memphis decided to make its future more alarming than it needed to be.