Ranking Every NFL Team's Super Bowl Chances
At the halfway point of the season, Dave Lozo breaks down every team's chance of getting to, and winning, the Super Bowl.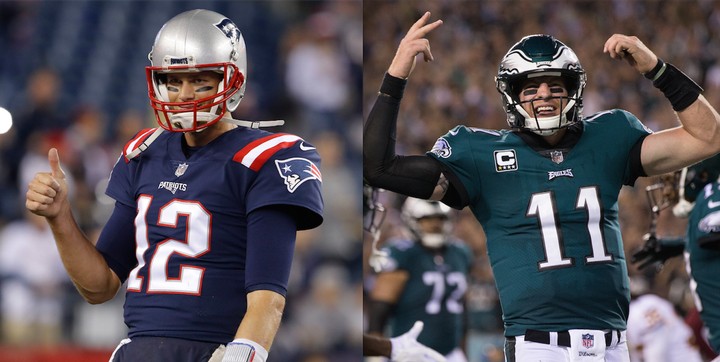 Photos by David Butler II-USA TODAY Sports, Bill Streicher-USA TODAY Sports
With eight weeks of the 2017 NFL season in the books (we all know the Chiefs are beating the Broncos on Monday night so we can do this now), it's time to take stock of each team's Super Bowl chances. You're probably saying, "That's silly, because not all 32 teams have a chance at a Super Bowl."

You're right, but those teams are great for the purpose of making jokes.
Let's get right into it, because 32 is a lot of teams.
32. San Francisco 49ers (0-8) — lmao
31. Cleveland Browns (0-8) — lol
30. New York Giants (1-6) — OK, so maybe doing this with all 32 teams was a little ambitious. The good news is the New England Patriots are looking like the favorites to represent the AFC in the Super Bowl, and everyone knows Tom Brady can't beat Eli Manning in a Super Bowl. The bad news is the only time we're seeing Odell Beckham in a Super Bowl is in that painful ad with the Silicon Valley guy who mixes up sports terminology at the press conference like a TOTAL NERD, lol learn sports, nerd!
29. Indianapolis Colts (2-6) — What if the reason Andrew Luck hasn't played this season is because he's undergoing surgery and treatment that will allow him to become Wolverine? The reports surrounding Luck's "injury" have been odd, with the story changing every couple weeks. Even his name—Luck—would be a cool X-Men name. The Colts will be a tough out in January if their quarterback can't be tackled by regular humans.
28. Tampa Bay Buccaneers (2-5) — When you combine a former Florida State quarterback with a former Jacksonville Jaguars offensive coordinator, you should just be happy to have the 28th-best team in the NFL.
27. Oakland Raiders (3-5) — Just move this stupid franchise to the moon already. In hindsight, a team coming off a breakout season signing a guy who had retired for a year just because he's from the area was an odd choice. And, I mean, Marshawn Lynch is clearly his own guy, so him running on the field to fight some dudes mid-game does, in hindsight, seem inevitable. We should have known the Raiders would screw this up.
26. New York Jets (3-5) — The way I see it, the Jets may have the best chance of winning the Super Bowl, because these are the Jets, and whatever they want to do, the opposite happens. Since they're trying to tank, finishing 9-7 and winning the Super Bowl has about an 80 percent chance of happening. They're the Cleveland Indians in Major League except Rachel Phelps was a much more sympathetic owner. Who wouldn't rather live in Miami than Cleveland?
25. Los Angeles Chargers (3-5) — Prove to me the Chargers weren't trying to lose to the Patriots on Sunday. When teams shave points, usually they try to hide it, but Philip Rivers fumbling with no contact and a guy running backward 15 yards to take a safety is a little too obvious. The Chargers don't want to win, so I won't raise the hopes of the 800 people in Los Angeles who care about them.
24. Chicago Bears (3-5) — Every team in the league has three wins, FYI. Mitch Trubisky completed 43 percent of his passes Sunday against the Saints, which shows why the Bears only allowed him to throw seven passes two weeks ago. An NFL quarterback completing 43 percent of passes against the Saints would be like an NBA player shooting 2-of-19 against a high school team. It's too bad someone like Deshaun Watson wasn't available at the draft when the Bears… [looks back at draft order] oh, whoops.
23. Cincinnati Bengals (3-4) — Say it out loud: "Andy Dalton, Super Bowl champion." Yeah, never gonna happen.
22. Arizona Cardinals (3-4) — If David Johnson returns in time, yeah, why not the Cardinals? He recently referred to the wrist as a "complicated limb," which tells me he's taking advantage of the painkillers. "Bro, ever think about wrists? They're like… complicated, man." If Carson Palmer is upright, weirder things have happened.
21. Washington Sports Franchise (3-4) — Bob Kraft is a buddy of Vlad Putin, but doesn't he feel miscast as owner of the sport's most hated franchise? Wouldn't Dan Snyder make more sense with the Patriots? Sadly, Snyder is an inept billionaire with a barely functioning franchise and a quarterback taking his money one mediocre year at a time. Washington's season died Sunday against Dallas, but take comfort in knowing the team will win just enough games so they won't be able to draft a franchise quarterback after Cousins leaves in the off-season.
20. Houston Texans (3-4) — Deshaun Watson might be the most talented rookie quarterback in modern NFL history, and you just know Bill O'Brien will screw it up. After his defense had shown for an entire half it was incapable of stopping the Seahawks on Sunday, he ran it three straight times, punted, and watched Russell Wilson deliver a near instantaneous death blow. When Watson wins a Super Bowl, it won't be with O'Brien clenching on the sideline in a big game.
19. Detroit Lions (3-4) — It's the Super Bowl. Lions down five. Fourth and goal. Two seconds remaining. Matthew Stafford rolls right, time expires, he throws and…Eric Ebron! Touchdown! No time left! The Lions have—hang on. Officials are gathering in the end zone. "Due to the pass being caught with no time left, the touchdown is only worth 4.5 points. Therefore, by rule, which was just invented before the play in secret in the league office, the game is over, Lions lose." The following day, the NFL will apologize for not allowing the Lions to kick the winning extra point but won't take the title away from the Patriots. I guess what I'm saying is, the Lions, no matter what, will find a way to not win the Super Bowl.
---
---
18. Denver Broncos (3-3) — You lose at home to the Giants by 13 points, I don't understand why you even show up for the rest of your games.
17. Baltimore Ravens (4-4) — The Ravens are the NFL's ideal picture of mediocrity. A quarterback that's just OK enough, a defense that'll do just enough to win a couple games, and boom, you're 8-8 at the end of the year. This will be the state of the Ravens for two decades as punishment for years of making us watch Ray Lewis dance.
16. Dallas Cowboys (4-3) — If Ezekiel Elliott's arbitrator is based in Texas and has him in fantasy football, sure, maybe he plays the whole season and the Cowboys can do it. There's no harder team to read, but if there's one thing I know about sports justice, it's that Elliott won't face any discipline until the 2021 season, when his suspension is reduced to three preseason games.
15. Tennessee Titans (4-3) — They have two very good running backs, a pretty good quarterback, a decent group of wide receivers, and a defense that's…clearly the weak link. But really, what makes the Titans different from last year's Falcons? Fine, Eric Decker isn't Julio Jones and Rishard Matthews isn't Mohammed Sanu, and…OK, fine, forget it. I almost talked myself into it.
14. Miami Dolphins (4-3) — How in the name of sweet baby Jesus has this team won more games than it has lost? I'm scrolling up from the bottom of the NFL standings as I write this, and when I saw the Dolphins here at 4-3, I did that blinking guy GIF everyone on Twitter loves. The Dolphins team on Ballers coached by Peter Berg and GM'd by Dulé Hill has a better chance of winning it all.
13. Jacksonville Jaguars (4-3) — Blake Bortles, you just won the Super Bowl, where are you going? "I'm going to Dorney Park!" No, Blake, the other amusement park. "I'm going to Busch Gardens!" No, man, forget it. If the Jags are going all the way, it's via their defense, but I think it's fun to imagine Bortles doing all he can to muck it up along the way, then lying to him that he's MVP just so you can get him to say into a cellphone camera, "I'm going to Six Flags Great Adventure!" That's viral content, my friends.
12. Green Bay Packers (4-3) — Nope. I'm sorry. The NFC North is too tough for the Packers to survive the rest of the regular season without Aaron Rodgers. What's truly torturous for fans is how many commercials that have Rodgers and injured Giants wide receiver Odell Beckham Jr. Every commercial break, you're reminded that your favorite team's season is over because the best player was broken in two. There should be a rule that if an NFL guy is out for the year, he gets replaced by his backup in any national ad campaign. Brett Hundley gets all the State Farm ads the final nine weeks. Roger Lewis Jr. gets all the Verizon ads. Sorry, but it's now in the CBA.
11. Atlanta Falcons (4-3) — The Falcons' hangover isn't a 22-year-old's hangover, where you're slightly groggy the next day but you can still attend your CrossFit Sauna Expert Master class at 6 AM; this is a 39-year-old hangover where you Google "can you die from a hangover" from your bed at 7 PM the next day. I still think if the Falcons can make themselves puke one more time before the stretch run, the Falcons can get back to the Super Bowl.
10. Carolina Panthers (5-3) — If the Dolphins are the league's worst 4-3 team, the Panthers are the league's worst 5-3 team. Cam Newton has nine touchdowns and ten interceptions in eight games and the Panthers are headed toward the playoffs because football is a crapshoot like no other sport, and players don't matter, for we are all part of a human experiment known as life where chaos and randomness rule us despite our best efforts to seek control. Eat at Arby's.
9. Seattle Seahawks (5-2) — They can't run the ball and the defense is sort of old, but you have to respect the championship pedigree. You get the sense the Seahawks are that college graduate taking a year off to "find themselves" and they'll either be better off for the journey or they'll still have zero offensive line when it's over and won't be able to find a job in a saturated marketplace when they return home. I'm mixing metaphors there but you get my point. If Sunday showed us anything, it's that when Pete Carroll, a good coach, gets in a close game with a bad coach like Bill O'Brien, he'll find a way to win, and fortunately for Seattle there are more bad coaches than good coaches in the NFL.
8. New Orleans Saints (5-2) — The Saints are Steelers South. Only instead of defense, the Saints offense has looked incredible against mostly slop. They've won five straight against the Panthers, the Dolphins, the Lions, the Rodgers-less Packers, and the Bears. There's maybe one impressive win in there. Can you really count on the Saints to shut down a really good offense? Wait, does anyone have a good offense besides the Saints? My god, they are going 14-2, aren't they? This could happen.
7. Los Angeles Rams (5-2) — It's not going to happen, but the idea of a disheveled Jeff Fisher alone in a shack watching what is mostly the same roster he had last season continue to advance in the playoffs while he mutters "7-9…7-9" to himself is a fun image. Fisher will start a Buzzfeed account and start writing things like "16 Ways Millennials Are Ruining Jeff Fisher's Life" that will just be GIFs of Sean McVay.
6. Kansas City Chiefs (5-2) — Say hello to our best hope of beating the Patriots, which, oh well, maybe next year the Patriots won't get to the Super Bowl. Imagine a superhero movie with the worst possible villain, only instead of the Avengers or Batman, the villain has to defeat Paul Blart. That's the Chiefs. The only way the Chiefs win that matchup is if our world is a feel-good comedy and not film noir directed by Christopher Nolan. Based on recent evidence in this world, what do you think happens in a Chiefs-Patriots AFC title game? Yeah, me too.
5. Buffalo Bills (5-2) — Nothing would be funnier than the Bills beating the Patriots in the playoffs. It would be the greatest 1980s movie ever where the nerd finally gets the best of the bully. Tyrod Taylor dropping 40 on Tom Brady in Foxboro would be the Lucas/Karate Kid mashup Bill Simmons wishes he sold to a movie studio ten years ago. But this is reality, and what's more likely is LeSean McCoy tearing his ACL the Friday before the game and Rob Gronkowski somehow growing a foot taller at halftime and posting 300 yards in the second half.
4. Pittsburgh Steelers (6-2) — Yeah, the Steelers have the second-best defense, but they've compiled these numbers against the Browns, the Vikings, the Bears, the Ravens, the Jaguars, the Chiefs, the Bengals, and the Lions. Outside of the Chiefs, that's just pure dreck. But there's more dreck on the schedule, so the Steelers are practically a lock to make the playoffs, which seems nuts when you consider that two weeks ago when they lost to the Jaguars you wondered if Ben Roethlisberger would retire mid-season. This league stinks.
3. Minnesota Vikings (6-2) — No. This is a glitch in the Matrix. Instead of two cats, it's Case Keenum and Sam Bradford looking exactly the same in everything they do. The difference this year is the Packers are toast without Rodgers so the NFC North is there for the taking. It's not that Vikings are bad, but I don't want to listen to people talk about how good they are. They're basically a Netflix show.
2. Philadelphia Eagles (7-1) — It's pretty tough right now for a certain segment of the U.S. population—the Eagles and the Yankees are getting really good again at the same time. And both will be really good for a long time. It's heartbreaking. There's no reason the Eagles can't win a Super Bowl this year, other than the fact they are the Eagles and they always find a way to crap their pants. You can take the Andy Reid out of Philadelphia but you can't take the Philadelphia out of Andy Reid. Or something. Fuck the Eagles, man.
1. New England Patriots (6-2) — There's no better evidence that we are living in a computer simulation run by a vindictive sociopath than the existence of the Patriots. Their idiot quarterback is 100 years old but plays like he's 28. The team cheats but nobody cares. The coach writes love letters to Donald Trump. The Pats could have and perhaps should have lost their past four games but, of course, they won them all. This team has no business still being Super Bowl favorites but it's time we just accept that this is our reality until Morpheus finds us and frees our minds. Congrats to the Patriots on another Super Bowl win.