Too Much Lomachenko Meant "No Mas" for Rigondeaux
Guillermo Rigondeaux got clobbered by Vasyl Lomachenko and quit between the sixth and seventh rounds, claiming a dubious wrist injury.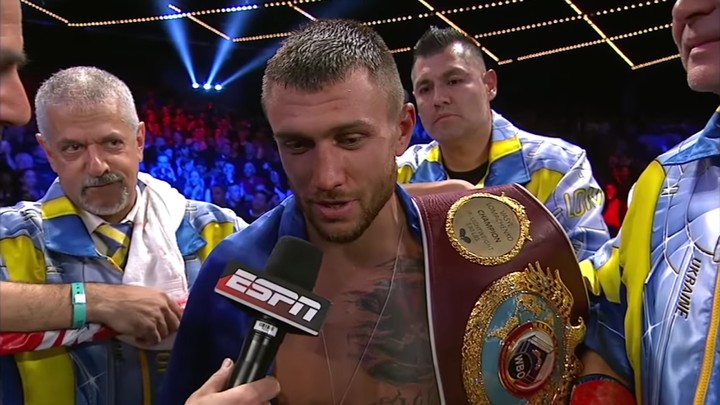 Screen capture via YouTube/ESPN
The Vasyl Lomachenko–Guillermo Rigondeaux fight that aired on ESPN over the weekend might well be the finest matchup you will ever see broadcast on television. The records and accolades of each man were beyond stellar. Unfortunately the fight itself was not so evenly matched. Lomachenko worked Rigondeaux up and down, landing more varied and powerful shots as the rounds progressed. But just as Lomachenko seemed to be settling into a career-making performance, shutting out a pound-for-pound great on live television, Rigondeaux found the one way to spoil the fight: The super bantamweight champion committed the cardinal sin of boxing when he quit on his stool between the sixth and seventh rounds.
In our pre-fight Tactical Guide, we concluded that the ideal fight of each man is the polar opposite to his opponent's. Rigondeaux favors a slow pace: he likes to frustrate his opponent into inactivity and land big, single-shot counters and leads with his left hand. Lomachenko, meanwhile, wilts his foe with a high volume of punches and pivots. He keeps his opponent's head down, makes him turn to catch up, and prevents him from getting in offense through his own hyperactivity.
We noted that Rigondeaux is good at shutting his opponent off after his first punch. Performing a deep drop away to make the opponent overextend is a favorite, and if he gets too close Rigondeaux will duck back into the clinch or side step around his man. It is interesting that such an accomplished amateur has built a professional style so reliant on deep dips. Moving the head below the belt line is a foul in the ammies, but it's generally permitted in the professional game. We mentioned that a good answer to the low drop away and extreme ducking is to feint or double jab the opponent into his dip, covering distance without opening up too much. The double-jabbing fighter can then put himself almost on top of his opponent, who is deep in the lean with no further retreat, lining up power punches. Or he can simply drop his weight on the back of the other fighter's head and hold him down—a great tactic for tiring an opponent out.
Lomachenko did exactly this, making use of his excellent jab in doubles and triples to get on top of Rigondeaux as he was deep in a crouch. As the rounds progressed, Lomachenko chopped downward with left hands and followed up with right hooks and uppercuts on the crouched Rigondeaux. Lomachenko even showed some of those "MMA angles" that McGregor used to confound Mayweather, landing a hammerfist to the back of Rigondeaux's head as he was doubled over.
From the very first round, Rigondeaux showed that he was keen to hold. This is an excellent means of slowing the fight and the easiest answer to an opponent stepping in on top of a fighter as he is in a deep crouch. (Curiously enough, the New York State Athletic Commission prohibits "ducking low to upend an incoming opponent," but coming up into a hug is a-okay.) If every time a fighter works himself into position to open up, he is clinched, he becomes reluctant to waste the energy. Lomachenko had been vocal about this strategy before the fight and during the broadcast ESPN showed footage of him demonstrating how he intended to use his head to free his arms to the referee before the bout.
When preparing for the Mayweather-McGregor debacle, we mentioned that too few boxers today know where to place their heads during tie-ups in order to begin freeing their hands, and too many refs are content to break fighters as soon as the clinch takes place, effectively killing the infight. When Miguel Cotto fought Mayweather he was allowed to fight his way out of the clinch and kept Mayweather working for every minute of the bout.
The necessary use of the head below the opponent's to free the arms also frightens many referees, who are terrified of the fighters' heads coming together at any point. On Saturday night Steve Willis did a great job of allowing the men to work out of the clinch, jostling for head position and all. It didn't always make for fun viewing for the fans, but it is an important part of the game and it meant that the clinch wasn't an instant reset for Rigondeaux. Lomachenko even landed some of his better punches in jamming and breaking from a half-clinch that many fighters would have simply submitted to.
As Rigondeaux became frustrated, he went to one of his favorite dodgy tactics for power hitting: holding behind the head with the right hand and winging in uppercuts with the left. This is considerably trickier to do against a taller opponent and Lomachenko also stifled it by standing upright and pushing his hip into Rigondeaux, blocking the line of the uppercut with his right forearm.
But the story of this fight was not a back-and-forth thrill ride. It was simply a case of too much Lomachenko. In the second round he started to land, and by the sixth he was in complete control. Rigondeaux looked to be on the way to a convincing loss, perhaps even a stoppage, but he turned the crowd against him when he managed to take the shine off Lomachenko's night the only way he could.
"No Mas"
There is room for discussion on the place of quitting in the boxing ring. Mixed martial arts has largely done away with the shame of a fighter submitting, and sometimes it is best when a fighter simply knows that he is beaten. In boxing it isn't quite seen as the act of cowardice that it used to be, but there is an appreciable difference between taking a beating (at which point the corner should consider stopping it) and just getting fed up with being made to feel like a fool.
The most famous instance of a boxer quitting in the ring, and the reason that any subsequent instance has been referred to as "No Mas" in headlines, was Roberto Duran in his second fight with Sugar Ray Leonard.
Having already fought his best years as a lightweight, Duran finally moved up to welterweight to fight Leonard. After besting the American Olympian in a frenetic first fight, Duran partied himself into obesity (as he was wont to do). When Leonard exercised his rematch clause, he out-boxed and flustered Duran, showboating all the while. Duran shocked the boxing world when he turned around and told the ref that he was done, which in subsequent retellings has become him saying he wanted "no more" or "no more of this clown." Whether it was a slap to his famous machismo and knowing that he couldn't best Leonard or disgust at Leonard playing the clown, the result was the same. It was Duran's second career loss, and he would be haunted by his quitting in the ring for the rest of his career.
Duran was far from done, though. He came back to batter young Davey Moore for the super welterweight title, gave Marvin Hagler a hell of a tear-up, and bested the enormous Iran Barkley for a middleweight title. He fought Leonard again and dropped a decision. Duran finally retired after a loss against Hector Comacho in 2001—a 30-year professional career, most of it coming after his infamous "no mas" moment.
To the fight aficionado, Duran's "no mas" moment has been expunged. Guillermo Rigondeaux, however, is 37 years old. He is well into the twilight of his career and already considered one of the most ducked fighters in boxing. Before this bout you fought Rigondeaux with a great chance of losing and little promotional interest—he fought Jazza Dickens in a Welsh ice rink in front of 3,000 people—but if you became the first man to beat him as a professional you could live off that victory forever. After the Lomachenko loss, Rigondeaux is an even less attractive match, with far less to be gained on the off-chance you best him. There might be time to bounce back yet, but the only thing Rigondeaux can do for his standing right now is release an X-ray of his thoroughly broken wrist, or at least someone else's.
The main thing that fans can't get over is that Rigondeaux seemed to mentally collapse the moment his usual game—which has remained largely unchanged through his professional career—failed to bamboozle his man. Rigondeaux slipped in a couple of cup shots and clinched a whole lot, and maybe if he had continued that until the final bell he'd have been OK. If he had come out viciously fouling Lomachenko in hopes of frustrating him and at least making something happen, fans might be more forgiving. Perhaps the talk of a wrist injury is true, but Rigondeaux threw so few punches that it is hard to believe he hurt himself on Lomachenko. One of the key criteria you will hear when boxing fans discuss all-time greats is the ability to adapt and find ways to win when the A-game stops working. A fighter can be the best technician to ever lace up gloves, but unless he has the resolve to take a licking and keep on ticking, he will be seen less as a great fighter and more as a mechanical man.
We cannot overlook that Rigondeaux came up in weight and gave up some significant size to fight Lomachenko. He put himself at a physical disadvantage and never asked for any sympathy because of it, and that in itself is admirable. The fight amounted to a tremendous showing for Lomachenko and we can only hope that the finish doesn't come to overshadow that.
Pick up Jack's book, Notorious: The Life and Fights of Conor McGregor and follow him on Twitter @JackSlackMMA .