N.C. Central QB Flipped and Body Slammed on Two-Point Conversion Attempt
It's the kind of wrestling move kids cook up on their trampolines on a boring summer day, but never really execute.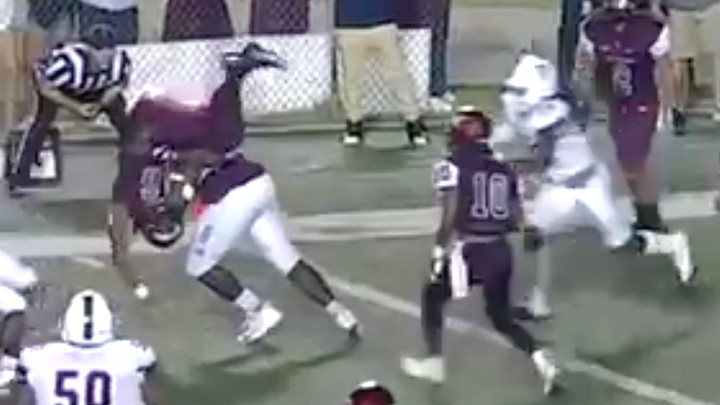 Screen capture via Twitter/@SportsCenter
Pro football is a tough nut to crack. A mere 1.5 percent of college players make it pro. So why not exercise your career options on the field, mid game? Try something out, do something funny, see what sticks? These two NC State defenders would certainly get a nod from Vince McMahon for these WWE-like shenanigans.
During the fourth quarter, with the score at 26-28, N.C. Central decided to go for two to level with NC State, and N.C. Central's backup QB Naiil Ramadan saw few options. With his receivers looking mighty covered, he decided to run the ball in himself, and boy was he stopped:
NC State's Alex Brown set up the WWE move with the low tackle that clipped Ramadan head-over heels, and his man Paul McKeiver was on hand at the other end to collect an upside-down Ramadan for the body slam. That's some lucha libre-type shit right there. A reaaaal one-two.
While this looks brutal, it's actually quite the merciful play—Ramadan could have seriously injured himself if he landed on his head. McKeiver was just kindly placing him to rest on the grass, right? Either way, props to Ramadan for holding onto the ball after all of that.
Sadly, Ramadan didn't have much of a chance to redeem himself. Starter Chauncey Caldwell came back after a brief break due to injury and sealed N.C. Central's 14-point, fourth-quarter deficit with a touchdown of his own. Despite the loss, McKeiver and Brown will come away from this game with their new calling—hell, maybe even Ramadan could get a call-up. All they need to do now is decide if they're going to be a face or a heel. Wooooo!