Photos by Hogan Photos/Golden Boy Promotions​
Canelo Finally Delivers Belated Matchup With Golovkin
It may have take a bit too long to come to fruition, but Saul "Canelo" Alvarez is finally set to face off against Gennady "GGG" Golovkin in September.
Photos by Hogan Photos/Golden Boy Promotions​
If boxing was served by Saul "Canelo" Alvarez's easy win over Julio Cesar Chavez Jr. in Las Vegas on Saturday night, it wasn't for what transpired in the ring, where the 26-year-old phenom from Guadalajara, Mexico was awarded each of the 12 rounds by all three judges.

The real news came afterwards, when unified middleweight champion Gennady "GGG" Golovkin made his choreographed entrance to announce a long-awaited bout with Canelo, scheduled for Sept. 16.
"Right now, I think everyone is excited for September," Golovkin said amidst a chorus of boos from Alvarez's many supporters at the sold-out T-Mobile Arena. "Canelo looked very good tonight, and 100 percent, he is the biggest challenge of my career."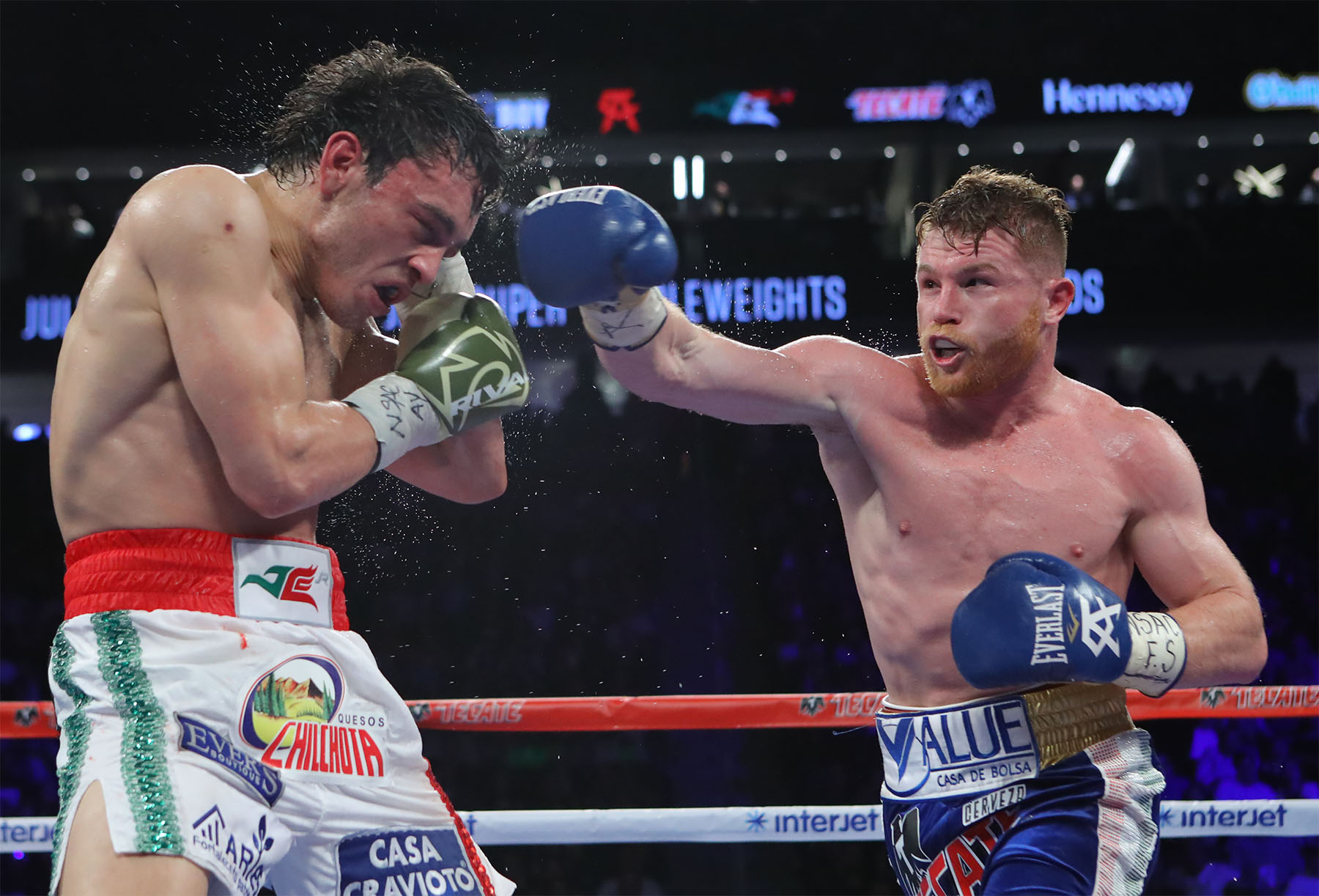 A fight between Golovkin (37-0, 33 knockouts) and Alvarez (49-1-1, 34 KOs) has been atop every boxing fan's wish list since the latter won the vacant WBC world middleweight title against Miguel Cotto in November of 2015. The two seemed destined for an immediate showdown at the time, but instead of staying at middleweight, Alvarez dropped down one weight class, causing him to vacate his title, which was then awarded to Golovkin.
Last September, Alvarez became the WBO super welterweight champion by knocking out Liam Smith at AT&T Stadium in Arlington, TX. But that could not save him or his promoter, legendary former champion Oscar De La Hoya, from the perception that they were avoiding Golovkin.
"People have criticized me; that's been right: 'Why haven't you made that fight? Why haven't you signed that fight?'" De La Hoya said prior to Alvarez's win on Saturday.
Alvarez, naturally, disagrees with the suggestion he's ducking the former Olympic silver medalist.
"I always say, 'Canelo Alvarez is the best because I fight the best,'" he said through a translator after the win.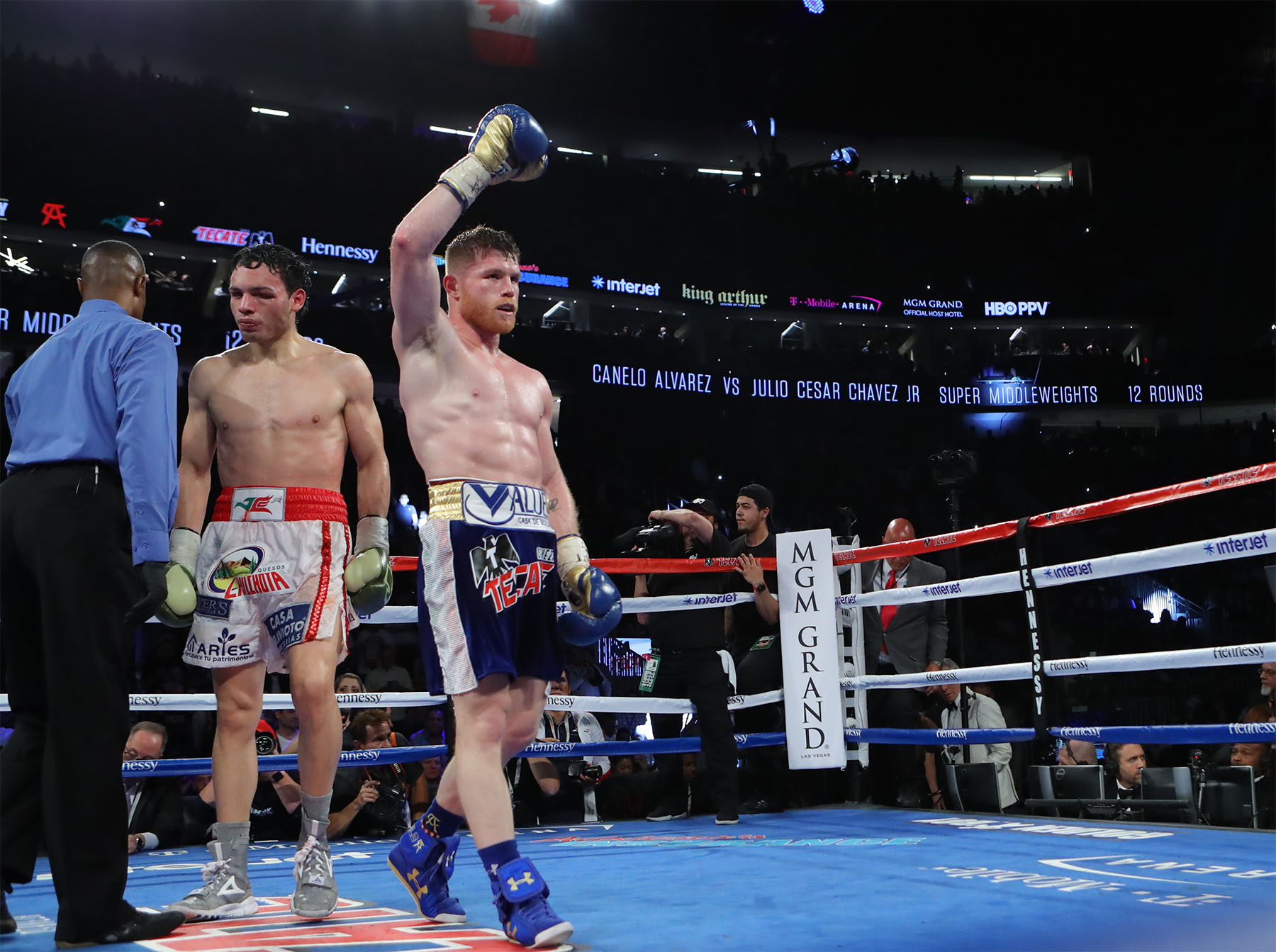 The truth is that before Saturday, when he pummeled the six-foot-one Chavez Jr. at a catchweight of 164.5 pounds, the five-foot-nine Canelo had never beaten a significantly larger fighter.
And although the 35-year-old Golovkin is only five-foot-10, he is a natural middleweight whose notorious power allowed him to knock out 24 consecutive opponents before last March, when he won a narrow unanimous decision over Daniel Jacobs at Madison Square Garden.
That's not to say Golovkin-Canelo is a complete mismatch.
Like Golovkin, Alvarez is considered an elite puncher and one of the world's best boxers, pound for pound. He turned pro at just 15, and fought Floyd Mayweather Jr. at super welterweight when he was only 23, losing a majority decision to the undefeated legend.
And now that he's been victorious at 164.5 pounds, winning at middleweight (160-pound limit) after coming up as a welterweight (147 pounds) and super welterweight (154 pounds) now seems more feasible.
"I've never feared anyone, since I was [15] fighting as a professional," said Alvarez, whose nickname comes from the Spanish word for "cinnamon" and refers to his famously red hair. "When I was born, fear was gone. I never got my share of fear."
However, from a promotional perspective, both Alvarez and Golovkin might have something to fear.
The two have become mainstays on HBO Pay-Per-View, but have struggled to match the retired Mayweather in terms of sales. Whereas Mayweather-Canelo reportedly recorded 2.2 million pay-per-view purchases in 2013, Canelo's win over Smith netted around 300K purchases while Golovkin-Jacobs was closer to 170K.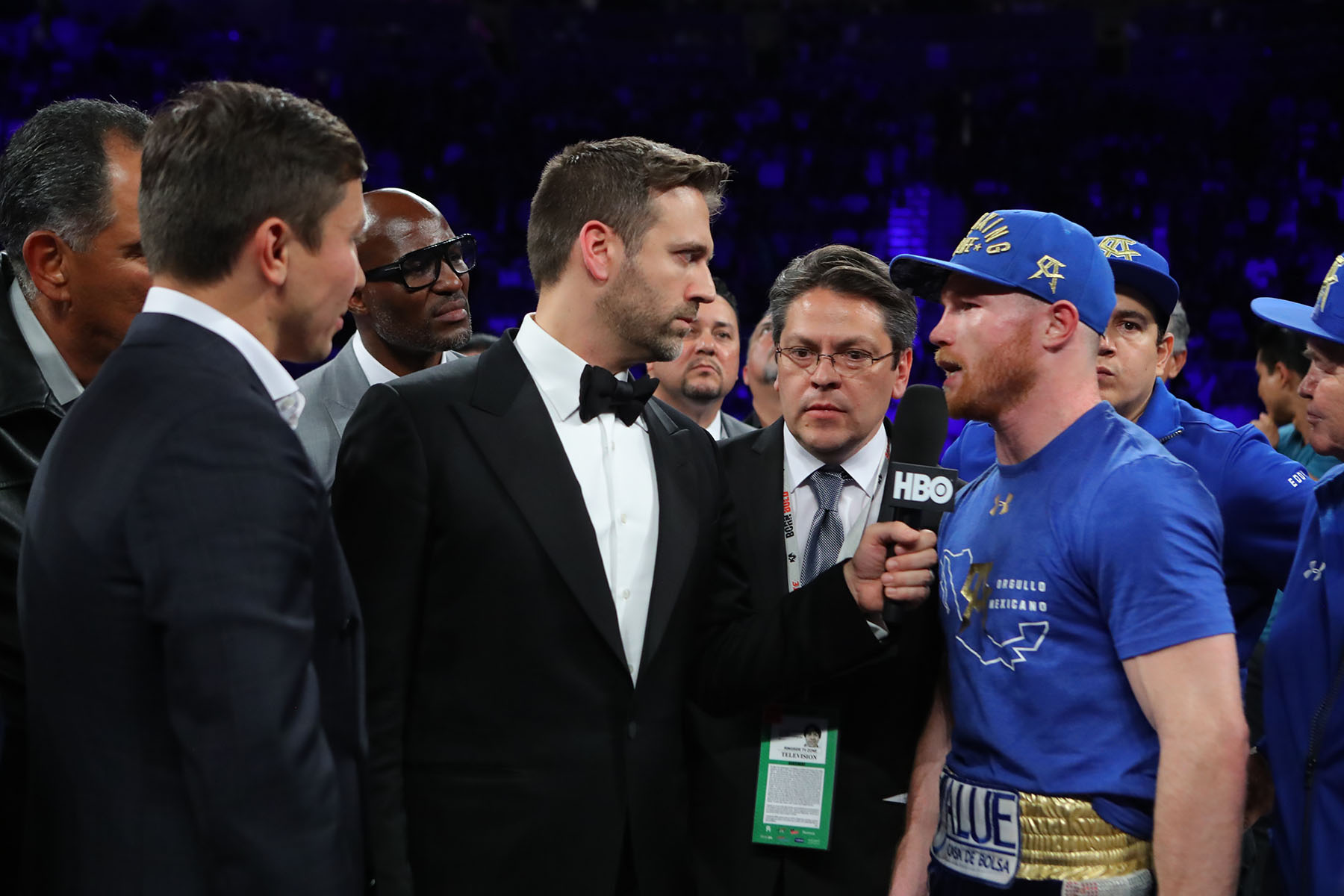 Saturday's pay-per-view figures are not yet available, but the action wasn't enough to justify the $69.95 price tag, and that could have an adverse effect on future sales. De La Hoya and Tom Loeffler of K2 promotions, which represents Golovkin, were not immediately available for comment.
The good news for September's fight is that Alvarez has such a large fan base in Mexico, where both of the country's top networks carried Saturday's main event simultaneously. And tickets to Canelo-Chavez Jr. sold out in less than eight days, so he is a draw at the box office, if not the cable box.
It's also significant that he won so convincingly.
Chavez Jr. may be big, but unlike his revered father, the 31-year old has been criticized in Mexico for failing to reach his perceived potential. Anything less than a dominating win by Canelo would have raised questions in the eyes of fight fans.
"Canelo beat me, he beat me at the distance," said Chavez Jr., after absorbing 145 of the 340 power punches thrown by Alvarez on Saturday, according to CompuBox. "He is a very active fighter—he's very good and he beat me."
For Alvarez, it was a different kind of performance.
Instead of brawling inside, as he is known to do, Canelo landed nearly seven jabs per round, compared to just 3.8 per frame over his previous eight fights, according to CompuBox.
Rather than just out-slugging Chavez Jr., Canelo showed he's actually improving as a boxer, delivering crisp, accurate punches while leaving himself unexposed. Chavez Jr. connected on only 71 of 302 punches, and just 15 of 118 jabs.
"Tonight I showed I could move, I could box, I showed as a fighter I can do all things," said Canelo, who openly disparaged Chavez Jr.'s performance. "I thought I was going to showcase myself as a fighter that could throw punches, but he just wouldn't do it. I've shown I can do lots of things in the ring, anything a fighter brings—I've shown I can showcase myself."
Saturday's win was so easy, Canelo didn't even sit down in between rounds.
"I wanted to try something new," he said. "I never sit down in sparring and I didn't want to sit here."
September's fight has been in the making for over two years. But whether or not Alvarez was buying time before facing Golovkin, fans are finally get what they've been asking for.
"GGG—you are next my friend," Alvarez said.