The Growing Mystery of Kawhi Leonard's Hair
Footage emerged yesterday that seemed to show Leonard had ditched his trademark braids. Or did he? We may never know.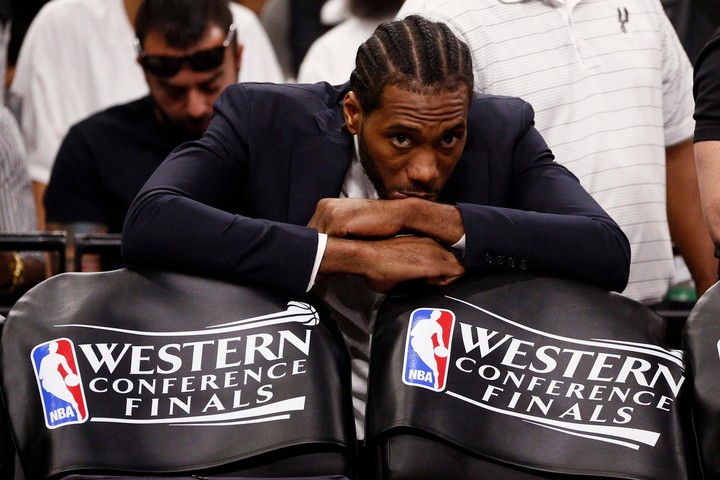 What secrets are you hiding, Kawhi? © Soobum Im-USA TODAY Sports
Last night, a heavily filtered image began circulating online which appeared to show San Antonio Spurs forward Kawhi Leonard sporting a braidless hairdo, a dramatic change to his look since he joined the NBA in 2011. On a wild day of unforeseen shit on NBA Twitter, this was perhaps the unforeseen-est.
Pretty cut-and-dry story, right? MVP candidate cuts his trademark 'do. No big whoop. NO! Extremely big whoop—because guess what? Someone's claiming it's a fake.
Looks pretty real to me. Kawhi, effusive with apathy, standing next to a guy who looks like if Messi and Ronaldo somehow merged into one tiny, perfect being. Everyone else looking gassed, and Kawhi, in his KL logo-emblazoned shirt, looking like he just finished the Sunday crossword. The only odd part of it (besides the hair) is that he seems to be embracing his fellow humans.
I asked Kawhi if he could shed some light on the situation, but I have yet to get a reply.
To be fair to Kawhi, he has not tweeted since July 7, 2015, so it might take a while.
I also contacted the Spurs organization to see if anyone there had seen Kawhi and could either confirm or deny whether his "braids are still intact." I specifically requested that head coach Gregg Popovich comment on the situation. They did not immediately respond.
What are the Spurs and Kawhi hiding?