Trump Intervened on Behalf of LiAngelo Ball While in China
Trump asked the president of China, Xi Jinping, to help out the three UCLA basketball players accused of stealing items while in Beijing.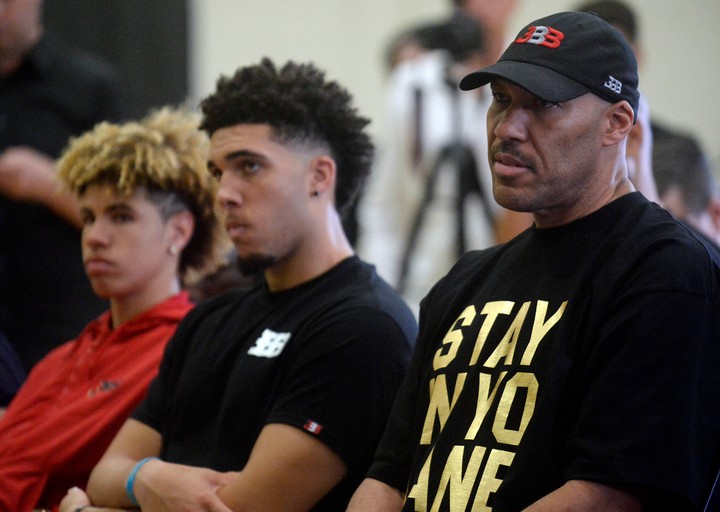 Gary A. Vasquez-USA TODAY Sports
Last Tuesday, three UCLA basketball players, including LiAngelo Ball—son of the loudmouth LaVar and younger brother of stoic Lakers rookie Lonzo—were arrested for shoplifting at a Louis Vuitton store next to their hotel in Beijing. UCLA made the trip to China for its season opener against Georgia Tech over the weekend, but the three players did not play in the game, nor did they make the trip back with their team because of the arrests. According to reports, they may be under house arrest for up to two weeks. That somewhat lenient punishment may be thanks to....President Donald Trump.
UCLA's trip coincided with Trump's trip across Asia, and the players were arrested one day before Trump arrived in Beijing himself. According to the Washington Post Trump personally asked the Chinese president, Xi Jinping, if he could help out and reach a resolution in their case. Typically, the State Department handles these kind of issues but, uh, this is not a typical presidency.
After Trump raised the matter, Xi promised to look into the case and ensure that the players are treated fairly and expeditiously, said a U.S. official who spoke on the condition of anonymity because of the sensitivity of the situation. Chief of Staff John F. Kelly has been in touch with the families of the players and has spoken with UCLA Coach Steve Alford, and Kelly remains in contact with Chinese authorities, the official added. This official indicated that charges against the players have been reduced and that the case is proceeding toward a resolution.
While this is certainly not the typical presidency, we have now experienced one of the only moments in this presidency and this peculiar time in our collective lives that actually makes sense: Donald Trump and LaVar Ball sharing the same column space.