Kyle Terada-USA TODAY Sports
Revisiting the 2015 Vote That Made the Warriors So Unstoppable
What would have happened if the NBPA didn't reject the league's "cap-smoothing" proposal back in 2015?
Kyle Terada-USA TODAY Sports
One of the most important decisions that has helped turn the Golden State Warriors into a near-unprecedented, borderline-unjust collection of basketball talent occurred back in 2015—when 26-year-old Oklahoma City Thunder forward Kevin Durant was still a few weeks from season-ending bone graft surgery on his right foot.
One year earlier, the NBA, ESPN and Turner Sports agreed to a nine-year, $24 billion broadcast rights deal, dramatically increasing league revenues and promising to shoot the salary cap into the clouds. To avoid a sudden explosion in player salaries, and the roster chaos that could come with it, NBA owners made two "artificial smoothing" proposals to the National Basketball Players Association (NBPA) that would have increased the cap at a slower rate while distributing extra cash to players already under contract.
Both proposals were rejected in a unanimous vote by union representatives during the 2015 All-Star Weekend in New York City. And two years later, the effects of that vote are increasingly clear: Franchises that had little or no shot at clearing significant cap space were gifted a second chance. Free agents in the summer of 2016 cashed in handsomely.
Above all, Golden State was able to keep a few key players, such as 2015 NBA Finals MVP Andre Iguodala, and still have the flexibility to maneuver itself into position to sign Durant, an acquisition well on its way to altering the course of league history.
Does the NBPA deserve retroactive blame for inadvertently helping to bolster the NBA's latest dynasty, undercutting a salary cap and other collectively-bargained rules intended to ensure greater competitive balance?
"Every team is playing under the exact same rules the Warriors are playing under," longtime agent Mark Bartelstein told VICE Sports. "All of us want to see really competitive games, where every game is in doubt until the last minute. That's in the best interest of anyone. But I think it's unfair to go back now and Monday morning quarterback [the NBPA's decision]."
That's probably the case. At the time of the NBPA's vote, union executive director Michelle Roberts explained the decision as such: "I found it an oddity, and the players found it an oddity, that there would be any effort to artificially deflate the cap. There was this notion [from the league] of chaos in the marketplace because of the new money and teams' not knowing what to do. It was then my limited experience—and now substantial experience—that these GMs are pretty smart cookies, and they forecast how they'll be able to stack their teams well in advance."
Independent economic consultants told the union that an average player would make less money via an artificially-constrained salary cap, even with "shortfall" checks, than in an environment where the cap was allowed to go as high as the market dictated it should.
From 2004-05 to 2014-15, the league's salary cap rose by about $20 million. Thanks to the new rights deal, initial projections sent the cap from $70 million in 2015-16 to $89 million in 2016-17. It eventually landed at $94.1 million, and is expected to hit $101 million next year.
Given that NBA players took a collective financial haircut in the aftermath of the 2011 lockout, it's hard to fault them for distrusting the owners, or for wanting the new broadcast rights cash in hand as quickly as possible.
"'Artificial' means you're taking something away from its natural course," Bartelstein said. "The player's association wanted the system to be pure. When you use the word artificial it means you're making something up on the fly, and when you're doing that, that's when you get yourself in trouble."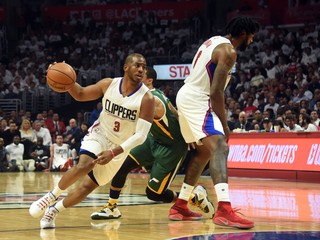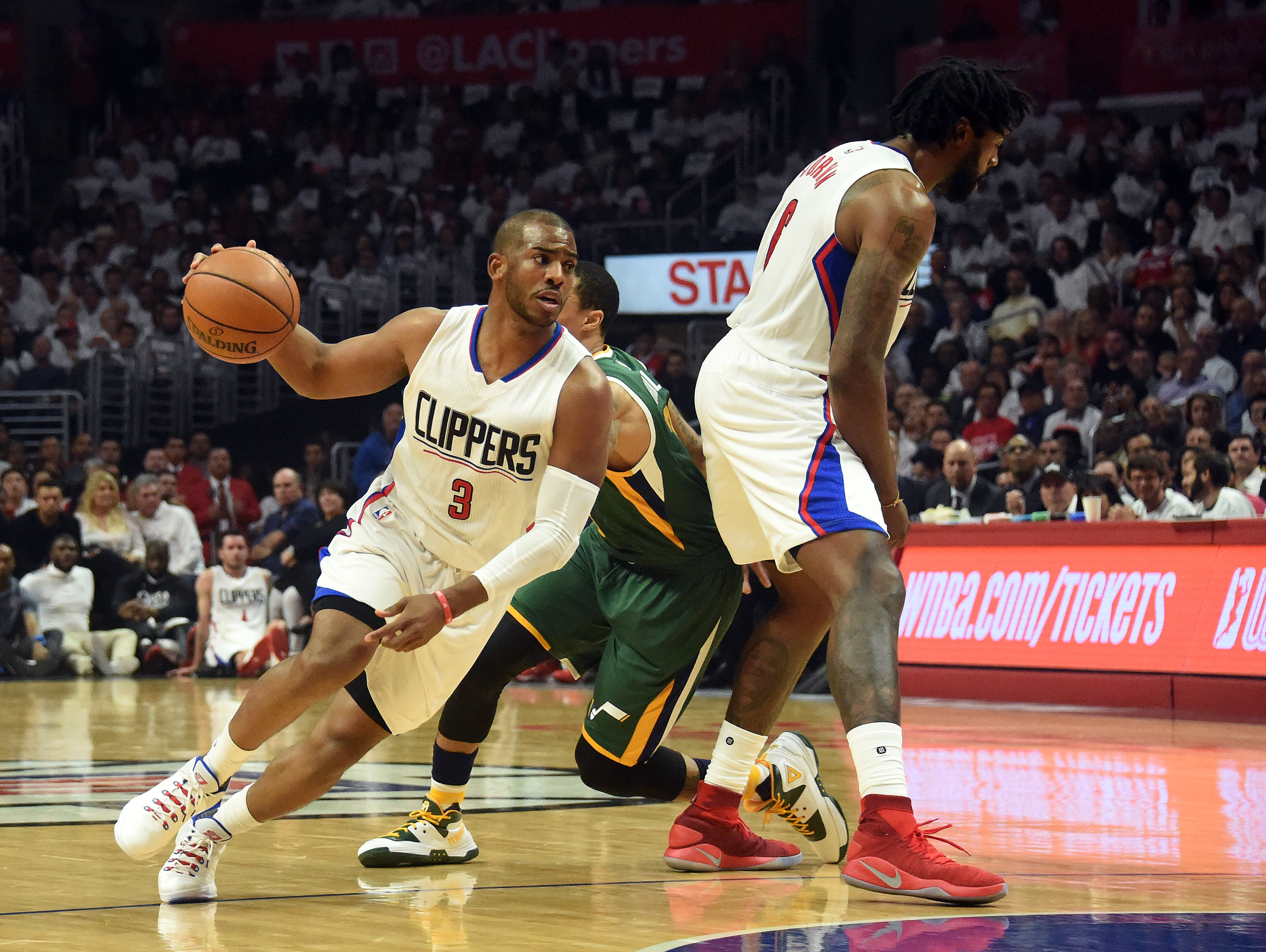 As a thought exercise, however, it's worth considering how different the NBA might look if the union had gone along with cap smoothing. What if the cap had only increased to, say $75-80 million? Who would the winners and losers have been?

More importantly, would we even have the Super Warriors?
Re-evaluating every relevant personnel decision made 11 months ago, or knowing how general managers would've changed course with two years to prepare for a completely different environment, is like flying backwards through fog. But it's safe to assume the market would've been less fluid. A lowered cap would have curbed some of the foolish aggressiveness we saw from at least a dozen anxious teams last summer.

Marquee franchises like the New York Knicks, Los Angeles Lakers, and Chicago Bulls—organizations that clearly had no clue what to do after finding themselves with so much more money to spend—would not have been able to shoot themselves in the foot quite so easily. So Timofey Mozgov, Luol Deng, Joakim Noah, and Dwyane Wade would probably be elsewhere.

Several other organizations likely would have avoided some of the buyer's remorse they're currently experiencing. Think about the Portland Trail Blazers and Evan Turner, the Memphis Grizzlies and Chandler Parsons, the Orlando Magic and Bismack Biyombo, or the Washington Wizards and everyone they signed.

"There would probably be more hope in some of the markets that capped themselves out for years to come in the 2016 offseason," Nate Duncan, cap expert and host of the Dunc'd On Basketball NBA Podcast, told VICE Sports. "If you signed a bad contract last summer, it's basically because of the cap spike.
"Especially teams that had guys with small cap holds that they needed to re-sign, they felt like they had to spend all their money immediately because it wouldn't be there in 2017. And they thought the 2016 market would be indicative of how it would be every year, but in reality, it was a one-time thing where 27 of the league's 30 teams used cap space last offseason. That's unlikely to happen again."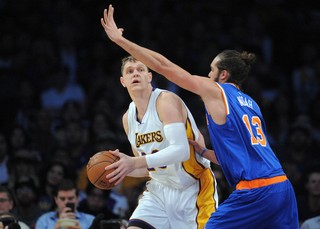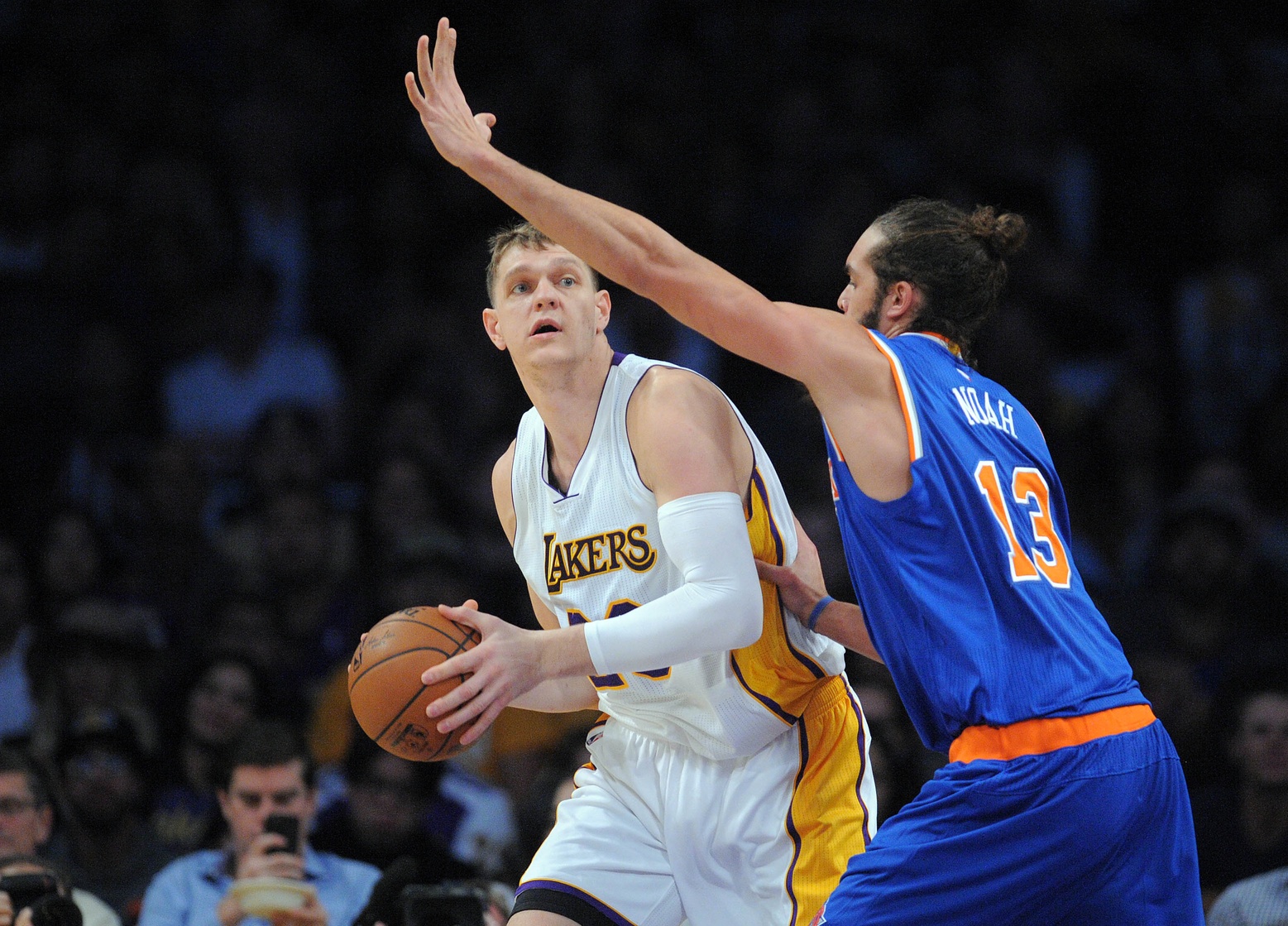 Without a sudden and dramatic surge, the value of cap space itself would have been higher than it was last summer, when almost every team had plenty. To a lesser extent, the same goes for expiring contracts. Constant roster turnover wouldn't increase their value to what they once were, but it'd still rise.
In a cap-smoothed NBA, rebuilding teams nowhere close to being competitive—like the Philadelphia 76ers, Brooklyn Nets, and Lakers—might've been able to take advantage in two ways. First, the market for free agents would have been less competitive; second, they could have grabbed assets (draft picks, mostly) by opening themselves up as dumping grounds for teams looking to dump salary.
Overall, the ripple effects on the league as a whole would have been enormous. It's hard to say exactly how last summer would have played out differently under a lower cap—there are too many moving parts—but let's use the Atlanta Hawks as one example. Suppose the Hawks couldn't have afforded Dwight Howard. Would they have tried harder to resign Al Horford? Or trade Paul Milsap? If they had retained Horford, then what would the Boston Celtics have looked like?
Then there's the biggest question of all: what about the Warriors? According to Adrian Wojnarowski of The Vertical, Golden State long had targeted Durant and could have cleared enough room for him by trading Iguodala. Wojnarowski also writes that Durant wanted to join the Warriors and probably would have agreed to a smaller contract if that had been necessary.
Of course, hindsight is 20-20. Would Golden State have been quite as attractive to Durant without Iguodala? It's easy to imagine the Houston Rockets passing on Ryan Anderson and Eric Gordon to be one of the few other playoff-competitive teams with room to sign Durant. Perhaps the opportunity to reunite with James Harden would have been a bit more appealing. Maybe Pat Riley and the Miami Heat would have been able to nab their next franchise superstar, with some flexibility to sign another this summer?
Absent the cap spike, many rosters would look different. And maybe, just maybe, the Warriors wouldn't feel like such a fait accompli. Thing is, that's not the end of the world, either. Commissioner Adam Silver wants parity, and every fan wants to feel like their team has a shot. That's a worthy goal. On the other hand, dynasties draw attention and eyeballs. The 1990s Chicago Bulls weren't bad for the NBA, and neither were the early 2000s Lakers or the 2010s Miami Heat.
Today, the league is profitable, culturally relevant, and flush with MVP-caliber talent that does not play in Oakland or Cleveland. According to Nielsen, ratings through the first three games of the 2017 Finals are the highest we've seen since 1998.
"Is it good to have the [New York] Yankees and [Boston] Red Sox dynasties, and Celtics and Lakers dynasties, and [New England] Patriots dynasties?" Celtics general manager Danny Ainge told VICE Sports. "Are those better for the sport, or is it better for every team to have more of an opportunity? I don't know the answer. I don't think anybody knows that answer.

"I think the objective for the NBA is to have more competitive balance. That's why they wanted to do the smoothing. We'll have to adapt to the rules, and there'll be a smoothing out with more competitive balance over time. Instead of one summer it'll happen over time, I think."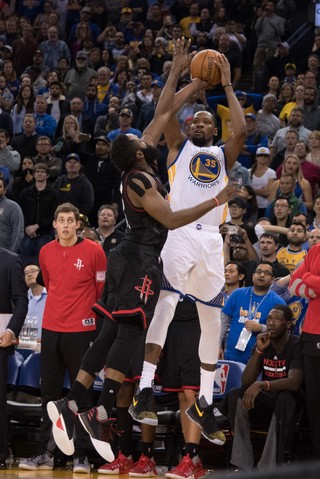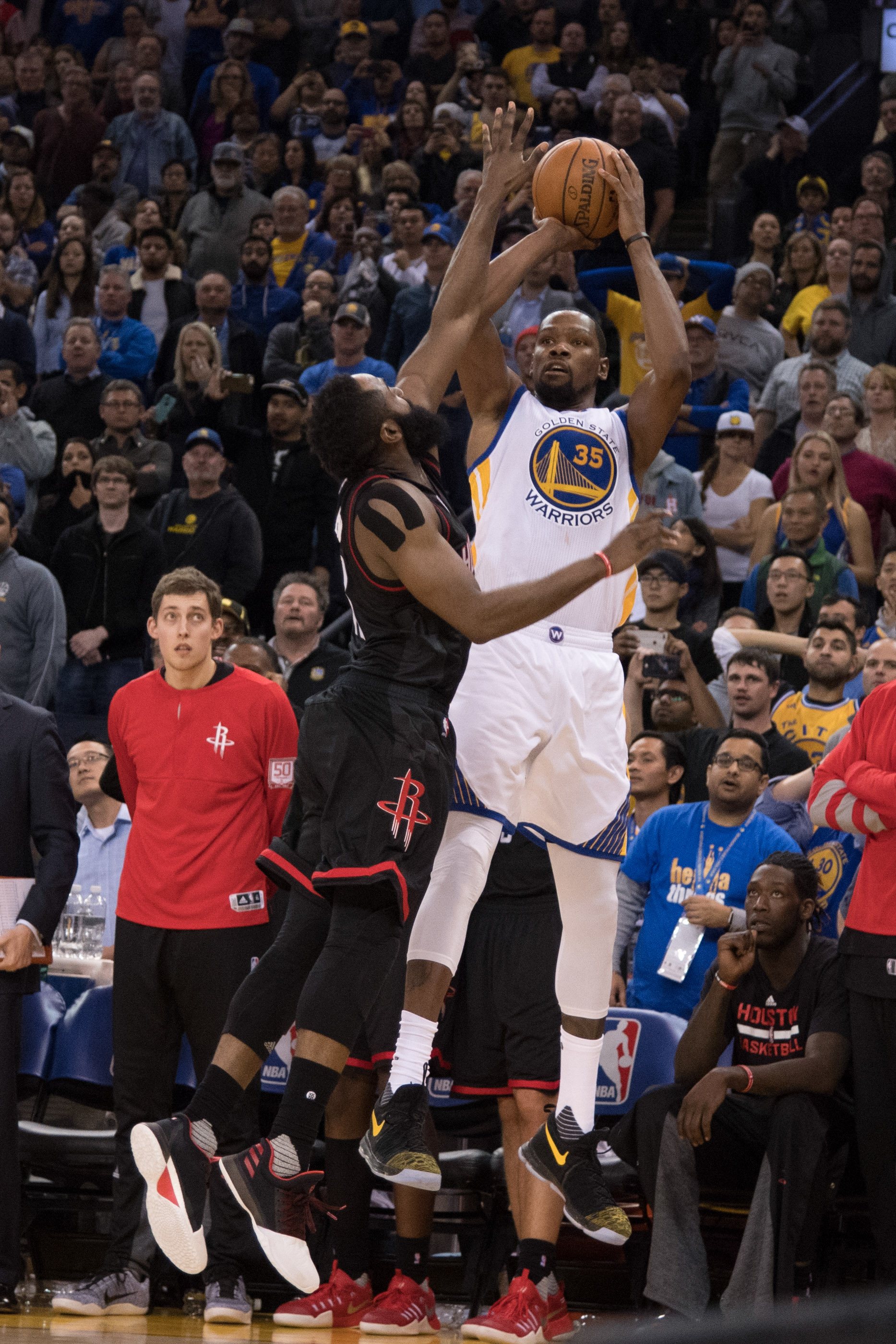 Ainge has a point: moving forward, the cap will level off, and various incentives within the new Collective Bargaining Agreement likely will deter the formation of new super teams by encouraging homegrown talent to stay put. Moreover, there are no guarantees in professional sports—Golden State's run was nearly obliterated earlier this season when Zaza Pachulia tumbled into Durant's left leg. Luck matters.
"Talent isn't static," Silver said in a televised halftime interview during Game 3 of the Finals, arguing that the rest of the NBA is already working to close the gap with the Warriors. He wasn't wrong. For now, though, the league has a lot of work to do, thanks in part to a decision made by the union when Golden State's best player was wearing a different jersey.