The Celtics and Spurs Can Take the NBA's Top Spot Sooner Than You Think
The Celtics and the Spurs have options this summer if they want to go all in on deposing Cleveland and Golden State as soon as next season.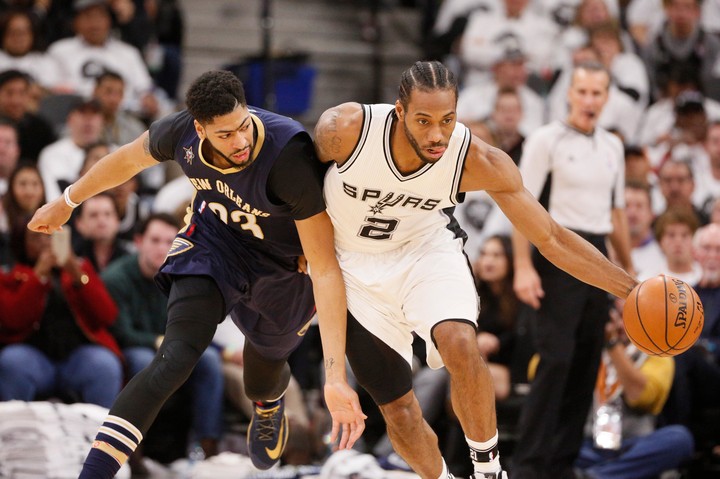 Photo by Soobum Im - USA TODAY Sports
The Golden State Warriors and the Cleveland Cavaliers begin their third straight Finals matchup tonight—a seemingly inevitable end to a season in which both teams looked as unstoppable as ever. As dominant as both the Dubs and the Cavs have been recently, though, that obviously won't always be the case. I've spent this week leading up to the Finals looking at which NBA teams have a realistic path to take over the NBA's top spots.
I've already looked at the long shots and two teams already in the NBA's upper-middle class with a decent enough chance to overthrow Golden State and Cleveland next season. Today, I'll break down why the two teams that fell in this year's conference finals are still more likely than anybody else to end the Warriors-Cavaliers run, and how they can do it sooner than later.

San Antonio Spurs
The Spurs know all about dynastic runs. They've won five championships since 1999, and completed 19 straight regular seasons with a winning percentage above .600. They are an avalanche of selflessness, discipline, and efficiency, and their head coach, Gregg Popovich, stands alone as the one consistent figure through it all.

This year presented arguably their toughest challenge yet: it was San Antonio's first season without Tim Duncan since that title in 1999, and they faced a Warriors team that might go down as the best ever assembled.

Yet even though few NBA observers gave the Spurs any chance to actually take down Steph Curry, Kevin Durant, Klay Thompson, and Draymond Green, San Antonio was in fantastic position to give the Warriors their first taste of adversity in the playoffs. Behind Kawhi Leonard and the league's very best defense, this team won 61 games during the regular season. They were a worthy foe that finally accepted the need to go small and switch every screen. And in Game 1 of the Western Conference Finals, they were up by more than 25 points—until Zaza Pachulia's foot came crashing down on all that. An injured Leonard exited for good, followed soon enough by the Spurs.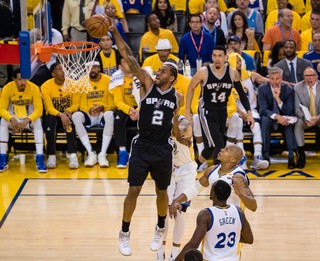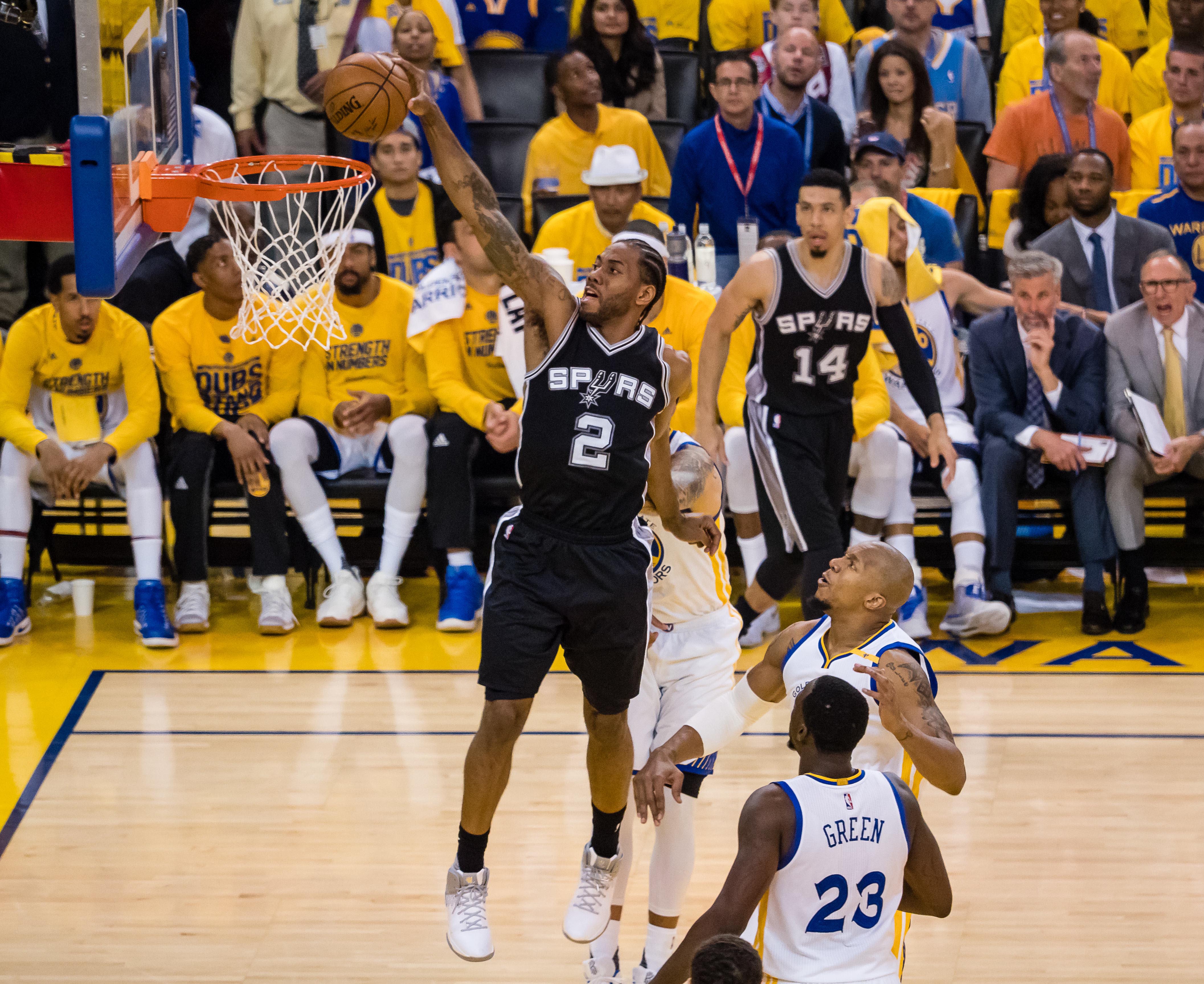 No matter what happens this off-season, San Antonio will still have Leonard, who may very well be the best player in every playoff series he competes in for the next five years. At only 25 years old, his apex will coincide with Durant, Curry, and Green's decline. All the Spurs need to do is get him some help, which they should soon have enough flexibility to do.

Despite persistent rumors that San Antonio will sign Chris Paul or Kyle Lowry this summer, obtaining one of those All-Star point guards is all but out of the team's hands. Instead, it depends on Pau Gasol: if he opts in to his contract, carving out $35 million of cap space will be almost impossible.

Even if Gasol opts out, though, the Spurs would still have to dump Danny Green, renounce all their free agents including Jonathon Simmons and Patty Mills, stash their first-round pick, and deal basically everyone else on the roster except local icon Tony Parker and LaMarcus Aldridge, who is still productive enough to help San Antonio. Remove sentimentality completely from the equation, though, and the Spurs could attach Parker's expiring contract to a future first-round pick and dump him on (you guessed it!) the Brooklyn Nets. In this scenario, in which the Spurs somehow have talked Gasol into opting out of his contract, San Antonio can keep Green and sign Paul to a four-year maximum contract.
Paul is incredible and can diversify an offense in need of more shot creation, but adding him just doesn't seem realistic. Too many things need to fall in place the Spurs' way, and there is no guarantee that Paul, a ball-dominant control freak, would even fit with how the Spurs play. While acquiring him is a no-brainer should the opportunity present itself, if something goes wrong or if San Antonio comes up lame in next year's postseason, that contract could quickly transform into an anvil.

For now, San Antonio finds itself in an intriguing position to bring back this year's group and hope that improvement from their youngest players—Leonard, Dejounte Murray, and Davis Bertans—will be enough to offset age-related decline from Aldridge, Gasol, and Green. They'll have a mid-level exception worth $8.4 million to spend on another three-point-shooting wing who can stay on the floor in a playoff series against the Warriors.
The Spurs can also take a slight detour by trading Green's expiring deal to a team that badly wants to win sooner rather than later, in return for a future asset. Hypothetically, this could be a team like the Detroit Pistons, for an asset like Stanley Johnson or the 12th pick in this year's draft. Doing so would open up approximately $15 million in cap space (this number hinges on what they'd get in return for Green). Then the Spurs can utilize their mid-level exception, and punt the 2017-18 season (which for San Antonio means winning 60 games and still existing as Golden State's primary threat).
In this scenario, San Antonio can replace Green with a more dynamic one-year rental like Rudy Gay or Tyreke Evans, and then head into next summer with the ability to clear enough room for two max players, assuming Aldridge opts out of his deal. As inconceivable as some of the following names will sound, imagine a world where the Spurs can court two of DeMarcus Cousins, Paul George, DeAndre Jordan, LeBron James, Russell Westbrook, and Isaiah Thomas.
Constructing a rival super team isn't easy under the new CBA, which was designed to eradicate such power, but lesser all-around talents that make sense against the Warriors such as Avery Bradley and a healthy Derrick Favors may pop up as alternative options that summer, too. In the meantime, as long as they have Leonard, the Spurs are in a solid spot to make the Warriors sweat as early as next year.
Boston Celtics
It's unclear whether the 2016-17 Boston Celtics were a top-seeded powerhouse that nearly qualified for the NBA Finals, or a charmed collection of jagged overachievers that should've been swept from the first round.

Either way, two facts are undeniable: 1) The Celtics were spanked by the Cavaliers in the Eastern Conference Finals, and 2) The Celtics own the first pick in this year's draft and can carve out max cap space this summer.

The wisest path forward in Boston involves drafting Markelle Fultz, courting Gordon Hayward or Blake Griffin with a max contract, and then watching young chips like Jaylen Brown and Marcus Smart develop in a meaningful situation that will brighten with each passing year. (The Celtics also own Brooklyn's unprotected 2018 first-round pick, and there's about a 99.9 percent chance that will yield another top-five prospect.)

For the purpose of this exercise, though, let's pretend Boston is obsessed with winning a championship next season. They're willing to light patience on fire and bump up to the next level right now. Here's one way they would be able to do it.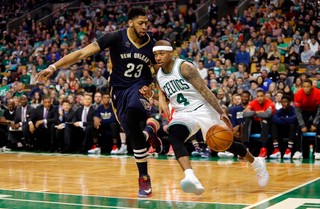 In a three-way trade, Boston sends the first overall pick in this year's draft, the 2018 Brooklyn pick, and their own unprotected first-round selection that same year to the New Orleans Pelicans. They also ship Avery Bradley to the Philadelphia 76ers. The Sixers turn around and send the Los Angeles Lakers' unprotected first-round pick in 2018 to the Pelicans. Anthony Davis goes to Boston.

It's insane to assume New Orleans would be willing to hit the reset button a few months after they traded their best young assets in an all-in play for Boogie Cousins, but with Cousins set to enter free agency in 2018 and Jrue Holiday up for a massive contract this summer, the Pelicans are fragile. They can blink and lose AD for nothing a few years down the road. This organization lacks the infrastructure, assets, front-office acumen, and level-headed ownership that's necessary to build a title contender around their 24-year-old prodigy. Trading Davis for three building blocks that should bloom once the Warriors start to crumble makes sense, so let's pretend they'd be into it.

The Sixers would get to fast-forward their progress toward respectability by adding one of the league's finest two-way role players one season before he hits free agency. Bradley is the exact type of player Philadelphia should try and sign long-term. He's a culture-setting hound who perfectly complements Ben Simmons, and obtaining his Bird Rights is well worth the uncertainty of that Lakers pick. At some point, Philly needs to add some tangible production.

And the Celtics, well, they would be functionally all-in with an Isaiah Thomas–Al Horford–Anthony Davis trio that's supported by Marcus Smart, Brown, Terry Rozier, and nearly $20 million in cap space to spend on versatile vets who can help in a showdown against the Cavaliers (i.e., Andre Iguodala), along with a few more outside shooters like Omri Casspi or Brandon Rush.

Thomas, Smart, Jae Crowder, Davis, and Horford would be a serious starting five, with Iguodala, Brown, Rozier, Casspi ,Guerschon Yabusele, and Ante Zizic off the bench. Three-point shooting could be an issue, but there are worse rotations in the NBA.

In this universe, the Davis–Horford frontcourt should have enough passing, rebounding, shooting, and defensive versatility to punish smaller lineups without getting taking advantage of in space. Thomas and Smart are already crafty pick-and-roll playmakers, but they would each be deadly with a lob target like Davis rumbling through the paint.
Adding Davis, one of the five best all-around players in the world, would be the smartest way for Boston to take down LeBron James. This Celtics team could stay big or go small, with Davis or Horford at the five surrounded by a small army of wings and ball-handlers. Thomas would have a field day off the ball, and all of a sudden defenses wouldn't be able to double- and triple-team him with the aggressiveness they displayed in these playoffs.
Boston will likely give New Orleans a call just to see how much Davis is worth, but who knows if he's even available? If he isn't, they should keep the first pick, do whatever they can to sign Hayward or Griffin, and stay competitive in the short-term while cultivating a potential powerhouse in the background for once James finally starts to wear down.
For what they'll probably cost, Paul George and Jimmy Butler are not the answer in Boston. To take James down as early as next year, a premier talent like Davis is required.
Want to read more stories like this from VICE Sports? Subscribe to our daily newsletter.