Conor McGregor Vaults the Cage at Bellator 187, Shoves Ref
He was celebrating the victory of his teammate Charlie Ward over John Redmond.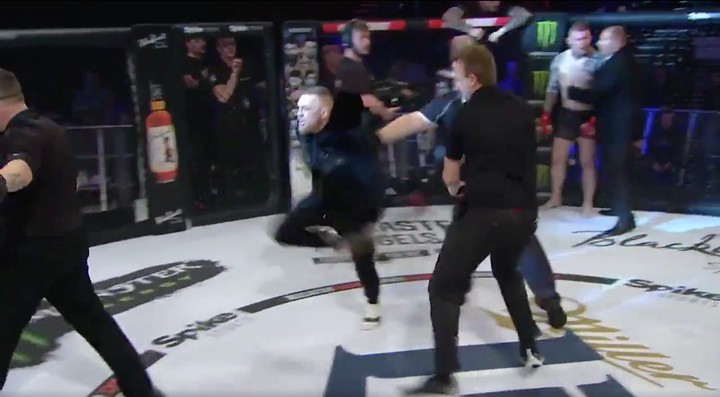 Screen capture via Twitter/@BellatorMMA
Bellator 187 was held in Dublin tonight, and Conor McGregor felt right at home. Perhaps too much at home. After his teammate Charlie Ward dispatched John Redmond with a left hook, McGregor vaulted the cage to celebrate with the man, but the ref and security were none too pleased.
McGregor put on an elated display that surely wouldn't have rubbed too many fans the wrong way, except he wasn't a licensed cornerman for the event, so he had no right to be in there. Them's the rules. His ejection might've gone a bit more smoothly, if the ref wasn't the same man—Marc Goddard—who evicted McGregor from cageside just last month.
The beef apparently still stood, because things got to shoving. Namely, McGregor shoving Goddard:
TMZ has a couple different angles on the incident—which only kept escalating—and McGregor even appears to have slapped a security guard at one point.
At the very least, this is good advertising for SPIKE.