Photo by Russell Isabella - USA TODAY Sports
The Outlet Pass: Philly's Big Boys, Slow Food Melo, and the Return of Good Blake
A weekly roundup of observations, questions, and predictions from Michael Pina's NBA notebook.
Photo by Russell Isabella - USA TODAY Sports
I watch a lot of basketball. And when I'm not doing that (or eating, sleeping, reading, sitting in front of an unintentionally funny horror movie, etc.), there's a good chance I've fallen into something NBA-related on my laptop, whether it be a beautifully-written profile, stretch of game film, or a statistical database.
It is virtually impossible to absorb all the NBA has to offer, but digestible morsels of information usually find their way into a notebook that migrates between my coffee table and nightstand. (I have two shoeboxes under my bed that are literally overflowing with random thoughts on the NBA extracted over hundreds of hours spent in front of my TV/iPad/cell phone.) Some of it is complete nonsense ("Why did Frank Vogel grow a beard?"). Some of it is useful.
This column is born from my notebook. Every week, I'll try to unwrap some unique angles from around the league. So, anyways, welcome! I hope after reading this you have just a little bit more insight into (and interest in) the NBA than you did before hopping over.
1. Introducing Philly's Giant Trio of Death
This was already mentioned in my preview piece about Dario Saric and the Philadelphia 76ers, but one of the most critical questions for Philly is whether Ben Simmons, Joel Embiid, and Saric can share the floor. All three are taller than 6'10", with a rare combination of intelligence and technical skill that should theoretically allow them to thrive beside one another.
If they can space the floor (more on Simmons's ability to do that without a jump shot later), maintain some defensive versatility, and move the ball, there's no way to stop them. Size has long been the sport's most valuable element, and folding it into a group that's also able to adopt modern principles (quality three-point shooting, a modifiable pick-and-roll defense, etc.) would eventually give Philly an advantage over everybody else.
They've only shared the floor for 23 minutes in four games, but in that time the Sixers have outscored opponents by 27 points per 100 possessions while assisting two-thirds of their made baskets. They're zipping up the court, running offense through whoever has a mismatch, and, as expected, gobbling up all the rebounds in sight.
27 minutes of basketball hardly provides enough data to confirm that these three will one day take over the universe, but Sixers coach Brett Brown swapped Saric in for Jerryd Bayless at the start of the second half of their Monday night win over the Detroit Pistons. Obvious translation: This is the beginning of something very special.
2. Minnesota's Glaring Weakness
Between Karl-Anthony Towns dissecting defenses from any square foot of the court he pleases, Andrew Wiggins gliding like a condor, and Jamal Crawford momentarily propping up a lethargic offense like the ageless highlight reel he is, it's still hard to ignore Minnesota's obvious hole: the desperate need for another wing defender. Maybe two.
At the start of their thrilling victory against the Oklahoma City Thunder on Sunday night, the Timberwolves started with Jimmy Butler on Russell Westbrook while Wiggins defended Paul George and Jeff Teague hid out on Andre Roberson. Taj Gibson—better suited as a backup center at this stage in his career—glued himself to Carmelo Anthony as best he could.
When Wiggins took a seat later in the game, Butler was forced to pick up George. Not all teams are able to deploy as many offensive weapons as the Thunder, but these assignments are still way too taxing for Butler all year long, and don't allow him to wreak havoc off the ball on offense as much as he could if the Timberwolves avoided a crossmatch by putting Teague on Westbrook and Butler on Roberson.
Minnesota showed some interest in P.J. Tucker over the summer, but didn't make a serious offer to acquire him. That's unfortunate. They're distinctly thin at arguably the most critical position in the league, and it's showing. When Butler missed Tuesday night's game against the Indiana Pacers, his teammates put up one of the weaker defensive performances any team has had all season.
Games against the Pacers and Thunder are a small sample size, but we already knew that Crawford and Shabazz Muhammad aren't answers on the defensive end, while the Timberwolves' assembly of bigs aren't flexible enough to switch on the perimeter or even directly line up against teams that go small.
Minnesota's offense should still be good enough for a playoff berth, but unless they address their most glaring weakness before the trade deadline, winning a series will be an uphill battle. Including the two games Butler's missed, Minnesota's defensive rating is an atrocious 117.5 when he's not on the floor.
---
---
3. The Phoenix Suns!
Many accurate words have been written about the amusingly dysfunctional Phoenix Suns since the season started last Tuesday. It's fair to say they've momentarily snatched the Torch of Negligence from organizations that have proudly held it (the New York Knicks, Chicago Bulls, Sacramento Kings, and Los Angeles Lakers immediately spring to mind).
A couple nights before Eric Bledsoe submitted an early frontrunner for this season's most legendary tweet, I was in bed watching a game on my iPad when a random, half-serious thought popped into my head. I rolled over, opened my notebook, and scribbled down the following sentence: "Indirect way to gauge how hard a team is playing: Watch with sound off. That way you don't know if players are reacting to a ref's whistle or not."
I was watching the Suns.
4. Carmelo Anthony is a Walking "STOP THE PRESSES" Button
After their game against the Pacers on Wednesday night, Oklahoma City's pace registered at 104.2 with Russell Westbrook on the floor this season. Given their success in transition and all the long-armed, turnover-cobbling athleticism they possess on the defensive end, that number is right in line with how the Thunder should try and play for the rest of the reigning MVP's prime.
"Hijack" is too strong a descriptor for what Carmelo Anthony has done to his new team's rhythm, but when he's in the game their pace drops to 100.7. Related to last year's numbers, the gap between Westbrook and Melo's individual pace represents the league's fastest and 10th fastest teams.
When Anthony has been off the floor this season, Oklahoma City transforms into a jumbo jet. Its pace shoots up to a whopping 105.6. When Westbrook sits, things molder at 96.1. The differential grows more stark when you look at how the NBA's Triple-Double King performs without Anthony on the court. His True Shooting percentage increases 16.4 percent despite his usage rising by 10 points. (The pace gap also dramatically widens, as one might assume.)
This is the fundamental struggle Oklahoma City needs to work through as they digest life with two score-first options who're more comfortable at different tempos. Anthony's usage is right in line with where it was the past two seasons, but his True Shooting is down, thanks to a dramatic dip in trips to the free-throw line and a whole bunch of misfires beyond the arc. Only four players in the entire league are averaging more shots per game.
Billy Donovan has more than enough talent to go around, but ensuring comfort for all three of his stars will take some time.
5. LaMarcus Aldridge: Still Good!
The general reaction after the San Antonio Spurs gave LaMarcus Aldridge a three-year contract extension was bemused fascination. Aldridge will be 33 next season, was not an All-Star last year, and is coming off a playoff run that saw his True Shooting percentage dip below .500. But the Spurs aren't dumb. They know this. They also probably realize that acquiring someone who can mimic his impact at a lower cost is going to be all but impossible during Kawhi Leonard's prime.
It turns out Aldridge is still a very good player, and while Leonard nurses a nagging quadricep injury, the five-time All-Star has quietly kicked off his 12th season looking like one of the league's 15 best players. The undefeated Spurs have turned to mush on both ends when he's on the bench, getting outscored by a team-low 21.6 points per 100 possessions. (They're +19.3 when he plays.)
According to Synergy Sports, just over a third of Aldridge's possessions have been post-ups, where he already ranks in the 96th percentile. The left block is his happy place, and all who've defended him see nothing but his picture-perfect turnaround jump shot whenever their eyes close. (Especially Miami Heat rookie Bam Adebayo, who was absolutely tortured on national television Wednesday night.)
It's unlikely Aldridge averages 26 points, nine rebounds, and three assists per game for the entire year, but it's a promising start for a player who badly needed to reassert himself among the league's elite frontcourt weapons. The Spurs have been especially dominant with Aldridge at the five, in lineups that feature Rudy Gay or Kyle Anderson at the four. Just imagine how scary those lineups will be when Leonard—the freaking frontrunner for MVP—returns.
6. Bebe Nogueira...
...has multiple tattoos on his face and is a legend. This—more than the Raptors' modernized shot profile—is clearly the most important recent happening that's taken place in the general Toronto area.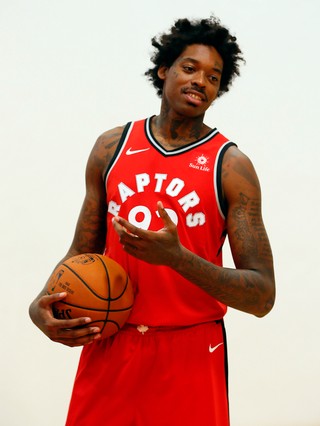 7. The Dreaded Hot Seat
Earlier this week, the Suns fired Earl Watson, demonstrating it's never too early to toss your head coach into a guillotine. Comparing that situation with any other in the league is tough, though. There's only one Robert Sarver, and the stakes for Watson's dismissal were pretty low, given how unpleasant the team's roster is.
Firing a coach before Thanksgiving is never a good look, but it still got me thinking about whether any other coaches (beside the two most obvious candidates: Jeff Hornacek and Alvin Gentry) might have a single burner under their chair. It would surprise me if the coach I'm about to mention doesn't keep his job for the foreseeable future, but literally nothing can be ruled out in today's NBA.
The Denver Nuggets are 1-3 with their lone win coming against the Sacramento Kings. Nothing about this is notably problematic, but expectations are a tidal wave that cease for no man, and with a cupcake road trip sitting on the horizon and a tricky home stand right after that, Mike Malone may find himself in hot water.
If Denver struggles against the Atlanta Hawks, Brooklyn Nets, and New York Knicks before the Miami Heat, Toronto, Golden State Warriors, and Oklahoma City Thunder invade the Pepsi Center, will he have an opportunity to turn things around? Probably, yes. He should. Denver is the fifth-youngest team in the league, with a pair of inexperienced point guards (Jamal Murray and Emmanuel Mudiay) who are seriously struggling. Their offense is unexpectedly impotent.
It's way, way, way too early to point fingers or even be concerned about Denver's play (their defense is keeping opponents away from the rim and forcing a ton of mid-range shots!), but Malone may be on thinner ice than we think.
8. Centers are Officially Married to the Three-Point Line
Here's a list of centers who've already launched at least one three this year: Dewayne Dedmon (six), Jonas Valanciunas (one), Hassan Whiteside (one), Willie Cauley-Stein (two), Gorgui Dieng (four), Robin Lopez (five), Nikola Vucevic (19), Dwight Powell (12), Timofey Mozgov (three), Jusuf Nurkic (two), Jeff Withey (two), Al Jefferson (one), Derrick Favors (five), and a whole bunch who aren't listed primarily because they aren't that surprising.
Joel Embiid is 2-for-13 from beyond the arc and DeMarcus Cousins is averaging more threes per game than all but five players in the entire league. Attempts aren't a sole indicator of any uptick when most of these players have only appeared in a few games, but three-point rates at the center position are skyrocketing across the board.
This is one of the most evolutionary subplots in the NBA right now, even if we all saw it coming.
9. When Spacing Doesn't Matter
Speaking of evolution and the three-point line, two of the NBA's most unique talents, Ben Simmons and Giannis Antetokounmpo, are a couple earthquakes who can't really shoot. So far, Antetokounmpo's three-point rate is about half what it was last season (he's 1-for-6 in 154 minutes) while Simmons is 0-for-3 in his career.
But both have remained effective even when the ball isn't in their hands, and their respective coaching staffs have done a good job figuring out different ways to get them going from the weakside. It's only natural to sag off someone who isn't a threat beyond the arc, and that's exactly what teams do whenever Simmons and Antetokounmpo aren't dribbling around with transfixing dexterity.
To neutralize this defense, both teams have instituted quick hit actions that allow their freakish "guards" to get a running head start towards the basket against a perimeter defender who isn't in their path. For example, the Bucks will run a side pick-and-roll towards the middle of the floor with the sole intention of swinging it to Antetokounmpo on the opposite wing. He'll catch it in mid-stride towards the paint, and from that point your best defense is physical assault.
This catch-and-go action makes defenders think twice about helping at the nail, and instead forces them to clog up an open runway towards the rim.
10. Andre Drummond is Wiping Dirt Off His Shoulders
Not only is he shooting 72.2 percent from the free-throw line, but, more importantly, the 24-year-old appears to have shaved/waxed/lasered away his scraggly shoulder hair. Speaking as someone who's long been afflicted with this cosmetic impediment, shout out to Drummond for overcoming what was once an unscalable obstacle.
11. Blake Griffin is a Top-10 Player Once More
Remember Blake Griffin? He's hitting threes, demanding double teams on the block (if you cut he will find you), and can still Mount Olympus poor shot blockers who think they stand a chance. Rudy Gobert didn't even jump when he saw Griffin rumbling down the paint for a teeth-rattling facial earlier this week.
His offensive game is as complete and diversified as there is, averaging a cool 27, 10, and four while launching six threes per game. If (if!) he stays healthy, the Clippers may find themselves with the five seed, and Griffin may find himself returning to an All-NBA team.
12. John Wall Equals Mini Mutombo
John Wall is on pace to have one of the most impressive shot-blocking seasons a guard has ever had, per Basketball-Reference. Through his first four games, the 27-year-old blur has five blocks and six personal fouls. Solid. His block rate is the exact same as Dwyane Wade's during his age-27 season, too.
He was a demon in Washington's season opener against the Philadelphia 76ers, welcoming Markelle Fultz to the league by smudging his layup off the glass. But then he also showed how useful he can be later on against the Detroit Pistons, switching onto Tobias Harris, guarding him in isolation, then swatting his floater away while squared up in the paint.
So much is made about Wall's inability to knock down threes and space the floor. But it's his inconsistency on the defensive end that bars him from MVP conversations. If he excels on that end all year, and rolls his unparalleled combination of speed, strength, and length into one package at the point guard position, Washington's ceiling will rise a considerable degree.
13. The Ed Davisaissance!
Ed Davis's tenure with the Portland Trail Blazers hasn't been great. Often injured, out of shape, or deemed ineffective in a league that has little use for big men who can't shoot, the guy looked spry on Tuesday against DeMarcus Cousins and the New Orleans Pelicans, recording his first double-double since last February.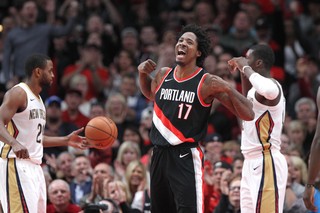 Davis is slowly re-emerging as one of the NBA's top putback artists and has flashed vibrance as a roll man, putting the ball on the ground with one dribble and then going up strong at the rim. Noah Vonleh's looming return from a shoulder injury (he could be back as early as November 1st) may throw a wrench in Davis's minutes. But Terry Stotts will have a hard time keeping the 28-year-old out of his rotation.
14. The Spurs are Spursing
The Spurs have logged six minutes of crunch time so far this season (defined as when the scoring margin is five or below, with five or fewer minutes left in the game). They've yet to allow a single point in that time. Defensive rating: zero point zero, and it's way too early to call it unsustainable.
15. How Many Nets can be Helpful Players on a Good Team?
Last year, the answer to this question was between zero and two, depending on what you think of Jeremy Lin and Brook Lopez. That number is slightly higher today, but a key difference is a serious downshift in age.
DeMarre Carroll stands out as the only legitimate late-prime candidate (though Trevor Booker is averaging 20.7 points and 12.5 rebounds per 36 minutes), with D'Angelo Russell, Jarrett Allen, and maybe even Caris LeVert—who plays basketball like a bold character actor who isn't sure/doesn't care about the established tone in his scene—rounding out the list.
It's too early to say this with too much confidence, but if the Lakers don't land LeBron James or Paul George this summer, dumping Russell for Lopez and cap space will be viewed as a humongous mistake. He looks fantastic in Brooklyn, strutting through half-court sets with 9,000 percent more confidence than he had in his first two years.
He's getting to, and finishing at, the rim in ways that should quell some concern over whether or not he'd ever be able to test defenses in the paint, all while knocking down threes and conducting open-floor surges with a comfort previously unseen in his career. His pick-and-rolls are unhurried, and he's already picked up the nuance that is holding off a trailing defender while putting pressure on the sagging big.
Turnovers are high but that's fine. He keeps his head up, looks for cutters, and is still only 21 years old!
Meanwhile, Allen looks like his ceiling could be as one of the 15 most useful defenders in the league. He has a 7'6" wingspan, unteachable instincts on the perimeter, and a touch around the basket that, speaking as someone who doesn't watch college basketball and didn't get to see him at Las Vegas Summer League, is quite the pleasant surprise. The Nets may have at least two cornerstones already onboard.
16. Are LeBron's Minutes Already Cause for Concern?

He leads the league at 188 overall and is third with 37.6 per game.
17. Your Weekly Reminder that the Golden State Warriors are Unfair
Coming out of a time-out during Wednesday night's win over the Toronto Raptors, Warriors play-by-play announcer Bob Fitzgerald looked at a Shaun Livingston, David West, Kevin Durant, Klay Thompson, and Andre Iguodala quintet as they strode onto the floor and said "No team in the league can match this five."
Even though only three of Golden State's units played more than this exact one last season—they outscored opponents by 13.3 points per 100 possessions in 167 minutes—my immediate reaction was still to scoff.
Yes, this unit boasts a top-two player, extremely high intelligence across the board, like-sized defenders, and one of the greatest spot-up shooters who ever lived, but it doesn't have Steph Curry or Draymond Green, two transcendent figures who are most responsible for Golden State's unprecedented dominance.
It took me about five seconds to realize Fitzgerald was right. It's obvious and inconceivable at the same time: Golden State's eighth or ninth best five-man unit will blow your very best one out of the water. Welcome back, NBA!