Marcin Tybura and the Desperate Search for New Blood at Heavyweight
A win over Fabricio Werdum on Saturday could prove to be the desperately needed shake up in the heavyweight division.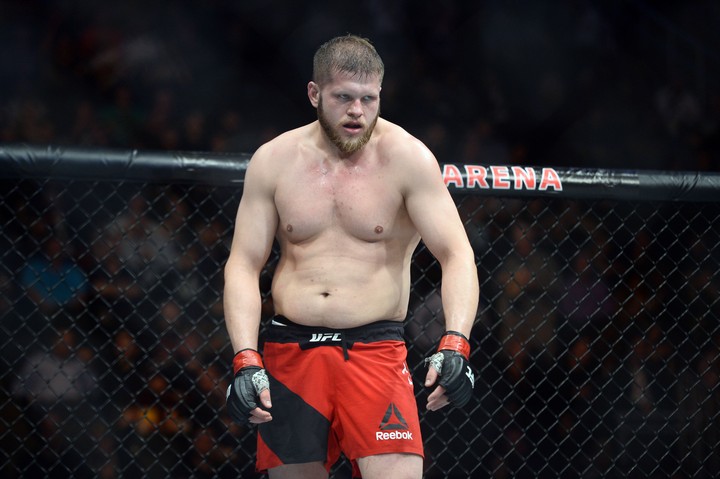 Joe Camporeale-USA TODAY Sports
In boxing, the 1970s are remembered as the peak of the heavyweight class. Not only were Muhammad Ali, Joe Frazier, George Foreman, and Kenny Norton in the title mix, there was a string of strong contenders in the wings. In mixed martial arts we tend to think back to the later days of PRIDE FC. The PRIDE holy trinity of Fedor Emelianenko, Mirko Cro Cop, and Antonio Rodrigo Nogueira is fondly recalled but Josh Barnett, Sergei Kharitanov and Aleksander Emelianenko all seemed like they were within inches of breaking through at various points. Perhaps the last time the heavyweight division really inspired some excitement was when Brock Lesnar and Shane Carwin were putting forward the case for the mega-heavyweight, and Cain Velasquez and Junior dos Santos were noisily tearing up the main card en route to the belt. Wednesday marked the ninth anniversary of Brock Lesnar winning the UFC belt and yet the names in the heavyweight division are largely the same.
Fabricio Werdum and Mark Hunt are over 40 years old. Alistair Overeem and Andrei Arlovski are both pushing it and each has suffered ten crushing knockout defeats—"battle-worn" doesn't begin to describe them. Dos Santos looks run down and keeps disappearing; Velasquez rarely even makes it to a fight. Even the spry heavyweight champion, Stipe Miocic is 35. If there's one thing this business needs it is an injection of talent at heavyweight that actually captures the interest of the fans.
Marcin Tybura is 32 years old and began his professional career a month before Brock Lesnar's retirement. He is new blood and aside from Francis Ngannou he might be the most promising thing to grace the heavyweight top ten in a while. But he's also sort of underwhelming. He's won three bouts on the trot in the UFC, one by kicking his man in the head, but most of his appearances are competitive and unmemorable.
Tybura isn't the kind of show stopper that fans want in their heavyweight prospects. Ngannou has that covered. What Tybura does have is cunning. He's herky-jerky in his movement and could cut whole seconds off his punches by sharpening up his fundamentals, but clean form isn't everything and the potential is there. He has good timing and anticipation for a heavyweight. When his opponent steps in Tybura will throw a cackhanded swing with his right, elbow far above his shoulder, but he'll connect it more often than not. Stick something cleaner in its place and Tybura could be hurting heavyweights in every round of the fight. He also shows some moves that are largely absent north of 205 pounds. Tybura hooks off the jab in most of his fights. It shouldn't be this rare in MMA, but it is. And at heavyweight, where partial punches still cause headaches, hooking off the jab is invaluable.
In his one spectacular UFC finish, Tybura hooked off the jab into a step up left high kick. That's not something you will see heavyweights doing. It was messy—everything he does is—but it was surprising to see and, as Viktor Pesta will tell you, it was surprising to take.
Tybura actually has a second finish in the UFC but you will not see it on any highlight reels. A tired Tybura slapped half punches into the head of a mounted opponent who was too exhausted to defend himself, but that victory tells you as much about Tybura as you need to know. He keeps working and he has a decent gas tank for a heavyweight. But gritting your teeth and gutting it out against Luis Henrique is one thing, Tybura's opponent this weekend is a man who has built a career around breaking the mentally fragile giants of the division.
After any Fabricio Werdum fight his striking is either dubbed world class or sloppy and ripe for counters. Public opinion is swayed entirely by the results of his fights. The truth is that the face first karate rush that Werdum made at Stipe Miocic could have been lifted from any of his fights. The clinics that he puts on against other fighters stem from his opponents shelling up. Through pure aggression and pace, Werdum puts his man on the back foot. His conditioning allows him to keep them there until they fold or the fight ends. Werdum's entire striking game consists of pumping one-twos into body kicks, throwing the odd wheel kick, and slapping on the double collar tie to attack with knees when his man covers up.
He doesn't have defense so much as back-foot offense—when the opponent starts punching, he pumps his hands and tries to steal the momentum. That is not to take away from what he has been able to do, more experienced men than Tybura have been battered into complete passivity against Werdum.
The chances of Fabricio Werdum sitting back and giving Tybura the timid kind of fight that Pesta did are slim. Werdum will go after Tybura and then Tybura will have to show what he can do under pressure. Against Andrei Arlovksi, Tybura put a beating on the old timer through the first round, but began to lose control of the fight when Arlovski began opening up with strikes. If you stand out at range, Tybura will try all kinds of clever things to try to hurt you—nice front kicks to the body, interesting boxing combinations—but if you press in on him he has a habit to lash out spasmodically in a way which can generously be described as unbecoming of a top ten heavyweight.
Tybura's sole loss in the UFC came as the unlikely Tim Johnson boxed him onto the defensive for much of the fight. Johnson worked a much lower pace than Werdum is inclined to, and with Werdum the threat of the takedown and a genuinely world class ground game is always there. On the upside, Tybura has at least shown that he knows how to deal with the face-first, shifting charges that Werdum loves—unfortunately it hasn't stopped Tybura from trying them himself.
Marcin Tybura could prove to just be a stepping stone for Fabricio Werdum, and the heavyweight division will continue as it has for the last five years, but there's always the chance of a nice surprise. He has good hand speed, good cardio, and a good head on his shoulders. He might not be the new heavyweight monster we all hoped for, but he could prove to be at least a momentary shake up in the order of things at heavyweight—one that we all desperately need.
Check out Jack's website and extended video previews at FightPrimer.com