LeBron's Torching of Raptors Sends Toronto into Difficult Offseason
The Raptors have enjoyed a strong four-year stretch, but run the risk of getting stuck in the middle with no clear way to close the gap on the unstoppable James and the Cavaliers.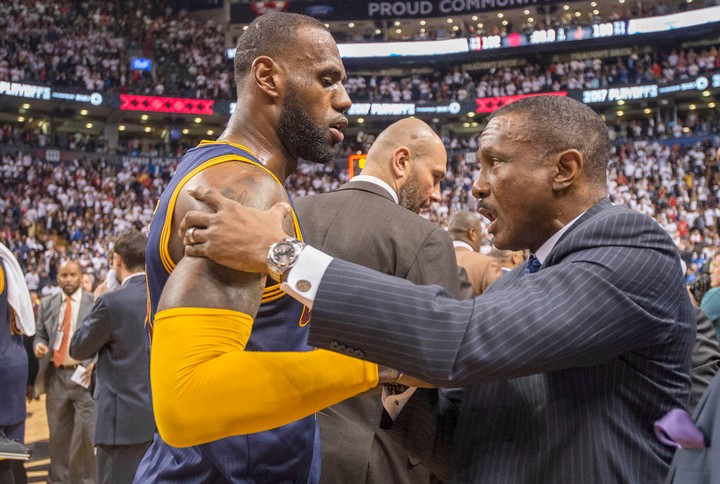 Photo by Nick Turchiaro-USA TODAY Sports
This article originally appeared on VICE Sports Canada.
LeBron James cares not for the best efforts of the Toronto Raptors. Or anyone else outside of Oakland, for that matter. On Sunday, the Raptors took their latest best shot against James and the Cleveland Cavaliers, coming up short in a 109-102 final, a 4-0 series sweep, and the latest chapter in James' perennial and inevitable march to the NBA Finals.
The Raptors know this position, though the ending wasn't this bitter a year ago. The questions that now face them weren't as biting, either.
A year ago, the Raptors finally overcame a number of franchise-long hurdles, exorcising demons that littered the halls of the Air Canada Centre and hung over every near-term success like a black cloud. They won a seven-game series. They advanced past the second round. They took a legitimate shot at the eventual NBA champions, and even if James himself downplayed the threat Toronto posed when the Eastern Conference final was locked 2-2, the Raptors earned a great deal of respect.
The building of that organizational equity was important and valuable, and so the Raptors took a swing at closing the gap. Their hands mostly tied in free agency, they rolled the core back and tweaked around the periphery. When that appeared a substandard approach, they pushed a few (but to their credit, not too many) chips in to the center of the table and acquired fortification in the form of P.J. Tucker and Serge Ibaka.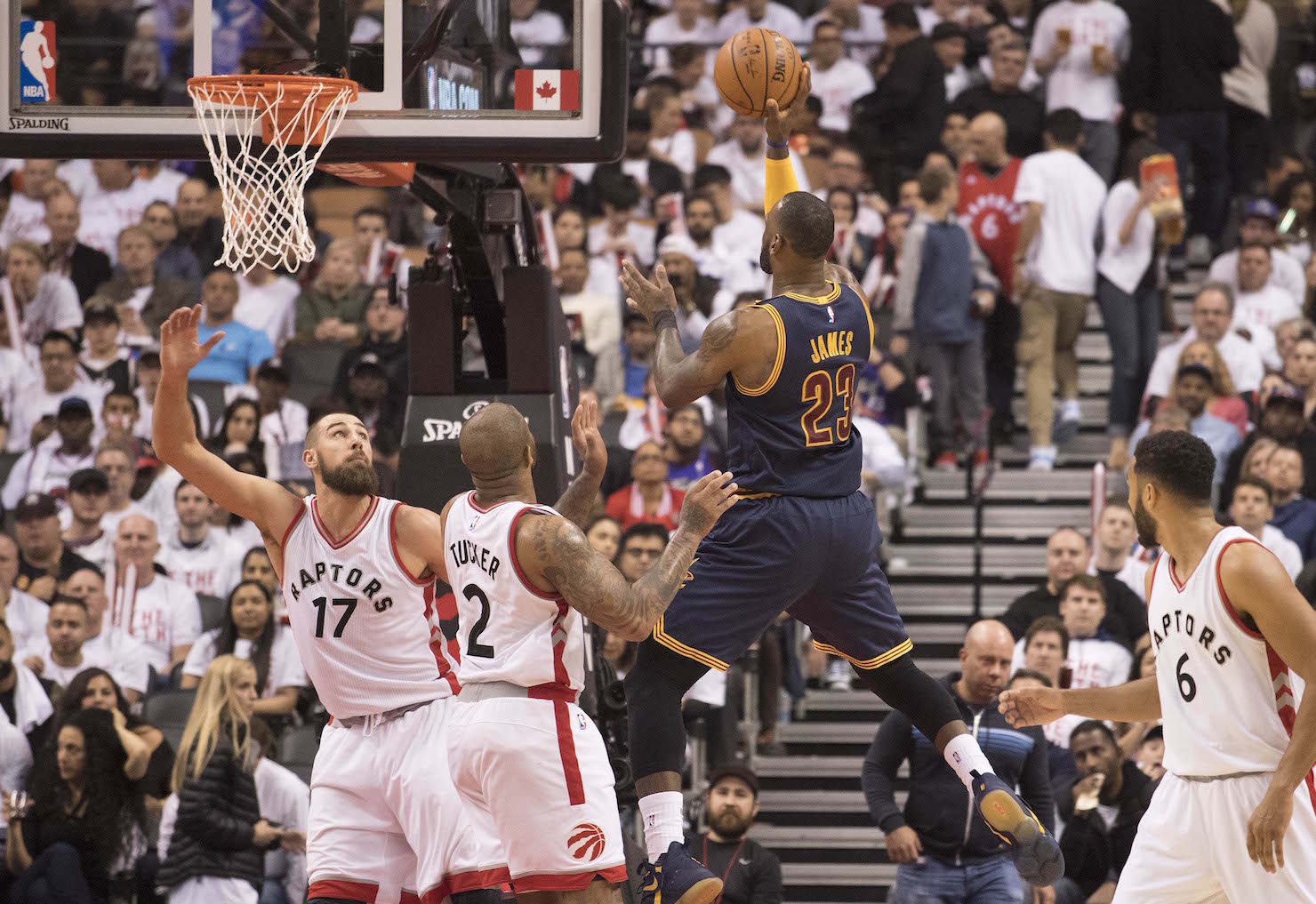 That allowed them to withstand an injury to Kyle Lowry, stay afloat in the East, and when the All-Star point guard returned, they once again looked like the biggest threat to James on this side of the bracket. The Raptors took a real, legitimate shot at catching up to Cleveland, re-signing DeMar DeRozan, acquiring two of the five biggest names moved during the season, and overcoming a tough Milwaukee Bucks challenge to set themselves up for a second step on the scale against the Cavaliers.
And they were swept. James shot better in the paint than Shaquille O'Neal and better on threes than Steph Curry, Lowry sprained his ankle and missed the final two games, DeRozan was shut down in consecutive fourth quarters after dominating for the first three (following his once-a-series disaster in Game 2), and the Raptors were found wanting.
All offseason and throughout the year, the aim was to close the gap with the Cavaliers. They did not, and in even being so bold as to suggest they could, James and the Cavaliers made sure there would be no fake designs on catching them next year. The Cavaliers are not a class above the Raptors and, likely, the rest of the East. That gap is several classes, and the fact that the Raptors now feel just as far away or further away will color their entire summer.
This isn't a failure, of course. James is on his way to a seventh consecutive NBA Finals and is in the process of cementing himself as perhaps the greatest basketball player to ever live. The Raptors may have lucked into this success initially, but once they found it, it would have made little sense to back away from it because it was not the plan or because James existed. For a franchise that spent two decades ranking more or less as a laughing stock, putting together the best four-year run in franchise history, making back-to-back runs past the first round for the first time ever, winning 50 games in consecutive years, retaining a star in free agency, and sending a firm, clear signal that they were making a genuine run at the status quo, that's all important.
The Raptors today are a much more respectable and valuable entity in basketball circles than they were four years ago, and they've given the fan base a reason to galvanize and grow over the last half-decade, carving out an identity in the city's noisy sports marketplace. League-wide, they are mentioned among the teams with the best management and the most stability. Masai Ujiri has the cache to go whatever route he so chooses and the world will trust his decision is well-measured, and if he chooses to compete again now or later, the franchise's reputation will have them in a better position than in years passed.
There is value in trying, and the Raptors more or less had to see what they had once more, with a little extra support.
But again, they came up short. Quite short. And that disappointment is bitter, confusing the success that came before it.
"We all want to win. I don't know if we're there yet," head coach Dwane Casey said. "We're knocking on the door. I like our team. I wish we had a little more time to jell together. I didn't do a good enough job getting them to jell, quick enough to play at a championship level. Again, it feels bad and it was ugly but it shouldn't diminish that excellent regular season we had."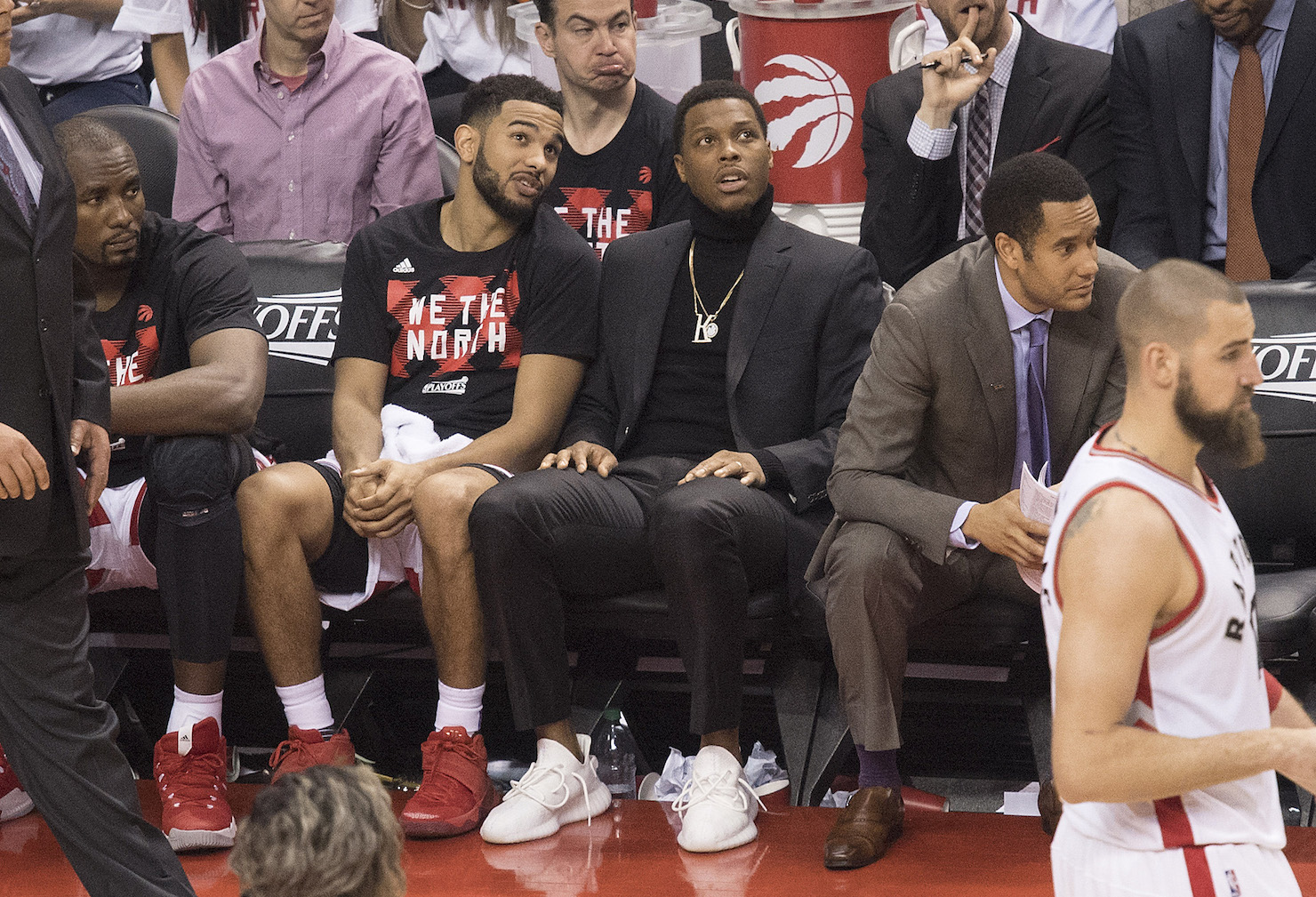 And where they go from here will show their answer to a very fundamental and philosophical sports question: Is title-or-bust a reasonable approach?

Because if the Raptors, as Ujiri has long said, are aiming to win a title, they'd need a heck of a lot to break right for this core to do it. James is turning in maybe his best season at age 32, Kyrie Irving and Kevin Love are on the right part of the aging curve to lend the requisite support moving forward, and even if the Cavaliers were toppled, the Golden State Warriors loom as an equally unfair epilogue. It would be very tough to stomach, and other powers (the Philadelphia 76ers if things ever go right, the Boston Celtics if they cash in their assets, Giannis Antetokounmpo taking up James' mantle) loom a few years down the line. There will always be something in the way. But the team's best odds at winning it all might be to take a step back and aim a little further down the line.
"It's hard to break down a team that won 50-plus games two years in a row, with the core guys," DeRozan said. "That's on upper management."
If they keep this team together, they'd pay well into the luxury tax for a puncher's chance in a third run at James. That's hard to justify, even with the continued growth of organizational equity that would come with yet another strong season and deep run. There's value in repeating as "good," but that is only true for so long before consistent goodness gets perceived as being stuck on the treadmill. Staying there is one thing, but paying a heavy tax bill to do so seems silly.
There are middle grounds, too, ones that may be dictated by the free agent decisions of Lowry and Ibaka. Lose Lowry, and the offseason plan might require scrambling just to repeat at this level. Keep Lowry and retaining Ibaka makes more sense but requires some financial hurdling. Keeping Lowry and letting Ibaka walk puts the Raptors in a similar position to where they were before this year. If you keep the bulk of the pieces together, it may not make sense to bring the same coach back, mostly just because changing something seems necessary in that approach.
"It's not a step forward," Patrick Patterson said. "I can't really say right now if it's a step back. I just know it's not a step forward."
The answers are not self-evident. The hardest part of the offseason from a fan perspective could be saying goodbye to Lowry and this core in general, but if it's not that, it's probably going to be the difficulty of there being no right or wrong or even palatable answer. Doing the same thing again with the specter of the same ending feels daunting, though it would certainly feel better throughout the course of the season. Taking a major step back is a feeling some may not be accurately remembering. It is bad. And the reward is the chance to get back to this same place a little down the line, with a slightly better shot at pushing through.
This is what James does. He turns good into not good enough. Even at the end of the best run in team history, the Raptors are left to introspect at how they define success and navigate a path out of their greatest success yet.