Andre Iguodala Makes His Case for the Hall of Fame
When Iguodala decided to take his talents to the Bay Area four years ago, he changed Golden State's fortunes, and the trajectory of his own career.
Photo by Kyle Terada-USA TODAY Sports
Role players don't have legacies. That type of talk is typically reserved for superstars, the ones who will still get talked about and argued over years after they retire. Every once in a while, though, a great role player on a great team breaks through and cements his place in NBA history.

It takes a special set of circumstances and, critically, enough superstar teammates to earn a spot on the biggest stage. But make enough clutch shots once you get there and you can go from being Robert Horry to being Big Shot Bob. Do what Andre Iguodala did in the 2015 Finals, in last year's losing effort, and then again in this year's revenge-tinged triumph, and you are officially much more than a versatile fourth (or fifth) option.
The Golden State Warriors would not have gone to back-to-back-to-back NBA Finals, would not have won a record 73 regular-season games in 2016, would not have sandwiched that campaign with a pair of 67-win seasons, would not have won two titles in three years without Stephen Curry, Draymond Green, and Klay Thompson. And they may not have won this second title without Kevin Durant.

But it's also true that the Warriors would not have won these two Finals without Iguodala, a role player who is so superb in his specific role that he's more valuable than some stars, and whose particular skills and knack for the moment have helped him make star-level contributions when it matters most.
Drafted ninth overall by the 76ers in 2004, Iguodala spent the first eight years of his career causing the people of Philadelphia to wonder why he wasn't a bit more like that other A.I. After years of watching Allen Iverson's pathological devotion to carrying the entire Philadelphia offense on his back, Sixers fans could appreciate Iguodala's stellar defense and playmaking from the wing, but couldn't help yearn for him to be a bit more assertive.

He was a fine player, then as now—and delivered considerably above-average results for a No. 9 pick, too—but the Sixers won only 47 percent of their regular-season games during his eight years with the team, and got beyond the first round of the playoffs only once during that stretch. By the end of his Philadelphia tenure, most people blamed him for that.
The Sixers sent Iguodala to the Denver Nuggets the summer after his eighth season, in a deal that delivered them Andrew Bynum. Bynum never stepped on the court in a Sixers uniform. Philadelphia won 34 games that season, fired everybody involved, and then began their avant-garde rebuilding process.
Meanwhile, the Denver squad Iguodala joined saw its winning percentage shoot up from 0.575 (during the lockout-shortened 2011-12 season) to 0.695—the equivalent of going from 47 wins in a full season to 57. They also improved from 19th to 11th in defensive efficiency, and this time it really was because of Iguodala. The Nuggets lost in the first round of the playoffs that year, to an upstart Warriors squad that discovered the beginnings of its eventual identity when an injury to David Lee forced them to start Harrison Barnes at power forward.
Iguodala was a free agent that summer during a time when he was also one of the most statistically rare players in league history: at that moment, he was one of just 12 players ever to average at least 15 points, 5.5 rebounds, 4.5 assists, and 1.5 steals over the course of his first nine NBA campaigns. The other guys on that list included a collection of one-namers (Michael, Magic, Larry, LeBron), Hall of Famers (Clyde Drexler and Frazier, Scottie Pippen, Rick Barry), a shoulda-been Hall of Famer (Grant Hill), a future Hall of Famer in Russell Westbrook, and, uh, Steve Francis. Those numbers also undersold Iguodala's actual on-court impact, considering they don't come close to capturing the value of his defense.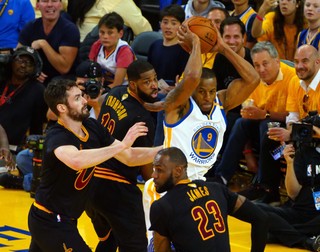 All of which is to say that Iguodala was coveted by most every team in the NBA, and for good reason. He wasn't viewed as a transformative superstar, but rather a chameleon-esque glue guy who could help a team get to the next level given the right set of circumstances. That wasn't wrong, exactly, but his decision to sign with the Warriors still changed the course of basketball history as we know it.
It took a year, a coaching change, and an injury to David Lee for it all to come together, but Iguodala's signing helped set the Warriors on the path toward becoming the unsolvable juggernaut they are today. As a result of that decision, Iguodala's career has changed, too.
Iguodala was a very good, very well-respected player through his first nine NBA seasons, but was mostly appreciated by NBA nerds. He was a late-lottery pick who spent most of his career playing for a middling team, didn't do much in the playoffs, and had few accolades—a First-Team All-Rookie nod, a single All-Defensive Second Team selection, and a lone All-Star appearance during his final season with the Sixers. In short, he was not the kind of guy people typically tell their grandkids about.
Four years later, he's something else. Iguodala is now one of the most celebrated role players in NBA history, and one who will be remembered as, if not the best wing defender of his era, then another link in the Cooper-Johnson-Pippen-Artest-Leonard chain.
His numbers in this year's Finals (8.6 points, 3.2 rebounds, and 3.4 assists) pale in comparison to those from his MVP win two years ago (16.3, 5.8, and 4.0). They don't even quite match his totals from last year's losing effort (9.1, 6.3, and 4.1). But they do undersell his impact.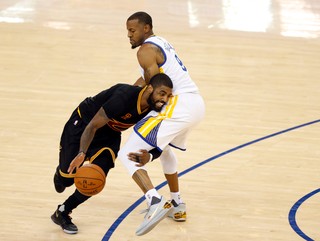 Whenever the Warriors needed him this year, Iguodala was there, time and again, with a timely bucket or a key defensive play. He stripped LeBron James at the end of Game 3 to secure a victory, getting just bit of karmic revenge for The Block. He canned two monster run-stopping three-pointers and slammed home a couple crowd-rousing dunks during the fourth quarter of the series-sealing Game 5 win, which he finished with a postseason-high 20 points. And the Warriors were once again brilliant whenever he was in the game: in a series where the final margin of victory was 34 points, Iguodala was plus-60 during his time on the floor.
The question about Iguodala's legacy now is not whether or not he'll have one, but whether it might eventually include his enshrinement in the Hall of Fame. The complete list of Finals MVPs who aren't overwhelmingly likely to be in the Hall of Fame essentially consists of just Cedric Maxwell and Chauncey Billups, and Billups is only on that list because of the "overwhelmingly" part; he's likely to get in eventually.
Iguodala is 33 years old. His career now includes more than 12,000 points, 5,000 rebounds, 4,000 assists, and 1,500 steals. He'll get to 4,500 assists and possibly 500 blocks next year, and will likely pass 1,000 threes the year after that. Every single player in the 12K-5K-4.5K-1.5K club is either already in or likely to join the Hall of Fame. The only three players to add 500 blocks and 1,000 threes to those figures are three no-doubt future Hall-of-Famers: Kobe Bryant, Paul Pierce, and LeBron.
Toss in the fact that Iguodala was one of the most crucial players on a team that won two titles in three years, and that won more games in that three-year span than any NBA team has won in any three-year span in the history of the league, and it's awfully hard to make the case against Iguodala getting to Springfield one day. That was unthinkable just a few short years ago, but because Iguodala made the decision to sign with Golden State four years ago, it now seems like a real possibility, and a deserved one at that.