Mike Francesa Unloads on Penn State's James Franklin for Icing Kicker in 56-0 Rout
Francesa called Franklin a "horse's ass" among other things.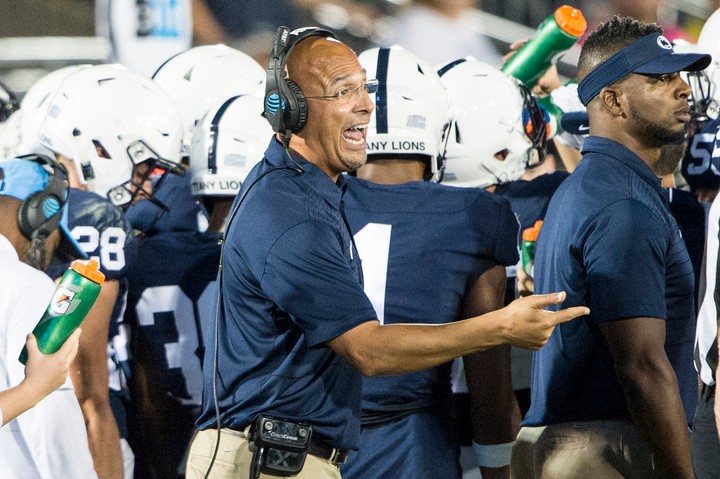 Gregory Fisher-USA TODAY Sports
Mike Francesa has been mailing it in for the better part of a decade, but every once in a while, he can still reach back and fire off his fastball. He was able to do it on Monday, thanks to Penn State head coach James Franklin's decision to ice the poor kicker for Georgia State in the final seconds of a 56-0 blowout.
With 11 seconds left in the game, which, again, was 56-0, Georgia State lined up for a 31-yard field goal because, hey, no one wants to get shut out. They snapped the ball and Brandon Wright kicked it through the uprights, but not before Franklin had called a timeout. Naturally, when Wright went to kick it again, he missed it and the game ended as 56-0 shutout.
Franklin gave some shaky excuse for the decision—the "fourth team" was out on the field and they had never run a field goal block before, so he wanted to make some substitutions—but let's get real: he wanted to preserve the shutout. Mike was not having any of it.
This is trademark Francesa. Breathlessly reading a game report that he no doubt had printed out in front of him before uncorking a rant where you can almost hear the veins pushing against the skin at his temples. He calls Franklin a "horse's ass" and a "jerk" for calling the timeout in that situation and also threw in some nice passive aggressive "hope you're proud of yourself" snark. But really, for me, the best part is how seamlessly he transitions from fire and brimstone to reading an ad for a local car dealership. That is a pro move.