Pettis vs Poirier: A Strange, Bloody, Exhilarating Fight
On a night that heavily featured washed-up has-beens across the fighting world, Anthony Pettis and Dustin Poirier put on a show.
Peter Casey-USA TODAY Sports

Conor McGregor is the most powerful promotional force in mixed martial arts. The only other thing any promoter has found that even comes close is nostalgia. This week, Bellator announced an eight-man heavyweight tournament containing only a couple real heavyweights, and only a couple fighters who weren't thoroughly washed-up. Not to be outdone, Rizin Fighting Federation announced the return of Mirko Cro Cop (age 43) against Tsuyoshi Kohsaka (47).
This is not to pretend that the UFC isn't just as bad. Over the weekend, it held an event in Norfolk, Virginia, packed to the rafters with recognizable names, albeit ones that ranged from fighters in the twilight of their careers to those simply waiting for someone to take away their licenses.
Andrei Arlovski was there, 18 years and 40 fights into his career, having been starched outright ten times. Yes, one in every four times Arlovski steps into the cage, he's getting laid out, and now the UFC are actively hiding him from even the permissive Nevada State Commission. Arlovski snapped a five-fight losing streak in a flaccid slog against an opponent who decided to roll his Reebok shorts up into a nappy.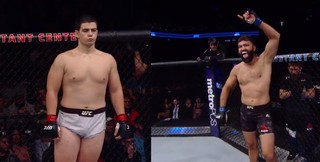 Co-headlining the card was the ghost of Diego Sanchez, who was promptly laid out by a vicious elbow from Matt Brown. But breaking through the gloom was the main event between Dustin Poirier and Anthony Pettis. The two world-class lightweights put on a blood and guts brawl that was worth the price of admission but leaves the two men on very different paths.
Dustin Poirier has been undergoing a career makeover in recent months. Ditching the goatee and growing his hair back has turned him from an extra in American History X to one of MMA's most dashing fighters. More than that, Poirier's game has been getting smoother as well. The wooden banger who got wobbled by Akira Corassani, and who stood like a deer in headlights in front of Conor McGregor, seems a hundred miles away from this more relaxed, confident Poirier. Rather than getting his hands up high and standing straight in front of his man (as got him caught against McGregor), Poirier now carries his hands lower and moves his head and hides behind his shoulders much better. That's not to say he's perfect, but now he's finding openings for the punching power he's always had, as opposed to simply running in alternating hands. A couple of his counter punches against Eddie Alvarez were beautifully placed.
The story on Anthony Pettis has always been that he likes space to work. Rarely doing much in combinations, Pettis's lightning-fast body and high kicks are his best weapon standing, but they become much harder to even attempt when his opponent crowds him by the fence. Rafael dos Anjos demonstrated this when he took the lightweight title from Pettis, battering him in the process. Eddie Alvarez had less success but still shut Pettis down by pinning his hips to the fence. Sure enough, Dustin Poirier came out, jabbed and pressured Pettis toward the cage, then changed level and drove Pettis's hips into the fence.
Much of Pettis's best work through his career has come from his guard. Very few fighters in modern MMA threaten submissions quite as effectively from the bottom. In some ways, Pettis's bottom game is a throwback—many fighters rely instead on using the fence to work their way up as quickly as possible. Against most fighters it is advantageous to drag them away from the cage to lessen their chances of getting up, but the triangle/armbar-centric closed guard is far harder to work when crumpled up against the fence. To get a better look at that, it is well worth watching Frankie Edgar's one-way beating of Yair Rodriguez earlier in the year. Rodriguez works a frantic pace throwing up submissions from his back, but with Edgar driving his head into the fence and stacking his hips he could do nothing.
Pettis made a good go of threatening triangle chokes, even when he needed to throw his legs almost above his head to attempt them, but Poirier's positioning and pressure made it difficult to finish. Pettis showed he wasn't just a submission threat, though, when he worked in a knee shield to kick Poirier out to his feet, then hit a gorgeous tripod sweep.
The tripod sweep is one of the classics of jiu jitsu but it hasn't stopped working if the opponent doesn't mind his manners. Gripping one ankle, the fighter looks to get his foot on the same side hip—this is the part that the top man should be preventing. Once the foot is on the hip the balance can be affected with a thrust of the leg, so the free leg goes behind the opponent's knee or ankle and he has no way to step as his center of gravity is pushed off his base. Pettis, his younger brother Sergio, and Bellator middleweight Gegard Mousasi have all used this technique well over the years because they are also good at threatening opponents with the up-kick, which can distract from the simple prerequisites of the sweep.
As the two returned to the feet, Poirier pressured Pettis toward the fence and closed the first round out with a lovely flurry which highlighted his aforementioned growth. Looping shots drew Pettis's forearms out, then linear shots came down the middle and vice versa. The whole thing started with a lovely step-in, lead uppercut. Of all the basic punches, the lead uppercut is the one you see used effectively the least. More often, it occupies a spot as a sort of corkscrew uppercut, thrusting in from under the opponent to raise his head for a straight. Far rarer to see it used as a classical, close-range punch as Poirier did here and as Alexis Arguello used to do so masterfully.
Pettis showed sparks of his famed creativity on the feet. We're a few years removed from a cage-assisted kick or knee, but he's still got some interesting looks. Taking a two-on-one grip on Poirier's right wrist along the fence, Pettis looked to land a high kick on the undefended side. Poirier was wise to this and initially attempted to circle away from the kick before stepping in to swing with his free hand while both of Pettis's hands were occupied. A two-handed wrist control isn't commonly seen in the standing clinch in MMA, but Jon Jones was able to use it to set up takedowns, elbows, and body punches against Daniel Cormier and Glover Teixeira. It remains one of those untapped areas of MMA that should see some more detailed exploration in the coming years.
The general rule on fighting in the opponent's guard is "both hands in, both hands out." Situations where only one arm is inside the opponent's guard are where the triangle becomes a threat. But with Pettis's hips caged against the fence, Poirier was able to drop an elbow with his threatened arm and split the former lightweight champion open at the eye. A very unusual position to expect a strike from, and it happened to snicker-snack Pettis's skin in just the right way. The swatch of blood Pettis left across the canvas in his brief moments on his knees hinted at the severity of this cut.
After taking this elbow, Pettis rolled to his front and Poirier moved to take his back. Taking the back concedes basically all meaningful striking options in order to pursue one very well-telegraphed submission attempt. If an opponent still has the wherewithal to handfight, he gets a break from the beating. Randy Couture knocked Tim Sylvia flat on his rump in the first round of their title fight, hopped on his back, and spent the next four minutes doing nothing while Big Tim recovered his wits.
One of the odd quirks of Anthony Pettis, however, is that he excels from what is considered one of the worst positions in the game—no matter who gets on his back, Pettis seems able to draw that fighter's arm over his head and turn back into him, winding up in his guard. He gave his back to Charles Oliveira, the lightweight division's best submission artist, on no less than half a dozen occasions and spun back into Oliveira's guard every time. This weekend's fight was no different: Even when reeling from blows and blinded by his own blood, Pettis quickly spun back into Poirier's guard.
After Pettis got off some elbows of his own from Poirier's guard, the fight took place in spurts of slick rolling madness as each man struggled to keep control of his opponent and keep a hold of his advantages. The next time Poirier was able to take Pettis's back, he attempted to take top position rather than get bogged down in the handfight and allow Pettis to spin back into his guard again. As he came up on top of Pettis, his legs still locked in a figure four, Pettis tapped out, allegedly to a broken rib.
It was a cracking fight with an unfortunately anticlimactic ending, but it showed how much Poirier has improved. The question of whether Anthony Pettis still "has it" is one that has dogged him since he lost the title. He went from a streak of spectacular victories to record with more misses than hits, but showings against men like Charles Oliveira and Jim Miller remind us what a force he can be when he is allowed to fight his preferred sort of contest. A record of 2-5 in his last seven fights is undeniably a problem and says that either something of Pettis has left him, or that his shortcomings are far too well known and he must learn some new tricks.
In the aftermath of this fight, Poirier remarked that it was a broken man and not a broken rib that brought about the submission. Unless Pettis can turn it around for at least a couple fights on the trot, that quip could wind up haunting him.
Check out Jack's website and extended video previews at FightPrimer.com and follow him on Twitter @JackSlackMMA.