Cris Cyborg and Khabib Nurmagomedov Shine at UFC 219
Cyborg finally had a game opponent in Holly Holm, and she was up to the task. Khabib Nurmagomedov also made his case for a shot at Conor McGregor.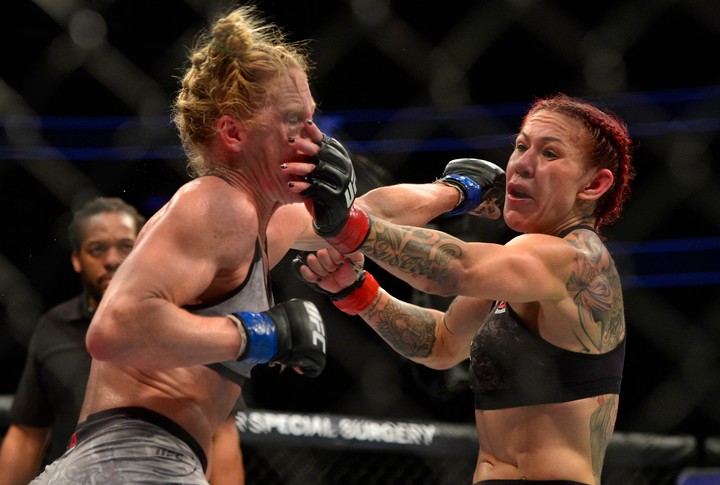 Gary A. Vasquez-USA TODAY Sports
UFC 219 and Rizin conspired to provide an excellent weekend of fighting action. While 219 wasn't the strongest of pay-per-views, we were treated to a scrambling clinic from the now bantamweight, Tim Elliot, the under-rated performance of the night as Dan Hooker defused the dangerous Marc Diakiese, and Khabib Nurmagomedov stepping into the limelight once again to further complicate the UFC lightweight title picture. Most importantly though, the headliner did everything it promised to—it matched Cris 'Cyborg' Justino with a good, technical striker who could almost match her for size and Justino rose to the occasion in order to come out on top.
Often in MMA you are asked to rate a fighter based on their performances. But when you watch a world-class fighter you can usually see it from the way that they fight. According to the various rankings out there, Cyborg Justino's opponents have all been world class—but just watching them fight, you would have a hard time convincing anyone who hadn't read the same rankings. Many of Justino's opponents were matched by merit of being willing to fight her, and since 2013—when she fought Marloes Coenen for a second time—UFC bantamweight Leslie Smith had been easily Justino's most accomplished opponent.
Holly Holm came out moving and made Justino work to get to her. Right from the get go she was check hooking and pivoting out, and circling to make herself less of a target. It was having an opponent who actually knew what to do in front of her which allowed Justino's vastly improved footwork and tighter striking to come to the fore. So often Justino fights ugly as she swings down to the level of her opposition and here she genuinely looked the part of a world champion. After getting lanced by a couple of straight lefts as she got a little over-eager, Justino settled down and began to land counter right hands in the wake of Holm's left.
One thing which really stood out as the rounds progressed was that Holm has a real lack of variety to her striking. There was an occasional side kick or round kick, but for the most part it was all left straights, and always from directly in front of Cyborg—either getting hammered with a right hand immediately afterwards, falling into the clinch, or looking to march into that never-so-successful Carlos Condit walking combination: straight, lead uppercut, straight. Time after time, Holm threw the left, often just missed it, and ate a counter immediately afterwards as she failed to move her head or angle out.
By the final two rounds, Cyborg had dropped the right hook and was timing Holm with the jab when she stepped in. As always with Holm, she had no jab to even be mentioned and against a pressuring banger, that's a problem.
Holm would have been better served throwing the left straight from the inside angle, getting deeper onto the outside angle, ducking after throwing it and coming up with the right—anything to add more variety. Holm threw up the odd hook kick, thinking that something crazy might catch Justino off guard but, really, more varied fundamentals were called for.
A more positive surprise was that Holm was able to more than hold her own in the clinch and the size disparity really did not seem that marked. Going into the clinch after throwing the left hand is a great way to escape counter strikes, but Holm's game when locked up seems to be almost entirely a defensive clinch. She can stop her opponent from doing anything much…but she doesn't have any meaningful attacks whether they be strikes, trips or throws. Her occasional knee to the thigh of a flattened out Cyborg recalled the very finest performances that Cheick Kongo ever forced an unwilling audience through.
Elsewhere on the card, Khabib Nurmagomedov put on a classic showing. Vintage Nurmagomedov is to run forward, eyes wide and startled by any strike that comes back, and then maul the opponent the moment he touches the fence. Against Edson Barboza it was exactly that. As Beneil Dariush, Michael Johnson, and Tony Ferguson have all shown, you don't need neat feet to get Barboza rattled—you just need to keep running at him and he will run himself onto the fence. So we were treated to the bizarre sight of Nurmagomedov literally jogging after Barboza until the Brazilian got caught against the cage. But that is not where Khabib makes his money…
Not how you cut a ring.
In the clinch and on the ground Nurmagomedov is still one of a kind. His guard passing was beautiful as he redirected Barboza's knees into a smash pass or stepped straight over into mount. There is never a second of the fight where Nurmagomedov is not hitting and in some ways his striking on the ground is like the old school infighting which is finally coming into fashion in the standing clinch along the cage. Nurmagomedov will drive his head into his man's face to straighten them out and take away even more of their mobility, then begin swinging in punches above his own head. Often he will be sitting on his opponent's legs and unable to really get his hips in on the hitting but the arm punches are more than enough when he has his opponent so helplessly stretched out.
Nurmagomedov is also one of the few fighters who can hurt a man from the grapevined position, seated along the fence which we often affectionately refer to as "laming it out" because it is generally used to hold the seated man down while offering no offense at all. In this bout and the Michael Johnson one, Nurmagomedov showed that with the opponent sitting up, the uppercut becomes a viable option—a rarity on the ground. With one hand on his opponent's throat or pushing them back at the collar bone, he'll come up the center with an uppercut while his opponent's hands are on the mat or attempting to push him back to free their knees.
One really important point from this bout is that round kicking against a fighter who just wants to walk in is very rarely a good idea. We talked about this in Ringcraft: The Fall of Ronda Rousey, but it leaves the fighter on one leg and the opponent has a great chance of stepping up the center. Even the best Muay Thai fighters in the world end up with their opponent holding their leg a good deal of the time—whether you're the fastest kicker in the UFC or not, you want to be careful giving Nurmagomedov the chances to close the distance. When Barboza stuck to his hands, he caught Nurmagomedov plenty, but he got tied up in it and neglected to get offline afterwards, resulting in the clinch coming just the same.
The most crafty performance of the night came from New Zealand's Dan Hooker. Previously, Hooker impressed with his perfect showing against Ross Pearson in June. Pearson uses his head movement to set up counter punches—so Hooker stood him up with the threat of kicks, feinted him out, and nailed him with straight punches.
Against the flashy Diakiese, Hooker showed the same thought and composure. Through good distance management and convincing feints, Hooker made Diakiese show his hand—throwing half a dozen counters at the air within the first few minutes.
As Diakiese became less comfortable waiting to go on the counter, he began diving at Hooker with wild takedown attempts each time Hooker engaged. In the first round, Hooker reversed a takedown to take top position as the round ended. In the second, he took Diakiese's back off a nice takedown of his own. And in the third round, Hooker snatched up a guillotine off Diakiese's shot and finished the fight.
Of special note at UFC 219 was how well both Dan Hooker and Cris Justino handled the low line straight kicks. When they fought, Teemu Packalen's entire demeanor changed when Diakiese knee capped him with one of these kicks. Packalen ran onto a counter punch and was knocked out, and hasn't fought since, pulling out of his last fight with a knee injury. Holly Holm also likes to dig in the odd straight kick because they are hard to return off. Both Hooker and Justino demonstrated that the easiest way to deal with this kick is to simply retract the leg. As always, "simply" doesn't mean "easily" but you are starting to see that more Thai style of dealing with strikes at the lower extremities work its way into MMA, most notably with Darren Till.
UFC 219 provided a good night of fights all around even if the name power wasn't tremendous. Cyborg put on a terrific performance and Holm gave a good account of herself to net both the Fight of the Night bonus. While there might not be a heap of talent in that division, Cyborg vs. Germaine de Randamie or Megan Anderson sounds a bit more interesting now, and a rematch would interest at least this writer if Holm can change something up in her camp and add a couple of new tools.