Cleveland played perfectly in Game 4 to avoid a Golden State sweep. Here's how the Cavs can win Game 5.
David Richard-USA TODAY Sports
The last two games of the NBA Finals have demonstrated just how perfectly the Cleveland Cavaliers must play in order to win games in this series.
In Game 3, the Cavs played near-perfect basketball for 45 minutes—but a cold three-minute stretch to end the game allowed the Golden State Warriors to steal a victory. Game 4, by contrast, wasn't close enough to allow for a late collapse: Cleveland set a handful of NBA records en route to a sweep-saving win, as their 24 made three-pointers was the most in Finals history (and second-most all time) and their 49 first-quarter points were the most of any quarter in Finals history.
So now what?
Tonight's Game 5 is in Oakland. Cleveland is still down 3-1. So far, just being great hasn't been good enough—the Cavs need to be historic. Much of what worked for them in Cleveland is replicable, but some things—like shooting 53 percent from beyond the arc on 45 attempts—might not be.
As the Finals head back to the Bay Area, let's take a close look at what LeBron James and Co. must continue to do, what they need to improve, and what they must abandon in order to avoid elimination:
Play fast, but don't hurry
The trick for the Cavaliers in this series has been finding ways to push the pace as often as possible without getting out of control. They failed horribly in Game 1, as they were held to just nine fast break points while allowing 27 to the Warriors. And the way in which those fast break points were distributed told a broader story. Cleveland pushed the ball up the court and took quick, contested shots at the rim and on the catch, most of which were mediocre-quality looks. When those shots missed, they led to even better looks going the other way.
After the game, the Cavs insisted that they wanted to play fast in this series. They had gotten to the Finals behind their offense, not their defense, and they trusted their ability to score if they pushed the pace. But over the next two games it became clear that pushing the pace was only half of the equation. The Warriors were among the NBA's best transition defenses this season. It wasn't enough for Cleveland to push the ball up the floor and put pressure on the defense early in the shot clock; they needed to show more restraint if the quality of looks those breaks produced wasn't good enough.
In short, they needed to be both opportunistic and patient. James is the key, because no other player in the NBA can control the tempo of a game the way he can. When the ball is in James' hands on the break, he can determine if and when a shot goes up—and in Games 3 and 4, he found a nice balance between pushing the ball up the court and pulling it back to wait for something to open up.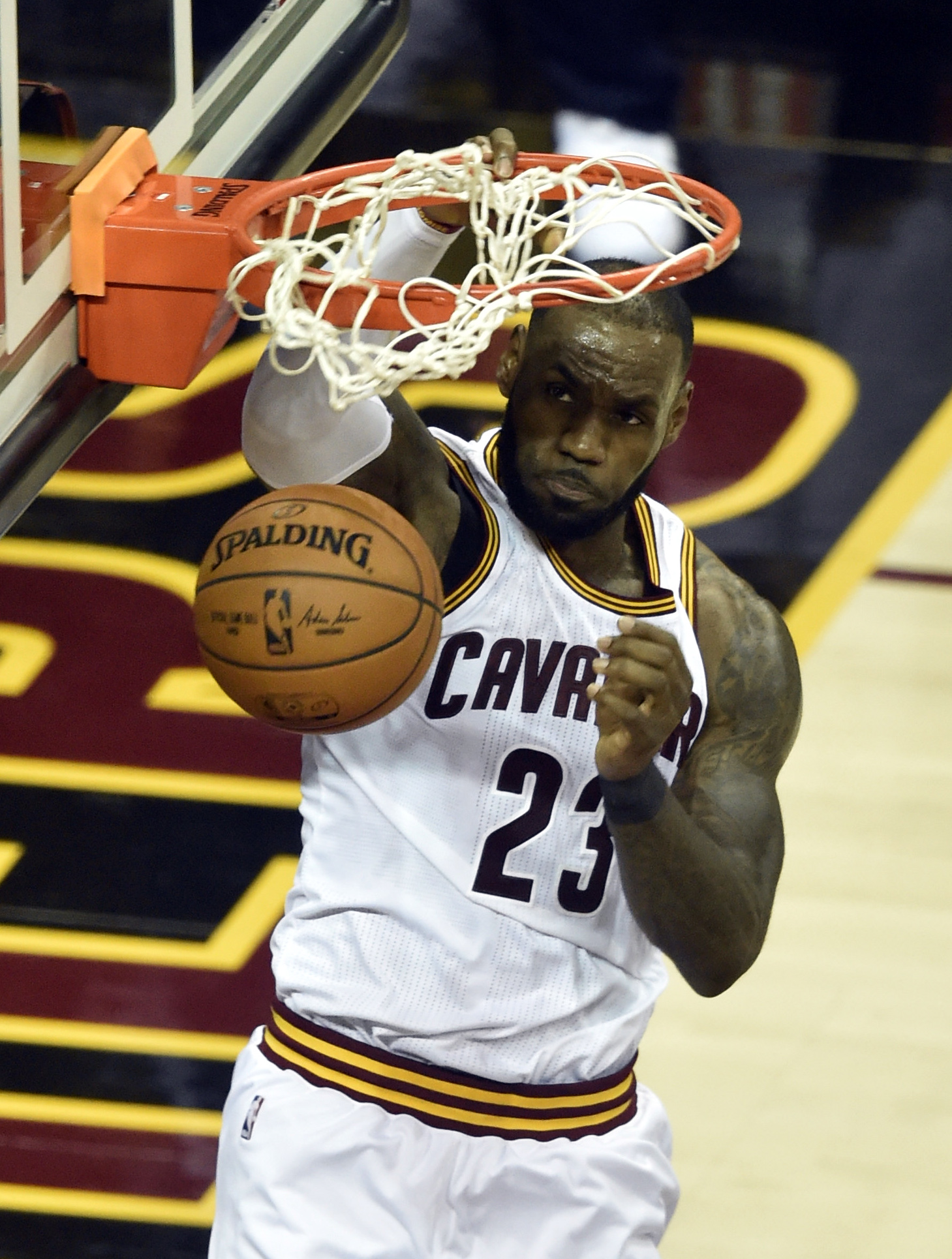 And things did open up. The Warriors routinely were forced to cross-match in transition and got stuck outside of their preferred defensive assignments. In this clip, Zaza Pachulia slides over to help stop the ball as Kevin Love trails the play. Pachulia anticipates that Love will set the pin down screen and falls a step behind when Love slips toward the basket.
Playing in a hurry would've meant LeBron attacking the double team and maybe kicking to the trailing Love on the wing. Playing fast meant he pushed the ball but didn't force a shot that wasn't there. As a result, the transition shot opened up. Plays like this happened over and over again in Game 4. The Cavs were only credited with eight fast break points, but that has more to do with how fast break points are calculated by NBA.com. The clip above might not technically be a fast break point, but the shot still came in transition.
Trap Steph Curry and contest the roll
For the last two games, the Cavaliers have prioritized taking the ball out of Curry's hands on pick-and-rolls, even when it comes at the expense of open rolls to the rim. They've done this by aggressively trapping all ball screens on Curry, staying home against Klay Thompson and Kevin Durant, and leaving the last defender to zone up against the rolling screener and whoever else is on the floor.
This worked out beautifully in Game 4 thanks to active hands on the ball—which helped force Curry into 4 turnovers and 4-13 shooting—and a heroic defensive effort from (really!) Kevin Love. Love made a half-dozen great plays on the ball against a rolling Draymond Green, who had 2-on-1s against Love in the paint. That isn't easy: Cleveland essentially asked Love to make the same type of defensive plays Green makes, playing possum between the ball-handler (who has an open lane to the rim) and the dunker (who is in the short corner, waiting for the lob). Love timed Green perfectly more often than not, and that left the Warriors unable to make the Cavs pay for double-teaming Curry.
Cleveland's other defenders did an excellent job of recovering quickly following traps, which is vital. Collectively, the Cavs created 18 deflections along with six steals, and forced 12 Warriors turnovers.
Golden State will be better prepared to attack Love in Game 5, most likely by being more aggressive and trying to draw contact. Still, the Warriors seem to go as Curry goes, and yielding an occasional roll basket might be an acceptable price to pay for keeping him in check.
Get more ridiculous shotmaking from Kyrie Irving
Irving was flat-out unconscious in Game 4. Eight of Irving's 15 made field goals were either tightly or very-tightly contested according to NBA.com. And many of the ones that weren't tightly contested were only "open" thanks to unfathomably skillful dribble moves.
The Cavs can't win without those points. James has been a rock, averaging a triple double and scoring from all over the court. Cleveland's role players have shot well enough. Against a Golden State defense that executes on a string more often than not, however, the Cavs need to conjure buckets out of thin air—and few players are better at doing so than Irving.
Irving had 40 points in Game 4. For the Cavs to win this series, he'll probably need to score close to that mark three more times.
Draw fouls on Draymond Green
Thanks to a handful of bizarre, missed, and just plain bad calls, the referees became one of the stories of Game 4. In all four games, however, Cleveland has attacked Green and placed him in foul trouble: his 18 fouls are the most of any player in the series, and his 33 minutes per game playing time average is nearly four fewer than Thompson and Curry, and nearly six fewer than Durant.
Why does this matter? Simple math. The Warriors have outscored the Cavaliers by 7.4 points per 48 minutes with Green on the court, and have been outscored by 3.3 points per 48 minutes when he is on the bench.
For the Cavs to have a chance, they need to keep drawing whistles on Green.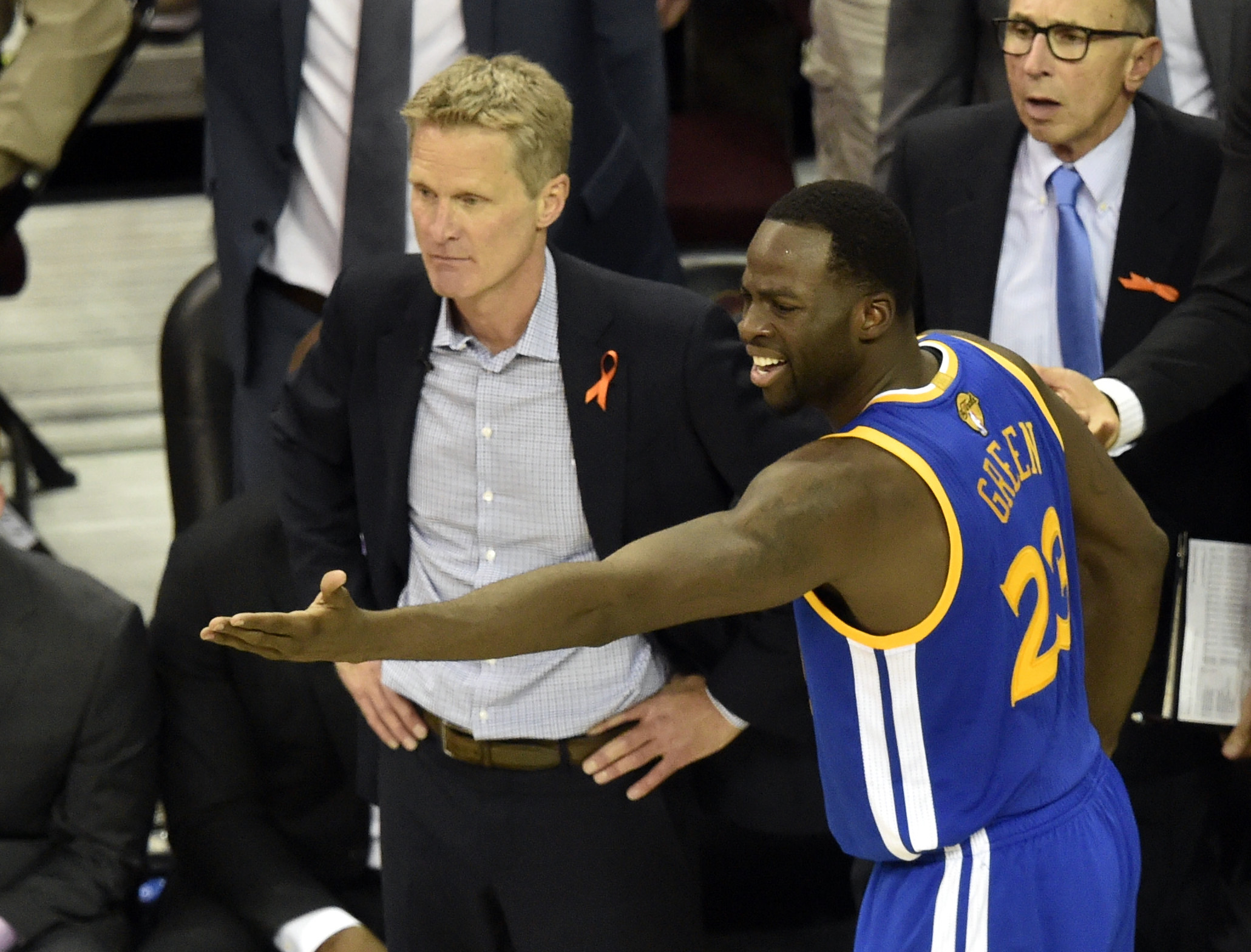 Penetrate
Like the Cavaliers in Game 4, the Denver Nuggets made 24 three-pointers against the Warriors in February—something that has only happened three times in NBA history.
This might be a coincidence. But there's also reason to think that Golden State—which held opponents to the lowest 3FG% and the sixth-lowest 3FGA per 100 possessions in the NBA this season—might actually be vulnerable to these types of scoring barrages.
The Warriors' defense is built around containing penetration. They have excellent on-ball defenders at every position, including point guard, where Curry's defensive strength is keeping people in front of him. Golden State also has the length and speed to help and recover through multiple passes. However, their defensive brilliance breaks down when offenses are able to create quick penetration, either by dribbling or on rolls to the rim.
Against the Nuggets, that penetration came from Nikola Jokic, who played quarterback in the high post, picking apart Golden State's aggressive passing lane defense by finding cutters and rollers. In Game 4 of the Finals, the penetration came from James brilliantly drawing out the trap in pick-and-rolls and finding the open man on either the roll or the swing pass to the corner.
With the trap extending high above the arc, the roll man had an open lane to the basket, as Richard Jefferson does in this clip. Only that isn't enough—against the Warriors, it often takes multiple reads to make the right play, and the roll man has to choose between finishing through contact or finding the open man in the corner as the defense scrambles.
Once the Warriors started to overplay the roll man, James started using pass fakes to open up shooters in the corners for direct bullet passes.
The Cavaliers also were creative with some of their high ball screens, playing into the Warriors' desire to trap the ball screen. In this clip, James screens Iman Shumpert before Shumpert goes to set a ball screen. This screen-the-screener action takes away the Warriors ability to hedge, and Irving was able to attack the screen while avoiding the trap.
Cleveland also benefited from some good ol' fashioned dribble penetration, usually late in the shot clock, where the brilliance of both Irving and James is simply too much.
Put LeBron James in the post more
As great as the Cavaliers played in Game 4, they'll have to do more in Game 5. One under-utilized play? James post-ups, which also help Tristan Thompson.
Thompson finally broke out of his offensive rebounding slump in Game 4. Methodical transition play helped, but so did isolations and post-ups for James, which allowed Thompson to time help defenders and bury them under the basket. In this clip, James operates out of the post and gets a decent look—but watch how Pachulia is caught between helping and boxing out.
Stop playing Irving at the point when James sits
The Cavaliers have been killed when James is on the bench, thanks largely to Irving's point guard play. How so? In 14 minutes, they've scored just 14 points on 19.2 percent shooting while committing eight turnovers and registering two assists. Nearly half of their shot attempts have come from Irving, who seems to believe that the pace of play in those minutes should speed up.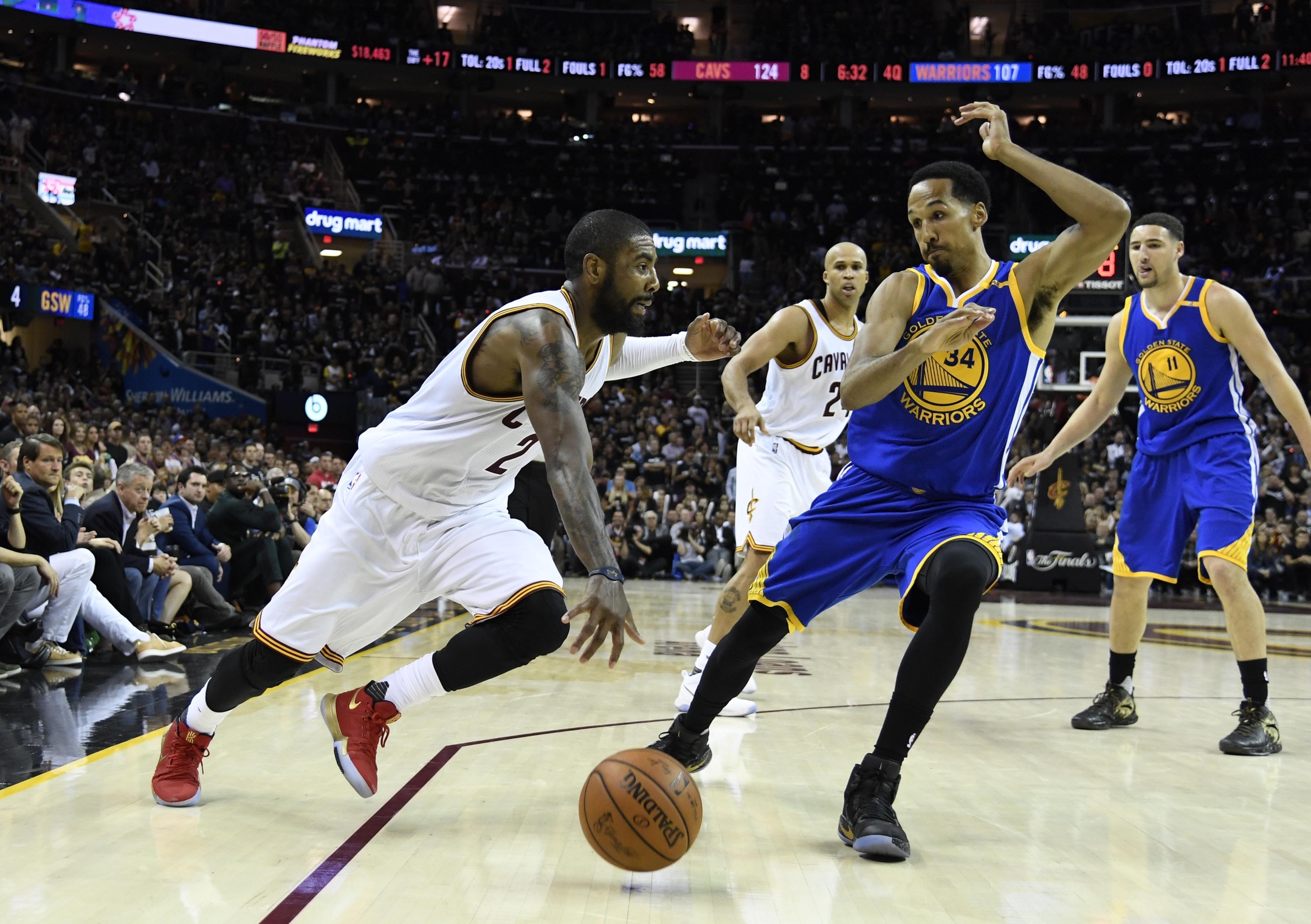 Irving isn't wrong to want to take over scoring duties, but he hasn't learned how to control the tempo. He opened the fourth quarter of Game 4 with an early-shot clock, zero-pass missed shot that led to a transition three-pointer the other way, and followed that with a zero-pass possession that once again led to a transition three.
Wisely, Cleveland adjusted by having Deron Williams bring the ball up the floor. Irving still ended up with it later in the shot clock, but at least the Cavs slowed things down and presented a façade of unpredictability.
James has to rest in Game 5. His 41.4 minutes per game average is approaching the limit of what even he is capable of. Cleveland has to be smarter about how they play when he's off the court. Williams taking over as the point guard is the key to playing in control.
In Game 1, the Cavs played a perfect quarter before getting blown out; in Game 2, they played a perfect half before getting run off the court; in Game 3, they managed three-and-a-half perfect quarters before collapsing. Only in Game 4 did they manage 48 perfect minutes.
Perfection is what it takes to beat Golden State. Cleveland did it once. Starting tonight, they just need to do it three more times.