Pro Bull Riding is Creating a Safe Space for People who Hate Anthem Protests
PBR has signed country singer and veteran Ryan Weaver as a spoke-singer. He has a simple message about anthem protests: "Get up, or get out."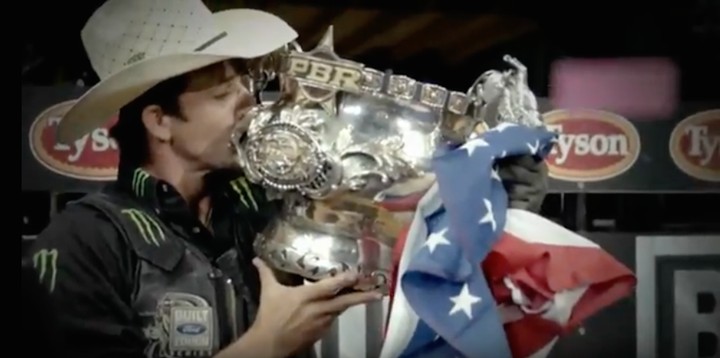 Screen capture via YouTube
Last month, aging country singer Neal McCoy released the grammatically questionable single "Take a Knee, My Ass (I Won't Take a Knee)." The song, which criticizes NFL players kneeling during the national anthem, went viral. It was lampooned by the left, and fans of good music on both sides of the aisle, even as it was reflexively lauded by Fox News and theblaze, the latter of which misspelled McCoy's name.

But "My Ass" was neither the first, nor the most vitriolic anti-protest country song to come out this fall. Ryan Weaver, 44, released his song "Get Up" on October 26 as part of his EP Celebrate America, and boy, are its lyrics something.
"Get up or get out, you don't have a thing to complain about," Weaver sings over the country-tinged, arena-rock chorus. "If you can't show more respect than that, find somewhere else to hang your hat."
The song's words, he says, are not meant to be taken literally, even though he also says he means every word.
"If it's taken as it was meant, it was 'do it some other time,'" Weaver told VICE Sports. "If you want America—not just the folks that agree with the protest—but if you want the rest of America to listen to the protest and listen to the message . . ." He trailed off.
For Weaver, a 20-year Army and combat veteran who lost a brother and a brother-in-law in the Middle East, the national anthem symbolized their deaths and is therefore sacred. An NFL player kneeling during the anthem is insulting their sacrifice.
When I reminded Weaver that Kaepernick repeatedly said he was protesting police brutality against the black community, not the military, Weaver refused to acknowledge that this was an issue, referring instead to "cultural problems," and claimed that the anthem's meaning—its symbol's definition—has changed over time.
A guy's opinion is a guy's opinion. But in Weaver's case, that opinion also has major corporate implications. In August, Weaver signed a contract to become the "Patriotic Voice" of Professional Bull Riders (PBR), the bull-riding league. Their arrangement with Weaver, at a time when player activism is turning some fans away from the NFL, appears to be part of a broader branding strategy to position PBR as the anti-NFL: the sport for patriots who stand for the anthem, love the troops, and aren't afraid to say so.
PBR, after all, paid for the recording of "Get Up." And in 2017, it began a campaign, also called Celebrate America, featuring Weaver as spokesperson. The campaign is an outgrowth of its riders' "We Stand United" pledge, a loyalty oath its 35 top athletes took in September 2016 in response to Kaepernick's kneeling the month before. In that pledge, competitors vowed to stand during the national anthem of the country in which they compete. (PBR's 2017 Built Ford Tough Series, its most lucrative for overall point standings, was contested exclusively in the U.S.)
---
---
It would be overly dismissive to chock PBR's Celebrate America theme and Weaver's PBR-funded EP as pandering. According to CEO Sean Gleason, throughout its existence the league has consistently recognized veterans and first responders at its events. Celebrate America is simply a formalized name for its longstanding support.
"This organization was started by 20 cowboys 25 years ago [who] had a deep love and appreciation for our country and the opportunities it affords," Gleason says. "We have been very patriotic and have for 25 years."
Whether PBR has benefited from this stance is impossible to isolate, but according to its most recent data, business is booming. After the conclusion of 2016 season in November of that year, the league reported a 7.4 percent jump in attendance year-over-year and also claimed a 12 percent increase in viewership on CBS, "drawing more viewers than any sport outside the NFL."
Weaver himself seems to be a true believer of his message, but PBR's promotion and packaging of it could also easily be viewed as a means of differentiating itself as a hard-right option to fans disenchanted by the kneeling liberals of the NFL. The timeline of its messaging is an amazing coincidence at best, and at its worst a calculated move to increase the league's audience.
The wrinkle here is that while PBR's front-office cowboys may share Weaver's politics, the league's ultimate responsibility, after being purchased by WME/IMG in 2015, is to be profitable to its ownership.
WME/IMG, renamed Endeavor in October, is a sprawling international conglomerate which owns a variety of properties, including part of the UFC, esports' ELeague, and Miss Universe. Its properties espouse all stances now, regardless of conflict, and its talent management, which is its oldest business, represents a number of pop artists, many of whom have spoken out in support of NFL players kneeling. In fact, you can go down its roster alphabetically and find at least one for each letter who has spoken out in favor of the NFL's players kneeling. Start with 2 Chainz, a featured guest on Victor Oladipo's supportive single "Rope a Dope," released in September.
Endeavor's stance, therefore, is to be whatever to whomever, provided it's profitable.
Gleason said that Endeavor has largely been hands off.
"They recognize that PBR is an organization that was founded by cowboys on cowboy values, and that it's important to the athletes and the people that participate in our sport to have our own opinions about choices like standing for the anthem."
"They own us, but we have a brand and a business that we operate from Pueblo, Colorado," he added.
Endeavor declined to comment for this story.
Talk to Weaver long enough, and you find a passionate guy who's excited for the exposure PBR has given him to spread his message and music, which he says is one of unity. Gleason, heading the PBR, says the same thing: the purpose of his organization's Celebrate America campaign is to foster unity.
"No, we don't think anybody should get out of our country if they have a differing opinion from our athletes," Gleason says, adding that while PBR supports Weaver and "his overall values," it doesn't necessarily agree with or approve of every word he writes. He has his artistic license.
"You want to try to paint us into a corner of divisiveness, and that's not the case. We do have our opinions about whether or not you should stand for the national anthem, but then we're out in the market trying to bring unity and reach out to everyone that is interested in discovering the sport of bull riding," Gleason says. "It's not a binary choice."
But as long as Professional Bull Riders funds and promotes an artist who offers only two options, it sends a mixed message. The choice is not a choice at all, according to Weaver: get up or get out.