Even Referees Don't Know What the NFL Considers a Catch These Days
Bills coach Sean McDermott asked a ref how Kelvin Benjamin's touchdown could be overturned as incomplete and he responded: "I don't know."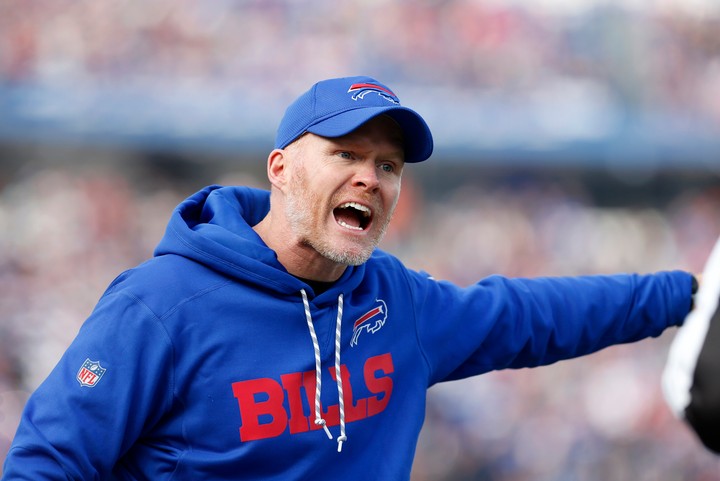 Photo by Timothy T. Ludwig—USA TODAY Sports
Rules are meant to be as objective as possible. That's their purpose: to make sure that even dumby-dumb-dumbs don't lay down their biases and fuck things up. But at the end of the day, some dumby-dumb-dumb is going to be left to make the actual decision based on how they interpret those rules. That's why it's usually bad when asking for justification to hear a flat-out "I don't know." Because you'd certainly hope someone knew.
On Sunday against the New England Patriots, replay officials in the league's command center controversially overturned a Buffalo Bills touchdown. The second such decision in as many weeks to benefit the Pats. The replay, available for all to see, showed two feet dragging in bounds with more than a modicum of clear possession. It's really hard to understand how you could see things any other way besides a touchdown—unless you're in Bob Kraft's pocket, amirite?!—but NFL senior VP of officiating Al Riveron claimed Benjamin's "left foot is off the ground." That is, at best, debatable and even so, that ruling very clearly runs afoul of the "clear and convincing video evidence" standard the NFL has required (used to require?) to overturn a call on the field.
Watching his team get boned out of a touchdown, an incredulous Buffalo Bills coach Sean McDermott asked a ref "how is that incomplete?" and the ref, who seemed equally perplexed, responded with "I don't know."
You could argue that a touchdown would just be a drop in the bucket in a game that ended 37-16 for a Patriots win. But the overturned call came at a pivotal moment and would have given Buffalo a 16-13 lead, with an extra point attempt, two seconds before the half. That kind of momentum can certainly change a game.
With the Bills heading into Week 17, scrambling for playoff contention, the words "I don't know," don't really cut it. But they more than aptly sum up the current state of officiating a completion in today's NFL.