Sexism is Everywhere, Even the Gay Bowl
Women's teams are still marginalized at the football world's most inclusive tournament.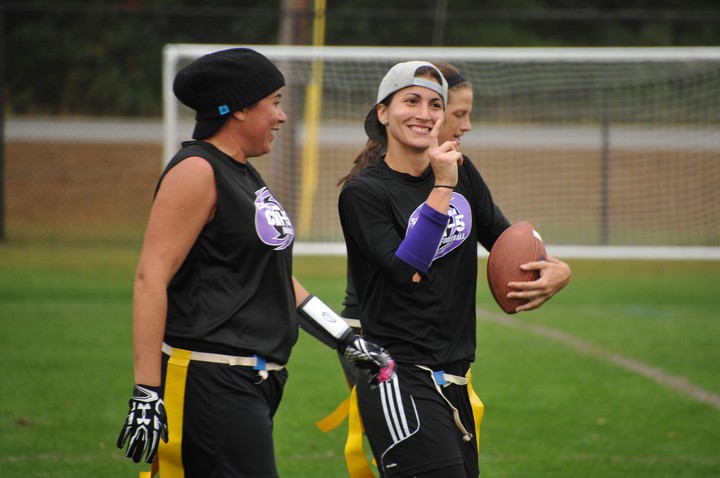 Patrick Lentz Photography
There's a football dynasty in Denver and it has nothing to do with the Broncos. And despite what Cam Newton thinks, these are women who do more than just talk about routes—they run them.

Forty-eight teams gathered earlier this month in a sports complex in Lancaster, Massachusetts, about an hour west of Boston, to compete in the 17th National Gay Flag Football League (NGFFL) Gay Bowl. Nine of those teams are in the women's division, hailing from cities all over the United States. Denver brought two of them—Mile High Club Red and Mile High Club Blue.
Led by quarterback Stacey Koehler, a former Division II basketball player at Metro State University of Denver, Mile High Club Blue will go on to win the title. It is the sixth consecutive championship for the women of the Denver Gay and Lesbian Flag Football League.
"I missed playing competitive sports after college and football was a way for me to get that competitive fix," the 37-year-old Koehler says. A friend in the league convinced her to join and, like many of the DGLFFL players, she came in with no previous football experience "other than playing at recess with the boys in middle school."
But her athleticism allowed her to study up and catch on fast. This year, she was crowned the Offensive MVP—medal hanging from her neck by a rainbow ribbon—after leading her team to a decisive 39-13 victory over the San Diego Breakers. "We come out wanting to play good football, and have a ton of fun. But we know we are the team to beat on the women's side and have somewhat a target on our back," Koehler says.
But despite Mile High Club's dominance, their players and team are still relatively unheralded in the world of the Gay Bowl. Why? Well, because they're women. Most of the press coverage, attention, and events at the Gay Bowl focus on the teams in the Open Divisions, which are made up almost entirely of men. In fact, from looking at photos and promotional materials, I had no idea there even was a women's division. I only discovered it after very carefully reading the website.
This mirrors a pattern found in the queer community at large. A 2016 survey of over 3,000 queer women by the LGBTQ+ dating app Her found that over one-third of lesbians and over half of self-identified queer women felt excluded at Pride events. Some respondents said the events seemed "catered to gay men" and like they had been planned with no lesbian influence at all. The Gay Bowl is planned almost exclusively by gay men; the two Boston co-chairs were men and the only woman on the national NGFFL board is the Women's Division Liaison, which is a relatively new position.
"Even in an 'inclusive' league, when men have power absent of their orientation, we are still very male-focused and male-centric, and practiced in patriarchy. We traffic in it. The women of Denver have been more dominant than San Diego and no one knows," says Wade Davis II, referring to the San Diego Bolts, who have won the Open Division the last five Gay Bowls. Davis is a member of the New York Warriors Black, who were Gay Bowl XVII champions, and he has captained his team and served on the board at various points of his ten plus years as a member of the NGFFL.
Women's sports—and women athletes—receive second tier status in all areas of the sports world. A 2016 analysis of 30 years of sports reporting in the New York Times found that women received just 5.2 percent of the coverage, and the coverage they did receive was shorter than that of their male counterparts.
The NGFFL began in 2002 as a way for athletes who are marginalized and excluded from participation in sports—openly gay men—to have a welcoming and inclusive place to play. But it's worth examining whether or not the people who joined because they felt excluded from the sports world at-large are perpetuating that same kind of marginalizing behavior towards the women in the league.
The league has teams in approximately 21 cities across the U.S. and Canada. Not every city that has a local league has a women's team, but every women's division team has at least one counterpoint in one of the open divisions. The Gay Bowl introduced the women's division in 2012, when the tournament was being held in Denver.
Seeing as how the Open Divisions are open to people of all genders, and many women play on co-ed teams in their respective local leagues, some people wondered why a separate women's division was even necessary. Michelle Taa, a defensive linebacker and receiver for the Washington Senators explains, "It's nice for women to have a place to play against other women. Often, when it's a co-ed team, you're a token and you can't contribute fully."
But not everyone was excited to see a women's division added to the Gay Bowl. "The men [from our Denver league] warned us that we would see pushback or grumbling because in most cities, gay men do not mingle with women," says Becky Lee, Denver Commissioner for the NGFFL, and the first woman to be a city commissioner.
In Denver, the men and the women function as one large community, which is a rare thing in the queer community. Gay men and queer women have very different cultures. And, unfortunately, gay male culture is often steeped in sexism and misogyny. In 2014, Rohin Guha wrote at Jezebel that gay men have "fall[en] into a lazy and inexcusable rut of objectifying, demeaning, and dismissing women."
It's something I experienced while reporting at the Gay Bowl. When I introduced myself as a reporter, more than one of the male athletes responded with some variation of, "That's cute." Many included an eye roll. After I interviewed one of them and mentioned my children, he said I didn't look old enough to have children, adding, "I thought you were just some college student with a cute hobby."
"It speaks to the level of sexism that exists even within our league," says Davis. "It's gotten better, but it took a lot of women really raising their voice and saying 'what about us?' There are really talented women players who don't get enough visibility and who don't sit at the seat of power. Women don't have enough power in our league because if they did, it would look different."
National Commissioner Thurman Williams says the NGFFL seeks to grow the women's division, which has fluctuated between four and twelve teams over the six years it's been around. The league only recently added a Women's Liaison to their board as a permanent position. The current liaison, Aszur Rollins, is the only woman on the national board of directors. Up until now, it has been a non-voting position, but Williams says that will change soon.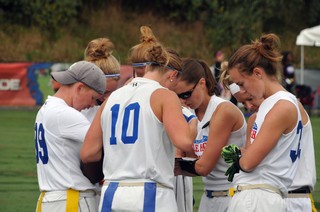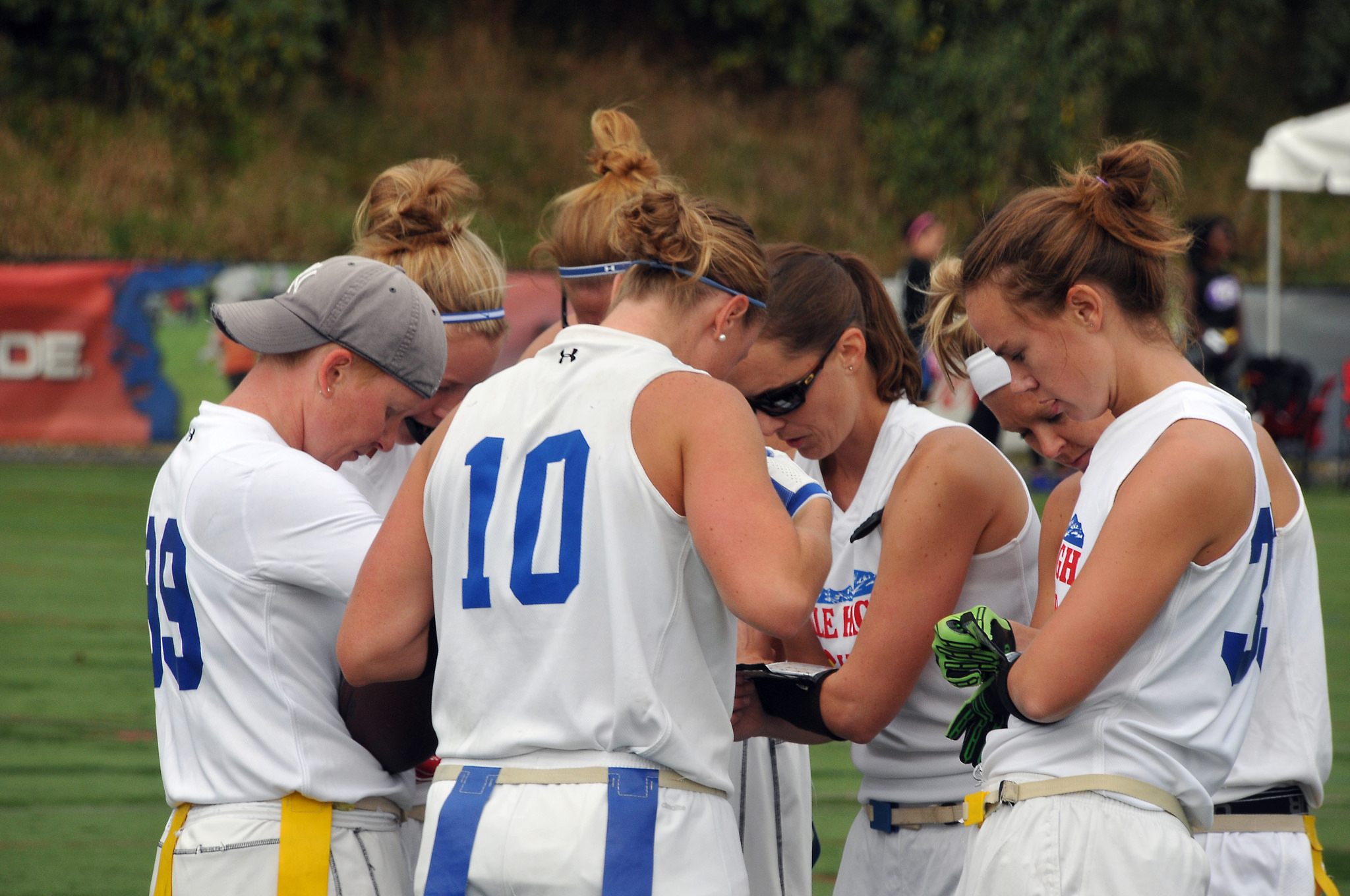 All the women I spoke with love the league, but many say they often feel like an afterthought. This is the first year the national board position for the women's division will be voted on, and Senators captain Jayme Fuglestein is encouraging one of her teammates to go for it. She thinks there needs to be a woman at the table from a city other than Denver to show that other cities have women that are just as invested in the league.
There are also rumors that growing the division could mean moving the women's games to a different facility than the open division games for future events. "I don't like that," says one of the Senators. "We'll get the shitty facilities. No one will come to cheer for us. We'll be lucky if the refs even show up."
There's only one woman in the NGFFL Hall of Fame, Molly Lenore, who plays in the Open Division. As the Gay Bowl heads back to Denver next year and women from the MHC teams begin to meet eligibility requirements of seven years of active membership, whether any are inducted into the HOF will be telling, and a good indicator of just how far the league has to go when it comes to accepting the skills and presence of women athletes into their fold.
At the Gay Bowl XVII's closing ceremony at Royale nightclub, a video recapping the weekend was played. There were images of football games, athletes dancing and preening for the camera, and close-ups. Of the more than a dozen faces that flash across the screen, none of them were women.
Upstairs, in the section reserved for the Women's Division Champions, MHC Blue took a celebratory shot. They don't need anyone else's validation; they know just how good they are.
"All we can do is continue to show [our] value…to the other cities involved in this historically male tournament," says Koehler. "I think the the NGFFL board will see the value of having women at the tournament."