Knicks Center Kyle O'Quinn Is King of NY Bar and Bat Mitzvahs
Over the off-season, O'Quinn started making appearances as the entertainment for bar mitzvahs and bat mitzvahs. Everyone loves it, including O'Quinn.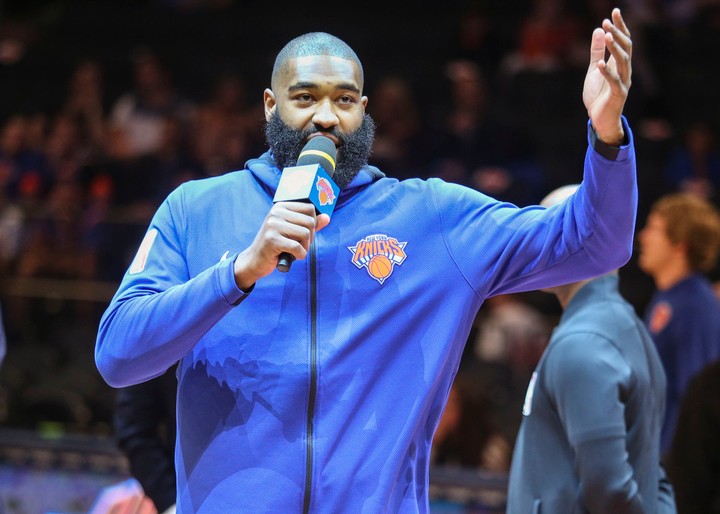 Wendell Cruz-USA TODAY Sports
It is honestly crazy how much has changed over the course of a year with the New York Knicks. Last year, owner James Dolan was publicly feuding with a team legend and calling him an alcoholic. Then president Phil Jackson was publicly feuding with a team superstar, and telling him he'd be better off playing elsewhere. Then president Phil Jackson became former president Phil Jackson.
This year, Kristaps Porzingis is flourishing. The Knicks are a surprise 16-14, good enough for the eighth and final playoff spot in the East. And Kyle O'Quinn has a starring role in the funniest, and most fun, Knicks story in a long time.
According to ESPN's Ian Begley, O'Quinn has become a must-see entertainer at local bar and bat mitzvahs. It all started when his agent, Andy Miller, invited him to his daughter's bat mitzvah over the off-season. O'Quinn didn't know what to expect, but when all was said and done, he told ESPN, "That was one of the best parties I've been to in my life."
He soon started getting invited to more and more, but not as a guest—as the entertainment.
"The parties are crazy," he said. "I did one, did two, and the next thing you know, I was just Bar Mitzvah Man."
...
"A lot of times, I go and I stay longer than I'm supposed to because it's so much fun," O'Quinn said. "The food's always good. The only thing that gets a little overwhelming is the kids; sometimes they don't listen to the structure of the party and it just gets loose."
O'Quinn sometimes gets introduced by video, or sometimes even by an emcee, and then it's just wall-to-wall parting, with the Knicks big man right in the middle of it. He's cut back on appearances since the season started, but he's not opposed to getting back into it should time permit during the year.
I seriously cannot believe this is a Knicks story. Maybe if one of these parties ended with O'Quinn taking out grandmothers and children à la George Costanza, it would align with expectations. But a feel-good story? Maybe the Knicks really are back.