Golden State's Death Lineup Has Been DOA on Defense
Steve Kerr has been tinkering with the center position all season, but feels confident his fearsome fivesome will return to form when the games actually matter.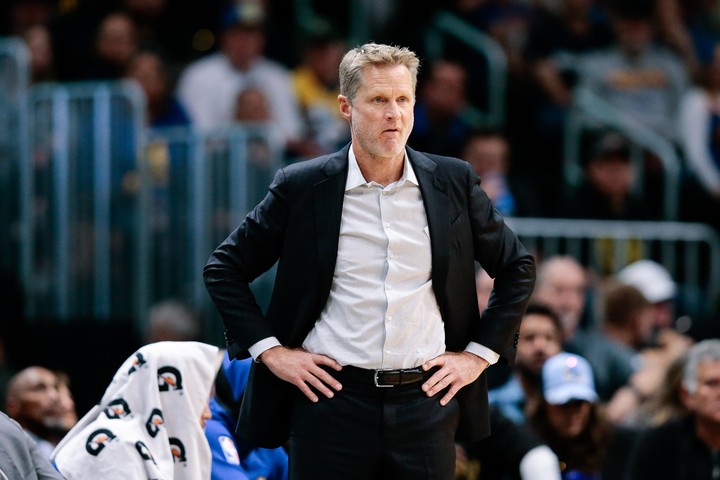 Isaiah J. Downing-USA TODAY Sports
Over the last few years, the coach of the NBA's best team has saved his finishing maneuver for only the most important situations. Steve Kerr's Golden State Warriors have employed the league's best five-man unit judiciously—Kerr has mostly elected to slide Andre Iguodala into the lineup in favor of the team's center (pushing Draymond Green to the five) in order to put to rest any hope their opponent had of winning the game. The Death Lineup didn't just work, it worked spectacularly.
The first iteration of that unit, with Harrison Barnes next to Green and the Splash Brothers flanking Iguodala on the wing, played 172 minutes during the 2015-16 season. Among the 83 five-man units league-wide that played at least 150 minutes that season, none outscored its opponent by a greater pace-adjusted margin than Death Lineup 1.0's 47 points per 100 possessions.
After replacing Barnes with Kevin Durant, Kerr harnessed the lineup more last season. Death Lineup 2.0 played 224 minutes during the 2016-17 regular season. There were 46 lineups that logged at least 200 minutes, and again, none outscored its opponent by a greater pace-adjusted margin than that group's 23.9 points per 100 possessions.
The key to their success was that unlike other "small-ball" units, the Warriors did not sacrifice defense in order to goose offense. Because of Green's ability to cover larger swaths of the floor than anyone in basketball, Iguodala's singular ability to pester opposing scorers, Thompson's flexibility, and first Barnes's underrated strength and then Durant's combination of length and fleet-footedness, the Warriors didn't just maintain their defensive prowess with the Death Lineup in the game; they got better on that end of the floor.
During the 2015-16 season, the Death Lineup thwarted opposing offenses even better than the league-best Spurs defense, besting San Antonio's mark by 1.6 points per 100 possessions (95.0 points/100 to 96.6). Last season, the 2.0 version of the unit did it again, only this time beating the Spurs by 2.5 points per 100 possessions (98.4 points/100 to 100.9).
The story's been a little different for version 3.0 this year, however.
"We were actually the ones dying with the Death Lineup at times this year," Kerr says. "It's not something that I like to do a ton of because it's very taxing on a smaller group of players to have to rebound and fly around defensively like that."
While it's remained smoking hot offensively (126 points/100), the Death Lineup has not been immune to the general defensive malaise that has afflicted the Warriors for much of this season. Of the seven five-man units Kerr has given at least 50 minutes of floor-time this season, the Death Lineup has the single worst defensive efficiency.
At 115.4 points per 100 possessions, that group has hemorrhaged points at a rate more than five points per 100 possessions worse than the league-worst Phoenix Suns defense. While the group has seemingly shored up one of its biggest weaknesses by grabbing the rebound on 77.6 percent of their opponents' missed shots compared to 69.3 percent last year; it has also forced fewer turnovers, fouled more often, and despite actually forcing opponents into lower-quality attempts, their lackadaisical approach has resulted in more of those shots being hoisted by open shooters, leading to far better conversion rates at the rim, in the mid-range, and from beyond the three-point line.
The group has seen time in each of Golden State's five post-All-Star break wins; and while the offense made strong contributions to each victory, the defense hasn't been any better. The Dubs have yielded 128.8 points per 100 possessions in the time those five players have shared the floor since the break. Still, Kerr and the rest of the team remain understandably confident things will turn around defensively by the time the games really matter.
"It obviously is one of our best lineups and it will be for us in the playoffs," he says. "We'll play it a little more down the stretch." There's little reason to believe he's wrong, but it's worth examining Golden State's center options in case the finishing maneuver continues to struggle.
"We've played center by committee ever since I've been here," Kerr says. "We've got a lot of different looks with our centers. Different skill sets. Different sizes. Different speeds. It kind of depends on matchups."
Indeed, that's exactly how Kerr has played things over the years—including this one—and they almost always fit certain archetypes. Before Zaza Pachulia played the role of physical, screen-setting, sometimes-dirty enforcer that gets the starts but more often than not finds himself on the bench to close games, Andrew Bogut did the same. Before JaVale McGee was the pogo-stick stretching the floor vertically while the Splash Brothers do the same horizontally, Festus Ezeli had that job.
Before David West was the cagey veteran that was always in the right place (offensively), hit the occasional mid-range jumper, and threaded all the right passes through all the right lanes, David Lee filled that role. Before West was the cagey veteran that was always in the right place (defensively), bodied-up opposing bigs, and held things down behind slighter second-unit defenders, Anderson Varejao did the same (though less successfully).
---
---
During Kerr's first two seasons, the Warriors had Marreese Speights as an additional center option, the floor-spacer that dragged an opposing big out of the paint. When Speights was let go as part of the process that landed Durant, the Dubs changed their tack and pivoted to trying to find a Draymond-lite as the last center option. James Michael McAdoo and Kevon Looney got spot minutes at the five as Kerr searched for an athlete that moved his feet well and covered a lot of ground, but they had only limited success. This year, that role's been filled by rookie Jordan Bell.
Bell even briefly replaced Pachulia in the starting lineup but once he went down with an injury in mid-January, Pachulia reclaimed his starting role. The Zaza group struggled badly during a pre-All-Star break stretch, however, getting outscored by nearly 8 points per 100 possessions across 143 minutes in 11 different games. So, when they returned from the break, Kerr pivoted to using McGee with the starters.
"We've started JaVale the last couple games just to change the look and give us a little speed early in the game, but Zaza came in and played great," Kerr says. "David [West]'s kind of our rock in the second unit. They all do good things for us and they're all gonna play."
It's difficult to find time for all of those players, but Kerr manages to do it most nights. With the shakeup of the starting group, McGee has seen the lion's share of the minutes recently, and he's taken advantage. "I'm an aggressive player," he says. "I sprint up and down the court. I'm a fast big. I make sure that I protect the rim." It's working. That group has smashed opponents by 21.6 points per 100 possessions in 63 minutes, scoring and defending at rates that would lead the NBA.
Pachulia, meanwhile, has seen his playing time wane. "Most of the time, since I joined this team, I've been with the starters. Now, kind of more mixed," Pachulia says. "Especially 'til the lineup change, I knew that I was starting and when I was coming out. I had a routine. Obviously, moving forward things might change [again]."
When Kerr says West is his second-unit captain, he's not lying. The reliable vet didn't play a single minute with all four of Curry, Thompson, Durant, and Green last year, and he's played only four minutes alongside that foursome this season. Would Kerr really turn to him in the playoffs if he needed a center alongside that group, even though he's been extremely reluctant to do so in the regular season? Even if West is, well, reliable, that somehow seems pretty unlikely. Zaza's too slow for most playoff offenses. McGee is a condor, but he's been completely unreliable on defense for most of his career. These collective shortcomings, Kerr admits, are why the Warriors drafted Bell—to potentially fill that role, if not this year, then sometime down the line.
"Defensive versatility. The ability to guard multiple positions. All that stuff is what he's good at," Kerr says. "It's why we drafted him and what's necessary to play in the league these days. You gotta be able to guard multiple spots and if you can have a guy who can guard the perimeter and still protect the rim, that's a pretty valuable asset."
Bell was wildly impressive in his seven-game starting stint earlier this season, averaging 9 points, 6 rebounds, 3.6 assists, 1.3 steals and 1.3 blocks in 24.6 minutes per game while the Warriors went 6-1, with the only loss coming on the second night of a back-to-back. He played just 23 minutes with Curry, Thompson, Durant, and Green during that time, with the Warriors smoking opponents by 26.6 points per 100 possessions. Needless to say, that sample is far too small to draw any conclusions from; but that group certainly merits another look during the final stretch of the regular season. If nothing else, Kerr should have as much information as possible if the worst happens and he has to turn away from the lineup that's meant Death to every team that's crossed the Warriors' path.