Steph Curry Kicks in Long Bomb, Is Officially Unstoppable
Perhaps the Golden State star should be pulling double duty for the Warriors and USMNT.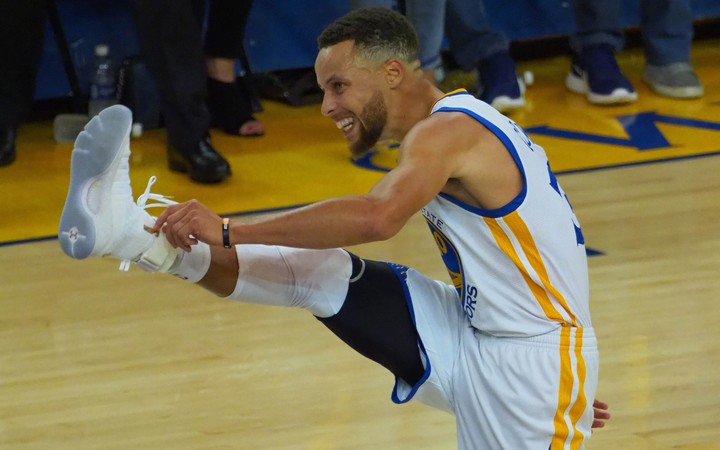 Photo by Kelley L Cox—USA TODAY Sports
If you're anything like me, you watch an ungodly amount of both basketball and soccer. And if you're also anything like me, right now you feel particularly horrible about the state of the U.S. men's soccer team. They dropped out of the World Cup, and as I write this, Honduras is kicking off against Australia in the playoff spot that could've been reserved for the USMNT if they didn't lose five—FIVE—world cup qualifiers. Things are looking bleak.
Well, to add insult to injury, one of our greatest basketball players is now scoring baskets with his feet, because truly, anyone can be better at soccer than most* of the USMNT right now. Say, teams like Iceland or Trinidad and Tobago. Or someone who spends all day shooting baskets with his hands.
Anyway, just check this out, and weep a bit—or rejoice—or whatever:
Now, I'm nowhere close to the camp that touts the "what if our best athletes played soccer?" maxim. It's a falsehood. Simply put, LeBron would be a preposterously large soccer player, and probably couldn't run 10 miles per game at the same pace. Tyron Smith? Definitely not. Kristaps—not a chance. They have builds that just don't fit within the game. Also, foot coordination is a totally different beast.
But when it comes to point guards, running backs, wide receivers, tight ends, quarterbacks, and maybe a handful of baseball players who actually run, I'd say, meh, maybe they could have developed the skills.
But to watch Steph Curry land a shot into a fragment of space that Ronaldo would pat himself on the back for is just ruining my faith. Please, anyone try out for the USMNT. We need you.
*"Most" because a guy named Christian Pulisic exists.