Photo by Russell Isabella-USA TODAY Sports
The Outlet Pass: Unfair Giannis, Warriors Apathy, and Utah's Ignored Weapon
A weekly roundup of observations, questions, and predictions from Michael Pina's NBA notebook.
Photo by Russell Isabella-USA TODAY Sports
1. Tony Parker Swims In The Fountain Of Youth
Last week, I wrote about San Antonio's youth movement, how guys like Kyle Anderson (get well soon!), Dejounte Murray, Bryn Forbes, and Davis Bertans were maturing in extended minutes thanks to injuries had by Kawhi Leonard and Tony Parker.
Even for the Spurs, this composed cohesion was unexpected. But an even less likely development—and potentially more significant—has been the 35-year-old Parker, who, so far, looks like he's 24. The first-ballot Hall of Famer has spent his 17th season skating in and out of the paint as he pleases, with the highest free-throw rate of his career and an absurd 60 percent of his shots coming within three feet of the basket, per Basketball-Reference.
In just 17 minutes per game in his first four contests, Parker averaged 11.8 drives. (For the sake of comparison, Giannis Antetokounmpo averages 10.9 drives in 37.2 minutes per game.) His turbo button still functions, and defenders who duck under screens thinking they can recover in time and meet him on the other side are dead wrong more often than not. But where he once could blow by just about anybody on his way to the cup, Parker is now resorting to a bag of subtle, crafty tricks that defenders can't really game-plan to stop.
His timing is impeccable. Watch below as he turns the corner on Andre Drummond, then takes off a beat earlier than Detroit's center expects him to. The split-second after he gets by the big man's shoulders, Parker goes right into his layup attempt. There's no wasted time or motion. It's almost random.
Defensive drawbacks are what they'll be, but if Parker can continue to put this much pressure on opposing teams and harness his speed into the postseason, we'll probably have to recalibrate San Antonio's championship odds. That's how important this is. Patty Mills is super and Dejounte Murray will be an awesome two-way presence, but the Spurs need another ball-handler who can drag out help defenders on screen and rolls, luring two opponents away from guys like LaMarcus Aldridge, Pau Gasol, and, soon enough, Kawhi Leonard, to get their skip, skip, shot offense humming.
According to Synergy Sports, Parker is the NBA's most efficient pick-and-roll ball-handler, averaging an outrageous (and totally unsustainable) 1.4 points per possession whenever he shoots or passes off a ball screen. He creates open shots for others; nobody who's watched the Spurs play with Parker this season should be surprised that their offense has leapt into Rockets/Warriors territory with him out there.
It hasn't even been two weeks, but Parker looks SO much better coming off a serious injury than anyone thought he would, and that really matters.
2. For Stanley Johnson and the Detroit Pistons: Less Might Be More.
There's no sugarcoating Stanley Johnson's putrid three-point percentage, which is bad enough to place him on the type of list nobody wants to join. He splays his legs on the release for no reason, like he's auditioning for a Jump Man commercial instead of trying to knock down an open shot. His release looks a little quicker than the first two seasons of his career, but that's irrelevant growth when defenses ignore you completely.
The Reggie Jackson-Drummond roll is sterilized by Morris—who played with Johnson last year and saw his decrepit shot up close on a daily basis—pinching in from the weakside corner.
The Pistons are very bad when Johnson is on the floor—no player on any team that's above .500, who's appeared in at least 15 games and averages over 28 minutes, has a lower net rating than Johnson—but Stan Van Gundy doesn't seem to care. After yanking his former eighth overall pick around for most of last season, providing inconsistent minutes and a confusing set of responsibilities, Detroit's head coach has started Johnson in all but one game (a recent contest against the San Antonio Spurs and their uncomfortable Gasol/Aldridge frontcourt), and upped his minutes to 30 a night.
Some of this is because the Pistons traded Morris for Avery Bradley back in July, and Jon Leuer's ankle can't get right, which has cemented Tobias Harris as the starting power forward in most matchups for the foreseeable future. But even though Detroit's defensive numbers are atrocious when Johnson is on the court, he's steadily transforming into a dependable wing stopper.
While Bradley hounds the opposition's top ball-handler, Johnson takes on whoever else is the greatest threat on the perimeter, be it Paul George, Kevin Durant, Giannis Antetokounmpo, or LeBron James. Luke Kennard isn't ready or built for those assignments and it doesn't make sense to throw Harris on them just so he can pick up unnecessary fouls.
Johnson is a capital-A Athlete, someone who can dance step for step with Russell Westbrook in the open floor or chuck a rolling big man and then dart back out to the three-point line in time to contest the shot. That's nice. But even in increased minutes and despite him being extremely effective finishing around the basket, Johnson is essentially a ghost on the offensive end, sporting a usage that's over six points lower than his rookie year and an assist rate that's nearly cut in half.
He can't create his own shot and, according to Synergy Sports, has only scored four points all season off a cut. If Johnson wants to justify minutes in the postseason, he'll at least have to impact the game in ways Andre Roberson does. So far, we haven't seen it, even though segments of his game are improving.
3. Utah's Forgotten Man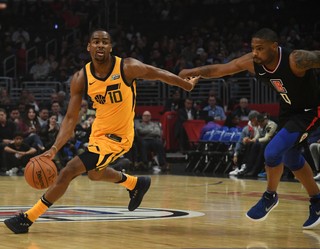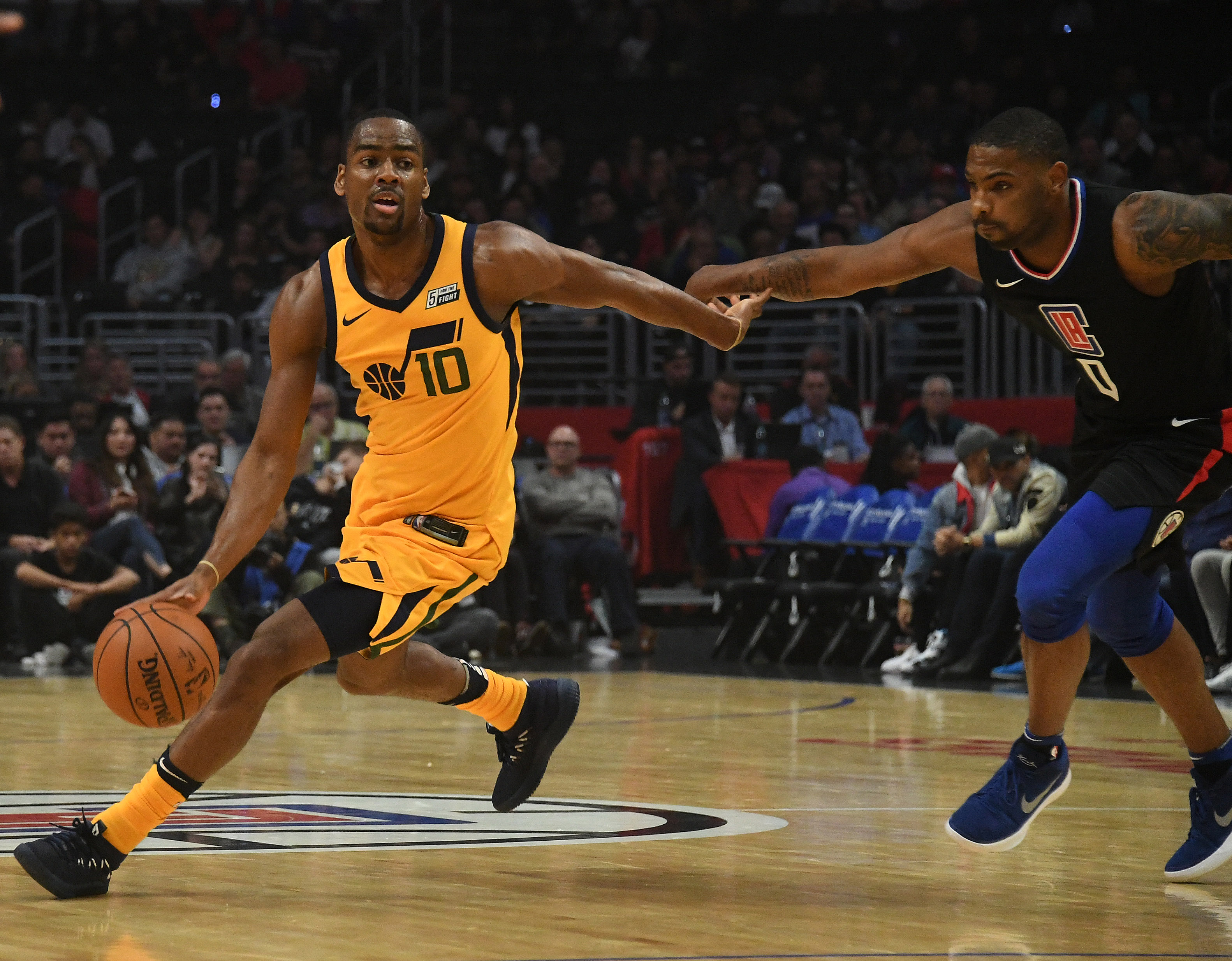 When Gordon Hayward left the Utah Jazz, rational thought was it'd take a group effort to replace his All-Star-level offensive impact. Rodney Hood stood out as someone most able to assume a majority of Hayward's playmaking/scoring responsibilities, while smart holdovers like Joe Ingles and Joe Johnson could pitch in, space the floor, and do damage in the ways they know how.
To a certain extent—Johnson has been out most of the year—that projection has held firm, despite Hood missing six games (including Utah's last five with an injured ankle) and losing his spot in the starting lineup.
While Donovan Mitchell has blossomed into the story of their season—currently nipping Ben Simmons' heels in any legitimate Rookie of the Year leaderboard—and solid contributions have been made by newcomers like Ekpe Udoh, Thabo Sefolosha, and Jonas Jerebko, Alec Burks—Utah's spunky, cryogenically frozen combo guard—is the volatile scoring presence off the bench this team desperately craves.
The Jazz average 113.6 points per 100 possessions with Burks on the court and just 101.4 when he sits. Here are his point totals over the last four games: 28, 24, 27, and 11 (against a brutal George/Roberson wing tandem). He's +66 in that stretch, and has earned minutes at the end of close games.
Healthy Burks is somewhat of a revelation. It feels like he signed his contract extension 17 years ago and hasn't played more than 900 minutes since 2014. Even though he looks like he's hoisting up a medicine ball whenever he launches a three, his dynamism has lifted Utah's ceiling.
We'll see if he can keep up his accurate outside shooting (teams are ducking way under on his DHO's) and stay healthy for the rest of the season, but if those two things hold the Jazz might have an explosive Sixth Man of the Year candidate on their hands.
4. Karl-Anthony Towns Has the Coolest Pet Play
Few players have been more disappointing than Karl-Anthony Towns this season. In some sense, that's a harsh statement to make about a center whose offensive numbers are still good enough for an All-Star appearance. But in a hyped third year where he was expected to leap forward and plant himself in the pseudo-MVP conversation, no part of his game has noticeably improved.
Instead, as he adjusts to high volume scorers like Jimmy Butler and Jamal Crawford nudging themselves into the frame, most of his stats have plateaued or decreased, and there might even be some decline on defense from a guy who was arguably the worst defender at his position last season. Towns dawdles through his rotations, forgets where he's supposed to be, and plays scared of the referee's whistle. (Domas Sabonis defends more shots at the rim than Towns, despite averaging nearly 10 fewer minutes per game.)
But instead of showering this atomic talent with criticism he'll most likely mature out of (he just turned 22!), let's shine light on a unique action Tom Thibodeau runs to get Towns free from an efficient spot on the floor.
It starts with Towns atop the key, running towards the rim. But instead of ducking into the paint or stopping short at the dunker's spot, he chugs all the way to the corner, where a teammate is in place to pick off his man with a screen. While this is happening, the ball-handler runs a pick-and-roll towards whichever side Towns is headed. The result: a strong-side corner three from a seven footer.
It's not a new set—Thibodeau's old pal Doc Rivers had his Clippers switch the screen and deny an entry pass to Towns during Minnesota's win over L.A. on Sunday night—but that doesn't make it any less majestic to watch when executed properly.
5. Jameer Nelson in the Clutch:
Across the league, Nelson has the 12th highest +/- in clutch situations this season (+30). The Pelicans are outscored by a whopping 22.1 points per 100 possessions in the fourth quarter when he's not on the floor and only DeMarcus Cousins and Jrue Holiday have logged more minutes during that final frame this season. Nelson turns 36 in February. That is all.
6. Lance Stephenson is (Sort Of) Relevant Again
One of the great side effects from Indiana's hot start is Lance Stephenson re-entering our lives in a semi-meaningful way.
He still isn't good, and has an obsession with holding/dribbling the basketball that makes Alex Forrest's feelings towards Dan Gallagher seem reasonable and measured.
My favorite Lance moment of the year came against the Rockets. A Pacers steal led to Sabonis being guarded in the post by Eric Gordon. When Ryan Anderson came over to help, Sabonis kicked the ball out to Stephenson on the opposite wing. In the corner stood Darren Collison, hands up, wide open, and waiting for Stephenson to swing it in his direction.
For reasons only he'll ever know, Stephenson pump-faked the pass, allowing Luc Richard Mbah a Moute to sprint over and cover Collison. Indiana eventually turned it over. I did not stop laughing for 15 minutes.
It's hard to decide whose reaction is better the exact moment they realize Stephenson hesitated on the most obvious pass in the game: Collison or Nate McMillan? One is fury, the other is total deflation. Both are deeply funny.
7. Giannis Antetokounmpo's Defense is Officially Not Fair
Nearly two months into the 2017-18 season, Defensive Player of the Year is a three-horse race: Al Horford, Joel Embiid, and Giannis Antetokounmpo. For all the intimidating, irrepressible, and virtually unprecedented offensive qualities Antetokounmpo brings to offense, it's his work on the other end that solidifies his standing as a top-five player and legitimate MVP candidate.
In a breakneck beatdown against the Sacramento Kings earlier this week, Antetokounmpo stood on the front line of an assault that forced a disgusted Dave Joerger to replace his entire starting lineup just three minutes into the game. The nail in the coffin was a daring steal few would even try to pull off.
Kings point guard George Hill (who's been tepid, but is quietly shooting 45 percent from deep) crossed half court and threw a pass to Kosta Koufos, whose right foot was just below the "M" on the Bradley Center's giant "Milwaukee" emblem. When the ball left Hill's hands, Antetokounmpo still had one foot behind the three-point line. The ground he then covered to poke it away was about the same distance the ball had to travel. He was faster than a pass!
For Milwaukee's defense, the benefits reaped from his impossible length and instantaneous reflexes are how it must feel to tap into HQ Trivia with seven extra lives. He's a seven-foot tall government bail out.
In the play above, the Portland Trail Blazers read Milwaukee's strategy and attack it with a series of logical decisions. Damian Lillard sees two on the ball so he quickly shovels a bounce pass to a rolling Jusuf Nurkic. As this happens, Antetokounmpo shuffles over from the opposite block to stop an easy basket. Nurkic waits until Antetokounmpo commits, then passes to Noah Vonleh (Antetokounmpo's man) for a dunk.
What happens next is why parents often tell their children that "life isn't fair." The Greek Freak swivels back to the rim and somehow forces a miss. He was basically two people on the same possession!
Jason Kidd's controversially aggressive scheme and all, the Bucks are one of the 12 best defensive teams in the league when Giannis is on the floor. When he sits, they're dead last. His offensive ceiling—to be frank, it's not crazy to compare what Antetokounmpo does from here on out with LeBron James' career path—will ultimately dictate how he's perceived by the NBA audience at large (the jump shot remains low-hanging fruit), but his defensive impact is truly special and, arguably, the greater thrill.
8. Does it Matter That Golden State is Now a 'Flip The Switch' Team?
Golden State is a flawlessly constructed basketball team that's expected to win at least 67 games for the fourth year in a row, but they have understandably grown tired of regular-season competition. With the Rockets slicing through the NBA and Steph Curry's ankle keeping him on the sideline for the next couple weeks, home-court advantage is far from guaranteed. Will their casual approach in December cost them later on?
The legendary Death Lineup—Curry, Klay Thompson, Kevin Durant, Andre Iguodala, and Draymond Green—is getting absolutely roasted (in a mere 58 minutes) by a league that's had a couple years to adjust their own rotations and now knows what to expect. Even if a vast majority of teams don't have the talent to ultimately prevail over the course of 48 minutes, in any given stretch they at least possess enough firepower behind the three-point line and defensively versatile options to keep things relatively interesting.
When Green is at center, the Warriors have the worst defense in the NBA, per Cleaning the Glass. Some of that's random and thanks to an unsustainable bombardment of threes, but those smaller lineups will always struggle to string stops together if the reigning Defensive Player of the Year isn't exerting maximum effort—that means sprinting back in transition instead of pointing and shouting, diving on the floor for a loose ball instead of bending over, etc.
At the next time out, Steve Kerr politely informed Green that the NBA isn't a place for nonchalant jogging. This next sequence came three days later. Kerr jumped off the bench and ripped into his team.
The question is: Does any of this matter? The answer is: Probably not. But we haven't seen it from these guys since they became world-dominating juggernauts. Since the 2013-14 season, Golden State has ranked in the top four at limiting the percentage of their opponent's possessions that are in transition. Whenever they missed a shot or committed a turnover, they hustled back. Right now they rank 21st. Off live rebounds, they rank 28th after placing fifth, second, sixth, and second in the previous four seasons, respectively.
Their effort and focus is unquestionably down—triple-teaming Dwight Howard on a post-up?—but, again, for a team with as much firepower as they have, what's the motivation to go all out on every play when it's not even Christmas?
9. Checking in on Bradley Beal and the John Wall-Less Wizards
Bradley Beal's eye met Jerryd Bayless' elbow on November 29th. Let's walk through that event, and what came of it, with a few pictures.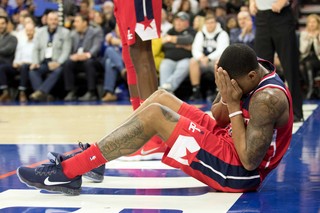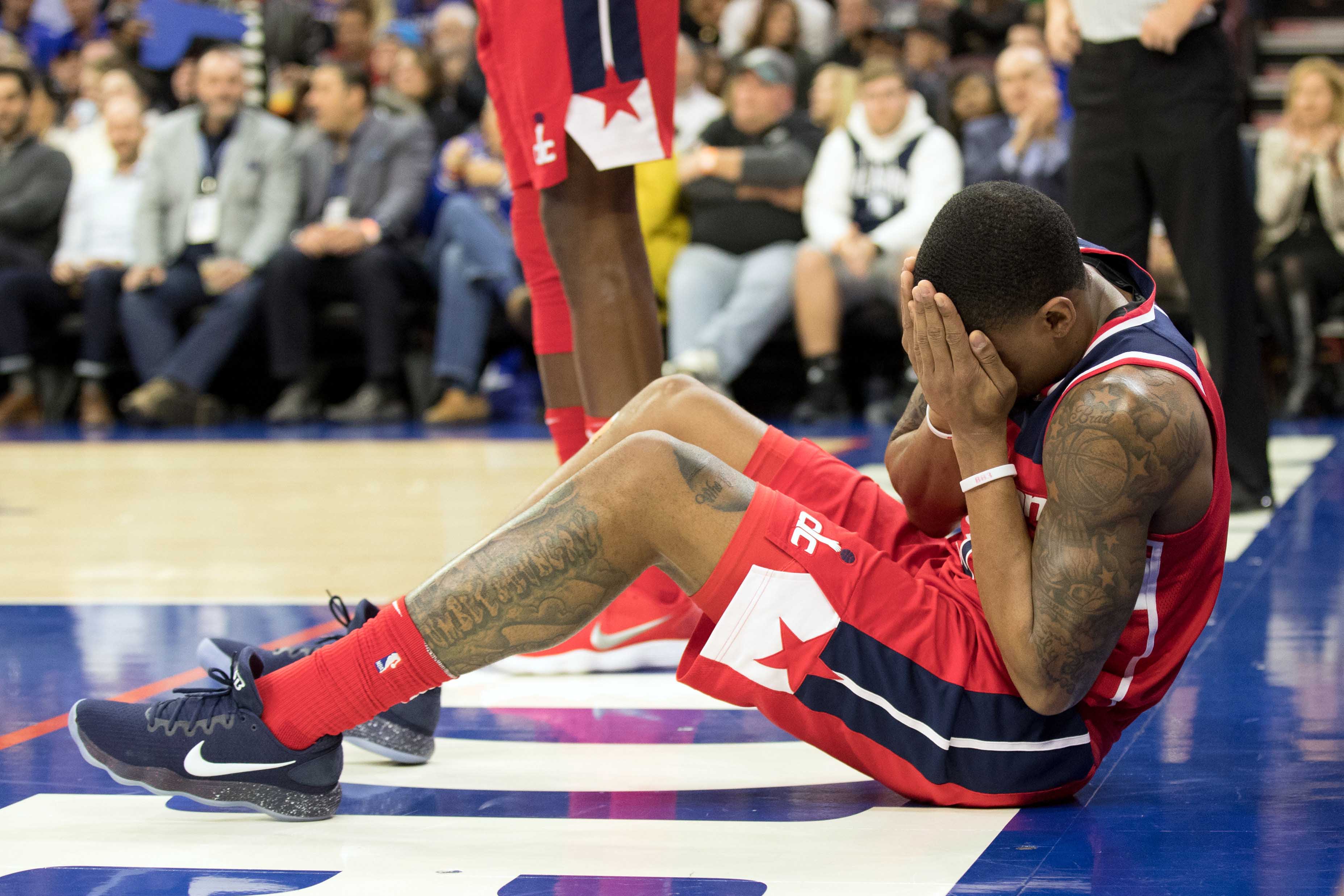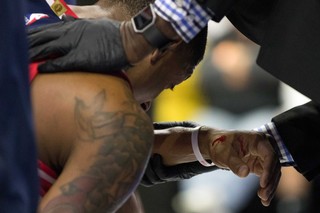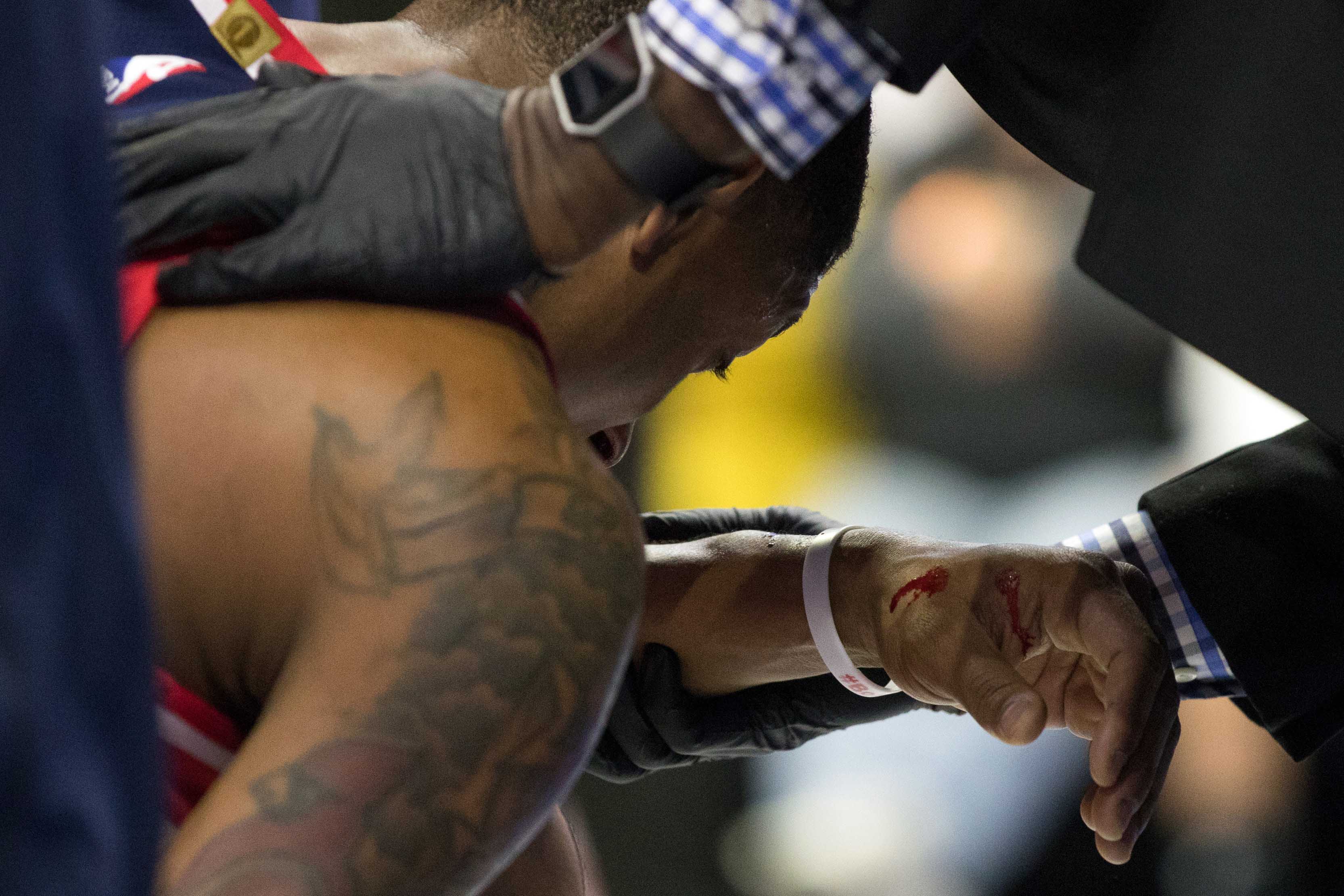 Beal went down and bled. He did not like what he saw. Three days later, he rose...with the dopest glasses of all time!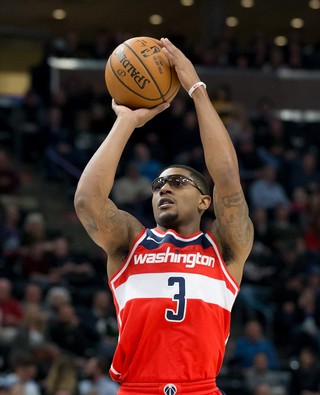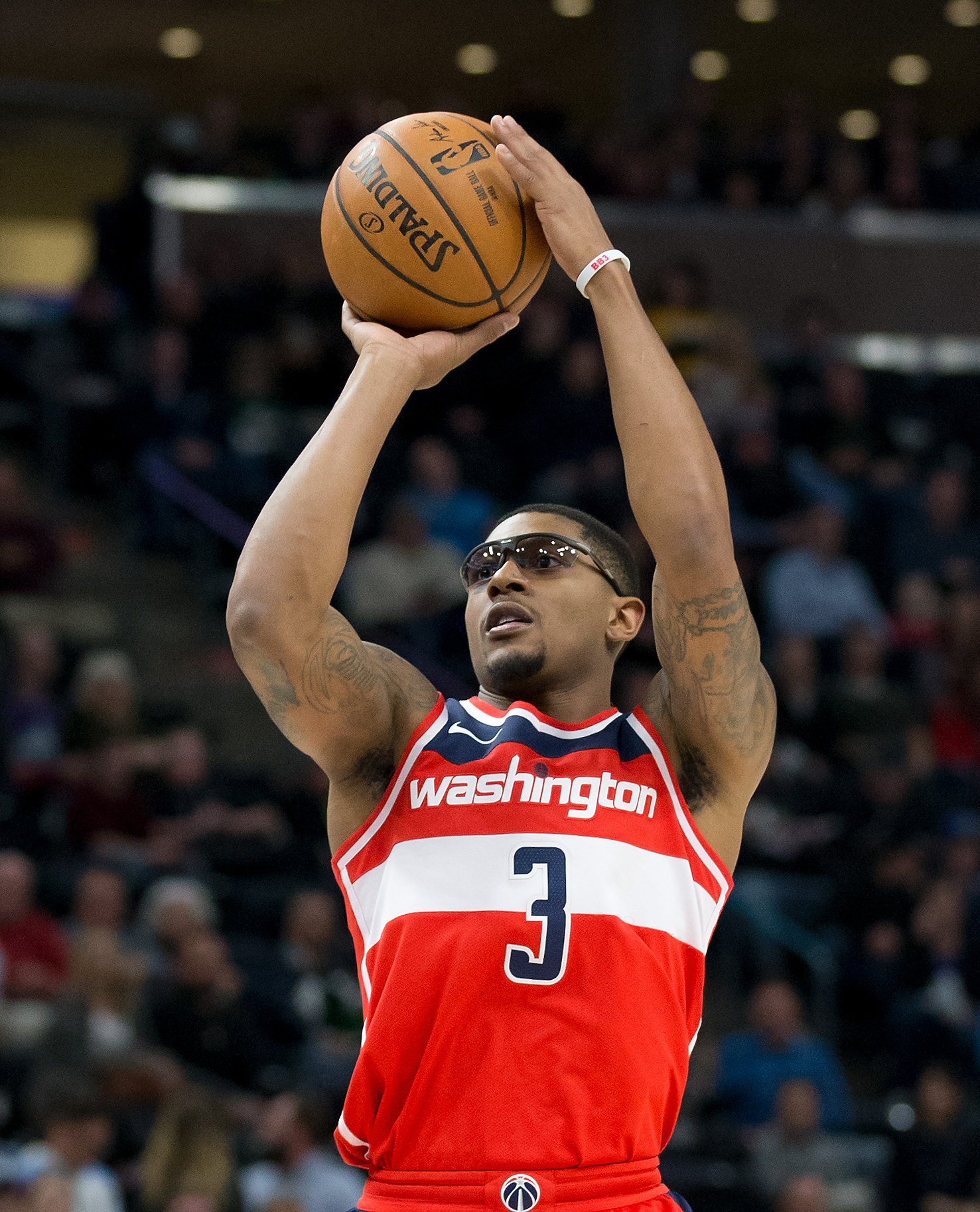 Beal's Scott Summers specs are my new favorite NBA accessory—narrowly beating out Kyrie Irving's mask, Z-Bo's headband, Curry's mouthguard, Elfrid Payton's hair, Jimmy Butler's untucked jersey (when it looks like a cape), Steve Kerr's play card, Jusuf Nurkic's cup therapy marks, and...Z-Bo's headband—even though he's already stopped wearing them.
Before he exploded for 51 points on the road against one of the best defenses in the NBA, Beal wobbled underneath the First Option stress he had to assume after John Wall had a PRP injection in his left knee, scoring 50 combined points in the previous four games and nearly shooting below 30 percent from beyond the arc.
The team's new starting five, with Tim Frazier at point guard, is only averaging 100.2 points per 100 possessions. The victory in Portland notwithstanding, it's gotten to the point where Scott Brooks might want to use this opportunity to bench Markieff Morris and put Kelly Oubre in the starting lineup, then stagger his two best healthy players so that Otto Porter can pick up a rhythm against opposing second units.
Washington's loss against the Utah Jazz was one of the worst offensive and defensive performances any team has had this season, per Cleaning the Glass. That's only one night, their schedule is pie until a showdown against the Cleveland Cavaliers on December 17th, and they still have a top-10 offense and defense. But Brooks should still consider making semi-permanent adjustments to his rotation that will help in the long run.
10. Steven Adams is Oklahoma City's Third Best/Most Important Player
Unsurprisingly, Steven Adams' role in Oklahoma City is different this year than it was in 2016. Even though his usage percentage hasn't budged, the way Billy Donovan uses him is much different. According to Synergy Sports, 23.2 percent of his possessions were on post-ups last season. Right now that number is 8.9 percent, with Adams finding more offensive opportunities on put backs and as a roll man.
His impact is critical, with dependable touch from just outside the restricted area as defenders worry about his three shoe-deal-popular teammates. Whenever he slips a screen, Adams looks like a graceful cement mixer. He finishes just about everything and has the fifth-highest True Shooting percentage in the league.
As uneven as they've been, it's scary to think about how bad the Thunder would be if Adams went down for any amount of time.
11. The Earth is Round and Kyrie Irving is Not Even Boston's MVP
The Washington Post polled 105 media members in an attempt to figure out who the NBA's MVP is seven weeks into the season. This is: A) An enjoyable read, B) Something people shouldn't work themselves up over, C) I'm a little worked up over it.
Narrative forever plays a critical role in how voters decide who they believe to be the most valuable player in the NBA, and many writers have long preferred to sink their teeth into the meatiest story instead of analyzing what actually takes place on the court. That's not an insult (I do it plenty myself), and compelling story arcs are what make this sport as colorful and enthralling as it's grown to be.
But I digress: Kyrie Irving is not one of the five most valuable players in the NBA, and for eight people who cover the league to think he's more important to his team's success than LeBron James, James Harden or Giannis, just...that's amazing. The Boston Celtics own the league's best record and top defense; Irving is having the most efficient season of his career while posting his highest usage rate—by slight margins. He has 70 points (trailing only LeBron), 10 assists, and zero turnovers in 45 clutch minutes. (Seriously, zero turnovers.)
That's amazing. He is a warlock. But just look at Irving's numbers when Al Horford—Boston's actual MVP—is and isn't by his side. Here they are. The contrast is dramatic and undeniable. Swap them around to look at how the Celtics perform when Horford is on the floor with and without Irving, and the Celtics are actually better when Irving sits. Horford's efficiency smashes through the roof.
When Irving plays without Horford, he reverts back to who he was in Cleveland when LeBron wasn't on the floor. There's a flurry of contested step backs, and defenses are able to key in and stop him without fear of a secondary (primary?) threat being left alone. It's nobody's fault, per se, but also a reality with this team—and one major reason they'll reach another level when Gordon Hayward returns.
The entire conversation is ultimately inconsequential—whether you believe he's an MVP candidate or not, Irving is an unstoppable force who helps his team win games— but also, like, what are we even doing here if not trying to better understand what's taking place before our eyes? This isn't a dig at Boston's All-Star point guard so much as an opportunity to highlight and appreciate how important Horford truly is. Rant over.
(For the record, my top five would be: James Harden, LeBron James, Giannis Antetokounmpo, Steph Curry, and Al Horford, with sincere apologies to Joel Embiid, Kevin Durant, and LaMarcus Aldridge.)
12. Dwyane Wade is a Flamethrower
Just kidding. But the three-time champion is shooting 41.6 percent (10-for-24) on threes deemed "open" or "wide open" by NBA.com, after making 37 percent of those shots last year and 19.3 percent during his final season with the Miami Heat.
In a recent win over Atlanta, the Hawks awarded Wade with his very own five-star staycation, featuring exotic lavender massage oil and a plush memory-foam mattress. His comfort was their first priority.
Whether or not this is sustainable is a different debate, but with an increasingly integral role for one of the league's few true championship contenders, it's something to keep an eye on. Or, maybe not...
13. Kyle Lowry Will Never Die
After a slow start, Lowry's True Shooting percentage currently rests at 63.1 and he's hitting the defensive glass with more authority than anyone his height (or shorter) ever has. He's in charge of an increasingly potent offense and plays with an untamable rage that's both admirable and horrifying. Let us not forget his name when discussing the best point guards in basketball, please.
14. It's a Shaky Game of Musical Chairs in Denver

For whatever reason, I have a hard time analyzing the Denver Nuggets, and it looks like Mike Malone can't figure out what to do with them either. In the wake of Paul Millsap's wrist surgery (and more recently/less devastatingly Nikola Jokic's sprained ankle) new, unexpected lineup combinations have turned Denver's depth chart into a jigsaw puzzle.
Trey Lyles, Kenneth Faried, Juancho Hernangomez, Richard Jefferson, and even Darrell Arthur (who popped his head up for five minutes earlier this week) have all been thrust into expanded roles. Will Barton has spent the past eight games doing that thing he seems to do every year where he struts around with the numbers of an All-Star snub. After starting three games in Chandler's absence, Hernangomez was Malone's fourth reserve off the bench against the Dallas Mavericks on Monday night, and didn't even log four minutes two days later against the New Orleans Pelicans.
In that game, Malone slid Faried to the five and gave Barton the starting nod over Mason Plumlee. DeMarcus Cousins responded to his former coach's decision by turning the Smoothie King Center into his own personal slaughterhouse, with 40 points, 22 rebounds, four blocks, and four assists. Denver lost.
Wilson Chandler has forgotten how to score and Jamal Murray is still inconsistent to an extreme degree from beyond the arc—though that hasn't prevented Malone from running specific sets to get him going, including some nifty 'Elevator' action that's an aesthetic delight.
In the long-term, Lyles might be a helpful stretch four who can make plays in space, but even though he's shown some nice feel as a roll man, and an ability to punish lighter defenders down low, there are defensive concerns that doom any possibility of him and Jokic playing together for meaningful minutes. On one possession against the Lakers, Lyles was so concerned with rotating back to pending Hall-of-Fame inductee Kyle Kuzma as the rookie popped off a high pick-and-roll, that he abandoned his coverage entirely and darted out of Jordan Clarkson's path for an open dunk. Faried, Barton, and Emmanuel Mudiay all looked in his direction and yelled words that were probably not very nice.
On the whole, these are the players who'll ultimately decide whether the Nuggets make the playoffs or fall short. This team has the league's third-worst defense since Millsap went down, and how fast they're able to develop internal chemistry will be huge. Malone doesn't have a lot of time to figure out who works well together, but Jokic's return should help stabilize a progressively delicate situation.
P.S. Everyone who doesn't love Gary Harris should be thrown in jail.
15. Z-Bo Needs To Be Sacramento's Permanent Starting Center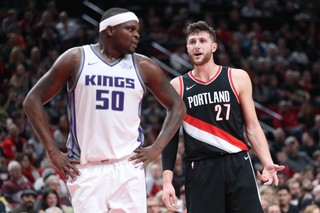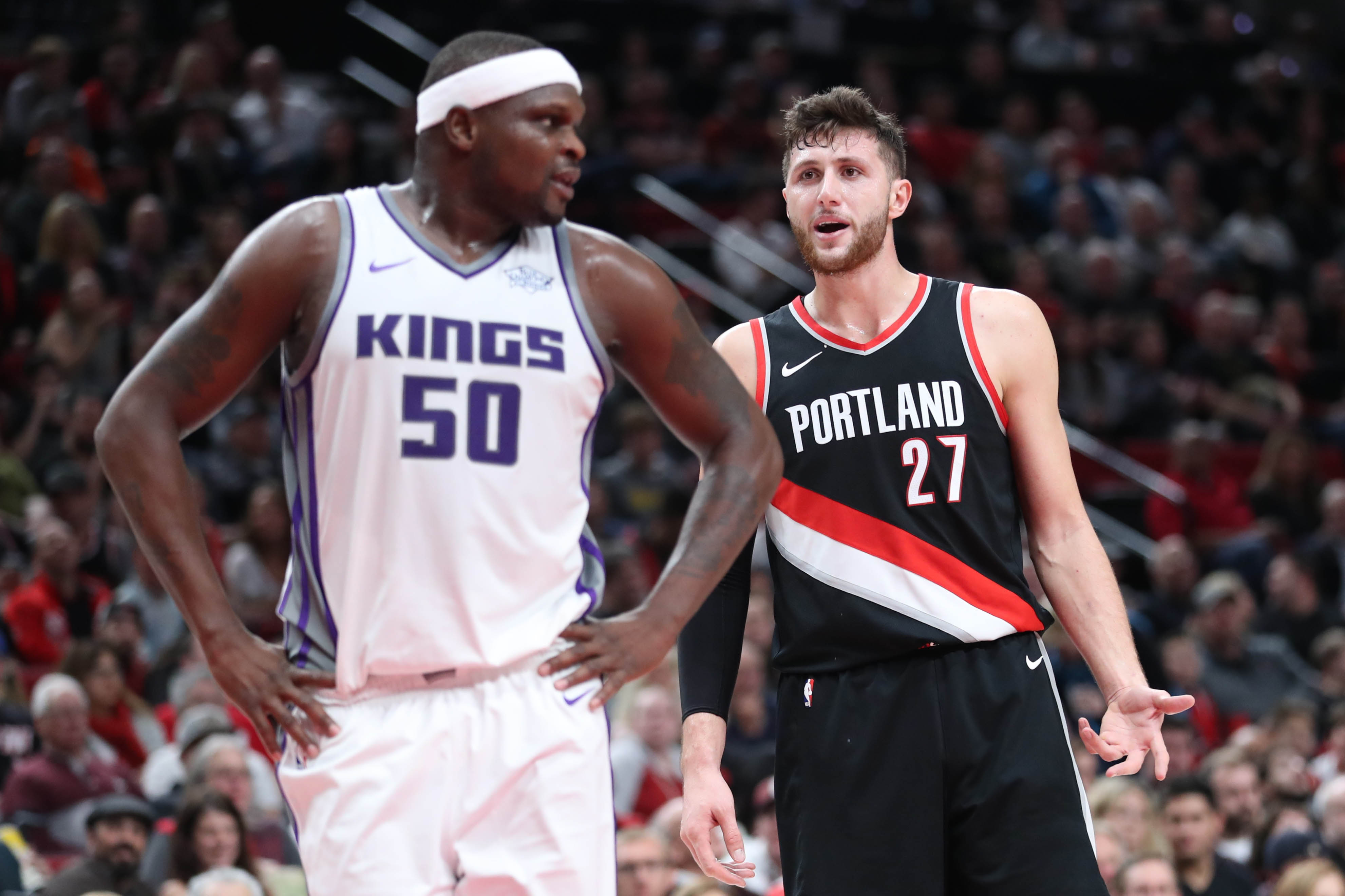 Opponents are bricking threes when Zach Randolph is Sacramento's only big. That means no Willie Cauley-Stein, Kosta Koufos, or Skal Labissiere by his side. According to NBAWowy, it's a 101-minute sample size in which the Kings have held opponents to 29.5 percent shooting from downtown.
This, above all else, is likely why hapless Sacramento plays like a 44-win team when Randolph is at the five, but that doesn't mean it isn't their most logical approach. Cauley-Stein's back injury, coupled with Sacramento's decision to momentarily move Labissiere to the G-League, allowed the Kings to shine with these units in Cleveland on Wednesday night.
They lost (because, of course they did), but Buddy Hield, Garrett Temple, Bogdan Bogdanovic, De'Aaron Fox, and Frank Mason each thrived on cuts into wide open space they previously did not know existed. JaKarr Sampson—a mercenary soldier from Sam Hinkie's Process who wears number 29 and, after that stint in Philadelphia, is not afraid of anything in the universe—started at the four and the Kings actually looked like a decent NBA team.
Randolph is 36 years old and incapable of defending pick-and-rolls or protecting the rim—Cleveland relentlessly attacked him with LeBron-Kevin Love ball screens for most of the game—but he's a pugnacious rebounder who's quietly more willing than ever to launch threes. Randolph's assist rate is the highest it's ever been, too.
The Kings have multiple centers on their roster, but even when they're all healthy, Joerger should do his best to play one at a time. That may not be great news for Koufos or Labissiere, but if the idea is to develop their young talent (i.e. Fox), they might as well do so in the most contemporary environment possible. And Randolph is awesome, so give him the nod in the starting lineup, let him build up some trade value, and see what happens next.