Trump Admin Invites New Jersey to Allow Citizens to Gamble Freely
The Solicitor General urged the Supreme Court to reject New Jersey's sports gambling case, and left open the door for a gambling free-for-all.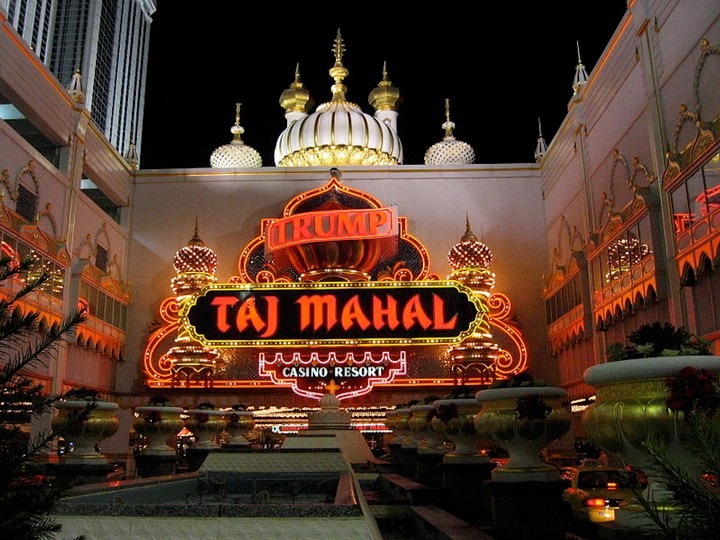 Via Wikimedia Commons
Bookies rejoice. Your federally-created monopoly on the $150 billion a year sports betting market is not going anywhere if the U.S. Supreme Court accepts today's recommendation from the Trump administration to reject a case seeking to legalize sports betting. Unless New Jersey goes nuclear.
The Acting Solicitor General, Jeffrey B. Wall , filed an amicus curiae brief this morning—which you can read below—recommending that the Supreme Court deny New Jersey's appeal in its long-running journey to legalize sports betting. The Solicitor General's opinion that the Supreme Court not even hear arguments in the now-consolidated cases, Christie v. NCAA and New Jersey Thoroughbred Horsemen's Association v. NCAA , might just kill any hope of legal sports betting that is actually regulated, licensed, and monitored by state governments.
Although it is by no means a rubber stamp, the Supreme Court follows the recommendation of the Solicitor General nearly 80 percent of the time, which means if New Jersey wants sports gambling in the state it may have only one option. Helpfully, the Solicitor General actually advocated for just such an option—the " nuclear option " whereby the state removes itself completely from sports betting and just lets its citizens gamble freely, and lets anyone run a sports book.
The case at issue stems from New Jersey's attempt to legalize and regulate sports betting at casinos and racetracks. The state argues that the Professional and Amateur Sports Protection Act , a federal law that bans sports betting outside of grandfathered states such as Nevada, unconstitutionally commandeers the state's regulatory power in violation of the 10th Amendment . PASPA also prohibits private individuals from operating or sponsoring sports betting.
The main sticking point here is whether the state of New Jersey can legalize sports betting and then take the extra step to regulate it by limiting it to casinos and racetracks, create a licensing process, and enact taxes on it. PASPA's language clearly prohibits it, but New Jersey believes PASPA is unconstitutional on its face.
At the core of the Trump administration's argument, though, is that PASPA never compelled states to regulate or help the federal government enforce a prohibition on sports betting, and thus, it never intruded into the state's sovereignty. The law simply holds that states cannot authorize or license sports gambling.
But the Solicitor General went a step further than just reciting old case law. He actually argued that New Jersey has the power to create a Wild West of sorts where anyone anywhere can accept or place a bet on sports and it is solely up to the federal government to try to stop it.
From the brief:
"If New Jersey wishes to repeal its prohibition on sports gambling altogether and thereby remain silent with respect to such gambling, or to adopt a partial repeal that is not a de facto authorization (by, for instance, lifting state penalties on informal or social wagering), PASPA does not stand in its way. But the 2014 Act's partial repeal—which is specifically tailored to facilitate sports gambling at state-licensed casinos and racetracks—is no different from a positive enactment authorizing such gambling."
Essentially, New Jersey could flip the ultimate bird and remove all laws pertaining to sports betting, thus allowing unregulated, unlicensed, and unmonitored gambling. This could mean no age limits, no restrictions on where sports books can open, no rules to prevent money laundering, and no monitoring for signs of addiction.
The nuclear option would seemingly force Congress to take action immediately as the nation's incoherent and inconsistent gaming laws are reaching a tipping point with casinos now offering Daily Fantasy Sports parlors and websites with large corporate backers touting real-time "non-gambling" sports betting.
This would create chaos, but maybe that's the point. Maybe the Solicitor General is playing 4-D chess, because he knows the federal government cannot possibly enforce PASPA in every town in America. After all, President Trump was once a self-proclaimed huge supporter of sports betting , calling it " vital to keeping taxes low and putting the bookies out of business ."
What makes PASPA particularly bizarre, though, is that the federal government does not actually have to enforce it. In fact, the federal government never actually stepped in to shut down New Jersey's plan for sports betting. Instead, it was the NCAA, NBA, NFL, NHL, and MLB. Unlike every other federal law, PASPA is unique in that it explicitly grants private corporations the same legal powers as the United States Attorney General to enforce its ban on sports betting. This very litigation was actually commenced by these leagues pursuant to that statutory authority.
The nuclear option is both drastic and crazy, but it is an option now presented on a silver platter by the federal government.

Your move, Jersey.

NJTHA US Amicus Brief to S. Ct. in Christie II by ViceSports on Scribd