Boston Teacher Uses Tom Brady Photo on School X-ing Signs to Slow Drivers Down
The teacher posted pics of the Patriots QB because "He is so good looking. Cars will have to slow down for him."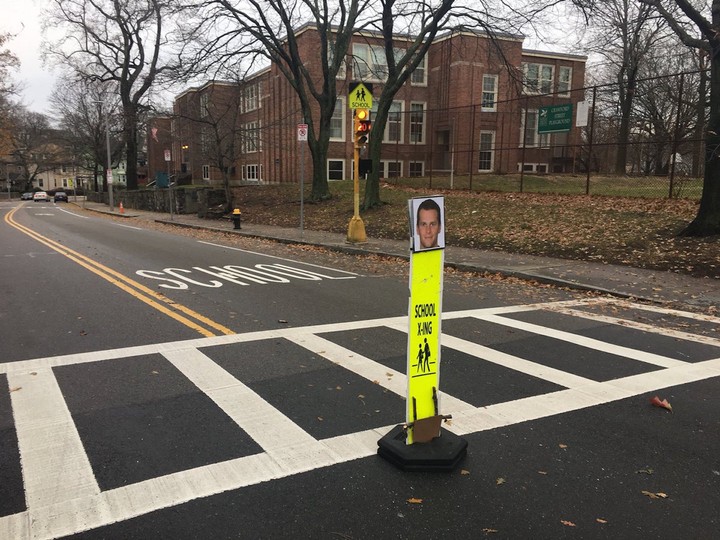 Photo via Twitter/@WalkBoston
Children, they are our future. We must do everything to protect them and ensure they have the best chance of growing into productive adults. To that end, we heap an enormous responsibility on the shoulders of teachers across the country (maybe that's why they get three months off in the summer).
One Boston teacher has gone above and beyond the call of duty and has enlisted the likeness of New England's favorite son, Tom Brady, to make sure kids stay safe:
It appears a school in the Roxbury neighborhood of Boston has been having some problems with speeding cars in the school zone, and Sam Balto has had enough. He's tried other signs before, but he says they just keep getting run over, so he went for a Hail Mary (sorry): Tom Brady's face. As you can see, Brady's face has been attached to the top of the School X-ing signs in the middle of the street, and Balto hopes those high cheekbones will help keep drivers from speeding as fast as 56 MPH in the zone.
The only downside I see to this is—and look, I know a fair share of Patriots fans—this move might backfire. Sure, cars might slow down to get a look of that beautiful face, but it will almost surely distract them, sending them into a sporting/sexual reverie and cause a rash of accidents, vehicular or otherwise. The obsession is too intense; not only will they look, they will never stop looking.
Might I suggest letting a little air out of the drivers' tires? That's always a winning strategy. (Not sorry.)