UFC Fighter Bryce Mitchell Ripped His Nutsack to Shreds with a Drill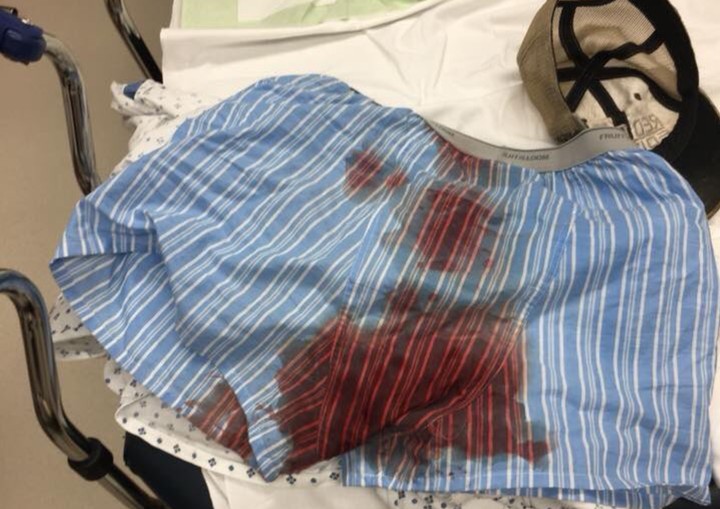 Photo via Twitter / @ThugnastyMMA
Trust me, I didn't want to write that headline any more than you wanted to read it. But here we are: UFC fighter Bryce Mitchell made similarly gruesome headlines Tuesday after rolling his family jewels through a kaleidoscope—that is, ripping his nuts apart with a hand drill. Hard—impossibly hard—cringe.
Reading the play-by-play is like staring into the sun—if the sun had tubgirl (don't look it up) projected onto it, playing on loop. The 10-0 fighter describes how he was measuring a board when all of a sudden, the power drill he stuck in his pants (more on that in a second) went off and "tangled [his] nuts up in it." But don't take my word for it—mostly because I can't bring myself to write any more detail on the matter:
First of all, has dude not seen the countless cowboy gags that involve some cocksure (pun intended) gunslinger stuffing his firearm down his pants? It's just like Chekhov's gun—except you know it has to go off on the guy's nuts. Chekhov surely would have known how this story ends for Bryce Mitchell.
Second of all, how do you have the composure to reverse the drill to "untangle" your nutsack? One-hundred percent would just have passed out—and again, I'm surprised I didn't do so while writing that last sentence. Mitchell talks about how he can't post a pic of it—thank God—but then he went ahead and posted a pic anyway:
It's like he reenacted the Red Wedding with his junk. Oh god.

Among the jaw-dropping carnage that plays in your mind like A Clockwork Orange scene, one of the more unfathomable things is that the man ends his description of the graphic incident with an "lol." Leave it to someone who deals in physical pain to walk away laughing in this horrific scenario.
This article originally appeared on VICE Sports US.