Jake LaMotta, a Portrait of Resilience
LaMotta, whose boxing career inspired 'Raging Bull,' died Tuesday at the age of 95—a great run for anyone, let alone someone who made a living getting punched in the head.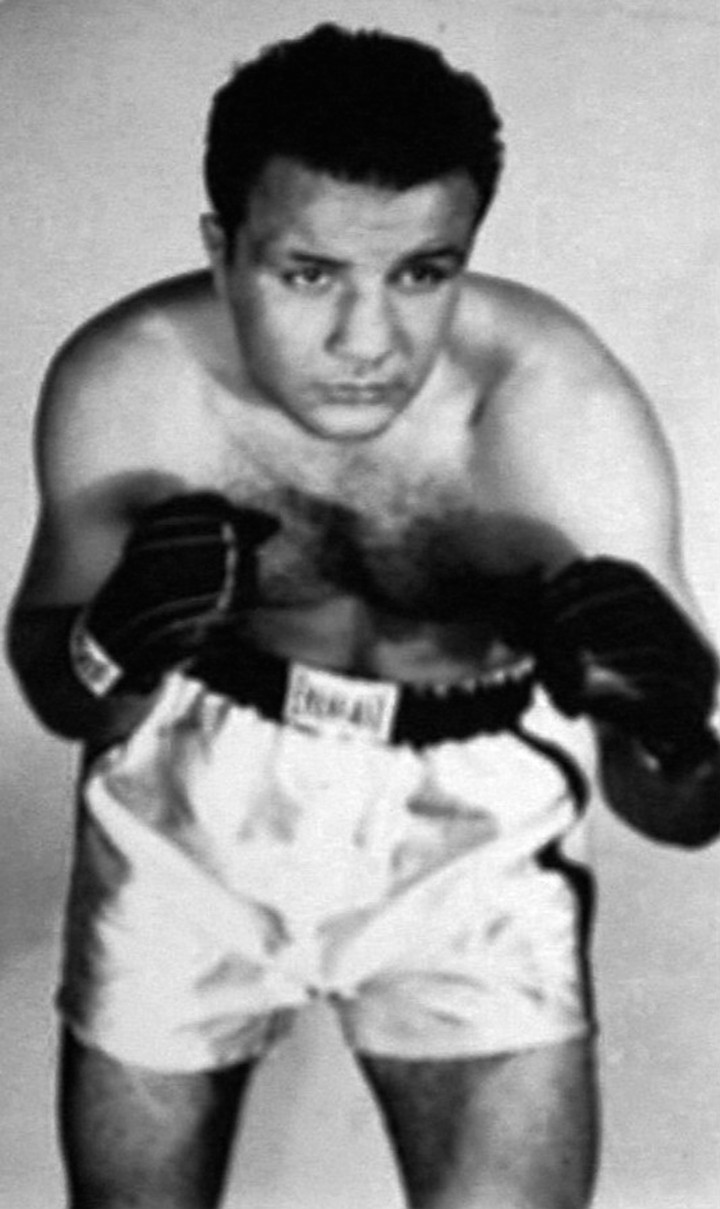 Photo via Wikimedia Commons
In 1980, Martin Scorsese released the brilliant motion picture Raging Bull, based on Jake LaMotta's 1970 memoir of the same name. As with the memoirs of most athletes—particularly those who take punches to the head for the first 30 years of their lives—the book was ghostwritten and was a fairly romantic account of LaMotta's whirlwind career. Scorsese's film won two Academy Awards, including Best Actor for Robert De Niro's turn as LaMotta, and has been referenced constantly in pop culture since its release. But some charge that Raging Bull is responsible for LaMotta being remembered as more significant to boxing history than his accomplishments merit. The news of Jake LaMotta's passing on Tuesday has led to a number of articles amid the obits assessing his place in boxing's canon of heroes and antiheroes. In a sport where everyone has their own "top ten" of everything, LaMotta's significance is a little more nuanced than a simple number of belts won or titles defended.
LaMotta was middleweight champion of the world from June 1949 to February 1951, having won the belt from Marcel Cerdan. He managed a handful of victories before losing the strap to Sugar Ray Robinson. There isn't much footage of LaMotta in action, and what there is isn't pretty. When Nat Fleischer listed his top ten middleweights in 50 Years at Ringside (written when there had been only 21 middleweight champions), Robinson made the top five and LaMotta's name didn't even appear in the book. Even the way in which LaMotta won the title came with an asterisk to many. The Frenchman Cerdan injured his left arm in the first round of their contest but survived to the tenth despite being unable to throw punches off that side. Cerdan was granted a rematch but died in a plane crash just a few months after his first meeting with LaMotta, leaving all the questions unanswered.
Before Raging Bull, LaMotta's name was more important to many fight fans for what he said at hearings before the Senate Subcommittee on Antitrust and Monopoly in 1960. During the subcommittee's investigation into mob influence on boxing—particularly the connections of Frankie Carbo and Blinky Palermo—LaMotta confessed to throwing a bout against Billy Fox in November 1947. The New York State Athletic Commission had been suspicious of the outcome at the time, as LaMotta had never been stopped before. He would later say that he made sure to lose more one-sidedly than the mob had hoped just to make it clear that something was up. The commission withheld both fighters' purses, but LaMotta insisted that he had been fighting with a severe injury until the NYSAC gave up the chase.
Allegedly LaMotta had passed on taking a dive against Tony Janiro in June 1947 for $100,000, instead opting to work the fix against Fox in exchange for the mob organizing a shot at the middleweight crown down the road. Few would approve this moral choice, but at a time when mob-owned fighters were being worked into the best opportunities, it was what LaMotta had to do, and he got the title shot as a result. Though not before Marcel Cerdan's American representatives allegedly extorted another $20,000 out of LaMotta in "fees" for the fight—a fight for which his purse would amount to only $19,000!
But the purpose of Scorsese's Raging Bull never seemed to be to elevate Jake to something more than he was. The Jake LaMotta in that film (played by Robert De Niro) is a deeply flawed human being with a self-destructive streak but some legitimate fighting talent and a resolute stubbornness under fire. LaMotta may not be an all-time great in terms of accolades, but his story was a remarkable one for everything about fighting that isn't in the numbers and the belts.
LaMotta was known as a fighter with a great gas tank and a willingness to push hard through each round of a contest. He wasn't the biggest hitter, he wasn't slick on his feet or particularly creative with his set-ups or counters, but he was always there and there was seldom a minute of any fight that he wasn't working. When he defended his middleweight title against Laurent Dauthuille in September 1950, LaMotta was down on the scorecards by Round 15 and needed the knockout to win. LaMotta spent the first two minutes of the round with his hands down by his sides, swaying into the ropes and bouncing back off them as if completely spent. When he thought he had one minute remaining in the fight, LaMotta surged forward and put Dauthuille on the canvas. Dauthuille was counted out with just 13 seconds remaining in the fight. That was LaMotta summed up: always there.
The one number that does matter when recalling LaMotta's accomplishments is the "and one" that he beat onto Sugar Ray Robinson's record in their second fight, February 1943. After his first meeting with the Bronx Bull back in 1942, Robinson decided that he would have been "safer in a bull ring" that night, concluding: "I got the decision but I learned that Jake LaMotta was some animal." In their second meeting, LaMotta showed even more aggression, sending Robinson through the ropes and onto the apron in the eighth round and winning the decision. Robinson had accomplished a spotless record of 40-0 as a master boxer and puncher. LaMotta wasn't half the boxer, and nothing special as hitters go, but he had spoiled all of that with his grit. The magnitude of LaMotta's achievement can only be realized when one considers that Robinson proceeded to become the welterweight and middleweight champion of the world, and would run his record to 128-1 before he suffered another defeat. Robinson and LaMotta met a total of five times by 1945.
Their sixth and final meeting came on St. Valentines Day, 1951. It became known as the Valentines Day Massacre, and it is their only bout of which we have film. Robinson was the reigning welterweight champion, challenging for LaMotta's middleweight crown. Knowing his reputation as the Bronx Bull, a viewer might be pleasantly surprised to see LaMotta out-landing the dancing master in the early going and, most curiously, out-jabbing him. LaMotta was slowing down but he looked wily and sharp through the first two rounds that night. He would crouch low to avoid Robinson's usual left-circling jabs, then come up with a jab or double jab of his own and catch Robinson on the extreme end of it.
Robinson's jab was a constant annoyance, but it was his blistering hand speed and heavy counter punches that wilted LaMotta. Wide rights to the body and counter uppercuts as Jake lunged in slowed the champion through ten grueling rounds. In the 11th round, LaMotta rallied to hammer Robinson along the ropes, but the challenger survived and by the end of Round 12 LaMotta could barely raise his hands.
In the 13th round, LaMotta was blasted along the ropes and referee Frank Sikora jumped in to wave the fight off. As was made famous by Raging Bull, through their six meetings Robinson never knocked LaMotta down.
While Robinson went on to drop and recapture the middleweight title a handful of times, LaMotta's career was winding down. He won just five of his final ten fights, going up to light heavyweight to test the waters there before calling it quits. By the time he retired, few rated him as a great champion, but he had always been a fan favorite and his turbulent path to the world title made excellent source material.
Whenever a celebrity passes away there is some sadness, but it is hard to feel robbed by a 95-year run. Jake had been the oldest living boxing world champion since 2006! Living to 95 would be an impressive feat for a man who never drank, never smoked, and certainly never got in the ring to be punched in the head for money. That Jake LaMotta could forge a reputation for absorbing punishment through the first half of his life, a love of the night life throughout, and still enjoy a peaceful retirement to near 100 years old is remarkable. But then, resilience was Jake LaMotta's identity.