A Team of 8-Year-Old Tackle Football Players Kneeled for the National Anthem
"Because black people are getting killed and nobody's going to jail," one of the kids told his coach.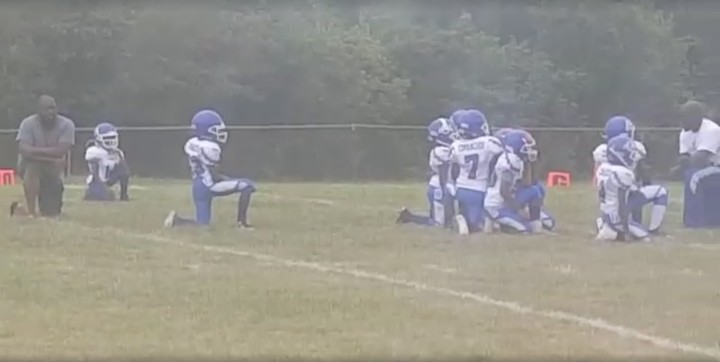 Screen capture via Facebook/ Latia Cole-Goodman
It's a pretty goddamned weird time to be alive in these United States and it just keeps getting weirder. As Colin Kaepernick continues to be unemployed while the likes of Case Keenum and Scott Tolzien are starting quarterbacks in the NFL, players across the league continue to use the national anthem as a moment to protest injustice.
And not just in the pros. Turns out that a.) eight-year-olds are playing tackle football, b.) the national anthem is played before eight-year-old tackle football games, and c.) the players are kneeling in protest during it.
The team is located in Belleville, Illinois, which is not very far from St. Louis, which once again finds itself embroiled in protest after another police officer was found not guilty of murdering a black man. The kids on the team have paid attention to the story and they are quite woke about it:
"One of the kids asked me if I saw (people) protesting and rioting in St. Louis. I said yes; I said, 'Do you know why they are doing it?'" said Coach Orlando Gooden.
Coach Gooden said his player responded, "Because black people are getting killed and nobody's going to jail."
Gooden says he decided to turn the discussion into a teachable moment that ended with him explaining these situations were exactly why Kaepernick decided to silently protest during the national anthem. (Kaepernick himself has explicitly said this, but somehow that always seems to get lost in the debate.) The kids then asked if they could also protest in that way, and the coach (and all the parents) was on board with it.
Naturally, not everyone was a fan. The video above was posted on Facebook by the coach's wife, Latia Cole-Gooden, and if you'd like to confirm the worst of humanity, head on over to the cesspool that is the comments section. The point I stopped reading at was when someone called a bunch of third-graders "SCUMBAGS" in all caps.