Man Dressed as Bud Light Can Endures Prolonged Journey of Total Humiliation
You think the embarrassment ends with the first slip on the ice, but alas, it is only the beginning.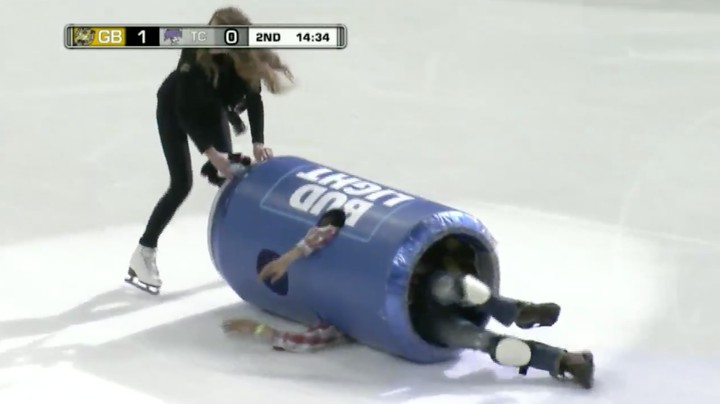 Screen capture via Facebook/@GamblersHockey
You might not have realized that you've been missing large-adults-ice-racing-in-beer-costumes from your life, but now, you will surely see the light.
The USHL team the Green Bay Gamblers do a funny little entertainment bit where they put people in large, branded cylinders, and have them treacherously scramble from one side of the rink to the other with just shoes on. In a recent incident, one Bud Light can ate a whole ton of shit, tried to get up in its barrel-shaped prison, failed miserably, and had to be dragged off the ice in the most humiliating fashion. It was glorious:
Just take a look at another incident in which our blue hero—along with some pretty spectacular last-second fails from his competitors—also eats shit:
Nothing goes down quite so easy as a cold Bud Light*.
*No Cold Ones were harmed in the production of this content.