DeMar DeRozan Put Together a Masterpiece Against Milwaukee
DeRozan had everything working for him to kick off 2018, scoring a Raptors record 52 points in an overtime win.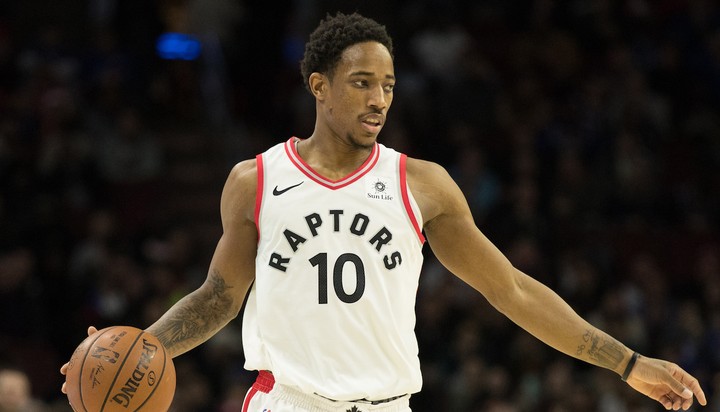 Photo by Bill Streicher-USA TODAY Sports
DeMar DeRozan stood at the free-throw line with the Raptors up two points and six seconds left to play in overtime. One make would force the visiting Bucks to try a 3-point heave to get to a second overtime, and two would seal the game. The first dropped, and somewhere, Terrence Ross' phone vibrated. As "M-V-P" chants surrounded him, DeRozan calmly sunk the second, securing the victory for Toronto and erasing his old friend from the top of the franchise's record book.
It was a tremendously entertaining game, a playoff rematch that went down to the wire, that included exciting rookie OG Anunoby drawing the impossible Giannis Antetokounmpo assignment, and that put the Raptors' new system up against one of the opponent's it's designed to help beat. It was going to be an important night and an informative game no matter how it went down. There are some nights, though, where a singular performance is so unquestionable, so unassailable, that the details of the game around it are sure to grow fuzzy over time. Monday was one of those.
Monday was and forever will be The DeMar DeRozan Game.
DeRozan finished with 52 points, a Raptors single-game record. It would be difficult to make a case for any other Raptors performance being a more complete regular-season outing. With all due respect to Ross and Vince Carter, the previous record-holders, to Charlie Villanueva and Chris Bosh, and heck, even to Donyell Marshall, there's never been a Raptor game quite like this.
DeRozan put on full display every change he's made, every area he's improved, every early-morning summer workout he's gotten in. For those who haven't been paying attention to the Raptors' 25-10 start, thinking it's more of the same empty-calorie drivel that's bogged them down come playoff time the last few years, DeRozan's dramatic evolution may have come as a surprise in a game everyone was flipping on by the time his 21-point first quarter finished. Over the course of 43 minutes, he went through a checklist of his arsenal to make sure he got nearly all of his spots, new and old, in.
He shot from outside. DeRozan was 5-of-9 from deep and joked with media afterward, "Don't say I can't shoot threes no more." He kids, but the last few weeks have suggested that maybe he can shoot threes. Not at a Steph Curry level, but consider that DeRozan is shooting a larger portion of his field-goal attempts from beyond the arc than ever before (17 percent) and he's hitting them at the highest rate of his career (34.9 percent). But three-point shooting takes a very long time to stabilize and there's a chance that this—a remarkable 22-of-38 stretch—is just noise.
He got to the line at will. DeRozan was a perfect 13-of-13 from the stripe and is somehow getting to the line even more this year, even as he adds more threes to his shot mix. The free-throw line is the most efficient place on the floor for a career 83-percent shooter to be, and DeRozan has taken up residence there once again, bullying switches by taking them into the post or splitting through defenses to draw contact at the rim. He drew a foul on Eric Bledsoe on a late post-up that was a perfect example of how simple action to get DeRozan a mismatch can still be a functional part of a redesigned team concept. There's almost nobody who can defend him when he has it going.
---
---
He worked in his unrivaled in-between game. DeRozan has cut down the portion of non-paint twos he's shooting this year, from 41 percent of his attempts coming from 14-foot twos and beyond to 31 percent, per Cleaning The Glass. That's good for nearly the top of the league still, but he's also nearly unmatched scoring in that area. It's a part of his game that defenses are going to be OK with him getting, especially when he's this hot. DeRozan made the Bucks pay for giving him that space, though, hitting 6-of-13 in the mid-range.
He threaded passes through traps, turning the Bucks' aggressive defensive attention against them. This is perhaps what stands out most, which is a little odd in a 52-point game. DeRozan dished eight assists and had two secondary assists, making him one of just seven players with a 50-point, eight-assist game in the last eight seasons. He was scoring freely, the Bucks loaded up on him, and DeRozan found the right balance between aggression and facilitation. Even watching how the Raptors play around those traps is instructive, as there are more designed safety valves now, and DeRozan found them in key moments Monday. DeRozan is averaging 4.9 assists on the year with a career-best 23.9-percent assist rate. Only six players have a higher assist and usage rate than DeRozan this season.
He even helped force the overtime period by smothering Malcolm Brogdon on the catch with three seconds to go. DeRozan had one of his better defensive games of the year, too, clearly wanting to come away with the win here. He stymied Antetokounmpo on a post-up, too, blocked a shot, and had a steal. DeRozan's not going to be confused with a great defender possession-in, possession-out, but it's worth noting that this is the best he's ever looked by advanced metrics, which have generally been sour on his impact despite the oft-gaudy numbers. Pick your stat—true-shooting percentage, win shares, box plus-minus, real plus-minus, the team's performance with him on or off the court—and DeRozan's having a career year.
This isn't supposed to be DeRozan, something he's heard for years now. Like many of his seasons prior, DeRozan's 2017-18 to date has been a master class in taking perception and flipping it on its head. DeRozan has improved, yet again, and while there's still plenty of proving ground to come—namely, the playoffs—it gets harder by the day to doubt his ability to continually push toward a more idealized version of himself.