Down Goes Brown Grab Bag: Concussions, Hockey Tonk, and Neon
The NHL did something right in how they enforced the concussion protocol, and yet they still managed to screw it up. Sean explains.
Charles LeClaire-USA TODAY Sports
Welcome to Sean McIndoe's weekly grab bag, where he writes on a variety of NHL topics. You can follow him on Twitter. Check out the Biscuits podcast with Sean and Dave Lozo as they discuss the events of the week.
Three stars of comedy

The third star: Fire Dan Snyder Guy. This Washington fan first showed up at Game 5, then made the trip to Pittsburgh for Game 6. I'm not saying he was the turning point in the Caps nearly winning the series, but we can't rule it out.
He's basically Dart Guy, but using his powers to make the world a better place.

The second star: The L.A. Kings. Longtime readers know we've been beating the drum against NHL teams and their stupid "terms not disclosed" policies for years now. It's a battle we've been winning recently, as more and more teams have dropped the charade and just started giving their fans the information they need.

Well, the Kings have taken it to a new level:
In related news, when they're not throwing contract terms GIF parties, the Kings listen to our podcast. What a time to be alive.

The first star: Connor McDavid. He seems really thrilled to be meeting these fans at the airport who just wanted to say hi and take a photo and also awkwardly grab him.
It's been awhile since we've seen him break out his "The Oilers just won the draft lottery but I should try not to look horrified" face. I've missed it.

Outrage of the week

The issue: On Monday night, Sidney Crosby went headfirst into the boards and got up slowly, but he wasn't removed from the game by the league's concussion spotters. And that's despite Crosby's long history of head injuries, including one suffered just the previous week.
The outrage: If Crosby can keep playing after that, the league's concussion protocol isn't working.
Is it justified: Yep. The system is broken.

But it may not be broken in the way you think it is. I saw lots of fans reacting with some variation of "Well, that's just typical NHL, leaving everything as a big grey area and then doing whatever they want." Sort of like they've done for replay reviews, or suspensions, or any number of other situations where we all ended up rolling our eyes at the NHL's decisions.
But that's not what happened here. For once, the NHL didn't get into a mess by having vague, fuzzy rules that are open to interpretation. No, this time they had incredibly specific rules. And they followed them to the letter.

As TSN's Bob McKenzie pointed out, you can read those guidelines yourself since, to their credit, the NHL has posted them publicly. The guidelines spell out the situations in which a player must be removed from the game. Some of these situations are obvious, like when a player is lying motionless or can't maintain his balance; others would have to be reported by the player to a team doctor, like blurred vision, nausea, or dizziness.

Then we get to the section that covers the sort of tougher calls that a spotter might be expected to flag. Here's what that looks like: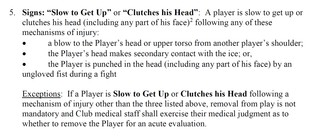 As you can see, that's pretty specific. In fact, let's go one further: it's way too specific. And as the "Exceptions" section makes clear, the spotters are not to call down unless one of those three scenarios is in play.

According to Bill Daly, that's why Crosby wasn't removed from Monday's game. Crosby's head hit the boards, and that's not listed as one of the three possible criteria. If he'd hit the ice, he gets pulled out, but going head-first into the boards is apparently fine.

It's not hard to imagine other obviously dangerous scenarios that wouldn't be covered here. If a player gets hit in the head with a shoulder, the spotter is supposed to order him out of the game. But if he gets elbowed, or kneed, or clubbed over the head with a stick, the spotter can't do anything. Did a player get coldcocked with a punch to the face? Well, we need to know if the other player's glove was on or off. That seems crazy.

There's also nothing in here about a player's history, so somebody like Crosby who was just a few games removed from a head injury doesn't get any special scrutiny. That's been criticized, too, although I think you can see where the league is coming from on that one. A player is either healthy enough to play or he's not, and asking spotters to factor in a guy's medical history seems a little much. But they can consider the play in front of them, and Crosby's fall should have been more than enough to have him checked out.

To be clear, none of this absolves the teams or even the players themselves. There's been some question as to whether or not Crosby was even checked for a concussion during intermission. (It sounds like he spoke to a team doctor, who decided he didn't need a full evaluation.) The team's medical staff has the primary responsibility here; the spotter is simply an additional line of defense.

Even given that, what happened on Monday was a system failure. And for once, the NHL didn't fail because someone didn't follow the rules. They were followed, exactly as written. And that's why they need to be rewritten, and soon, before Crosby or anyone else get puts in danger again.

Obscure former player of the week

The Nashville Predators are headed to the conference finals, so this week's obscure player is a guy who never played a game for them: Timo Helbling. We'll explain in a moment.

Helbling was a big Swiss defenseman who was picked by the Predators in the sixth round of the 1999 draft, a few spots ahead of Obscure Player alumni Fedor Fedorov. He stayed overseas for a year before coming to North America to play out his last year of junior eligibility with the OHL's Windsor Spitfires. He'd spend the next three years in the AHL, but never cracked the Predators' lineup. They eventually gave up on him in 2004, trading him to the Lightning for the rock-bottom price of an eighth-round pick.

Helbling finally got his NHL shot with the Lightning after the lockout, playing 11 games during the 2005-06 season. That was it for him in Tampa, but he caught on as a free agent with Washington and played two more games for the Caps in 2006-07. They'd be his last in the NHL; he'd finish with just 13 games, no goals, and one assist for his big-league career.

He made some news on the way out, though. At the 2007 deadline, he was a throw-in in the trade that saw the Caps send Danius Zubrus to Buffalo for a first-round pick and a prospect, as the Presidents' Trophy-winning Sabres loaded up for a Cup run. That deal didn't work out—Zubrus was a bust in Buffalo, going goalless in the playoffs as the Sabres bowed out in the conference final.

While that deal made headlines at the time, it was Helbling's other trade that we should have been paying attention to. The Predators used that eighth-round pick in the 2004 draft that they got from the Capitals on a gangly Finnish goalie named Pekka Rinne. Thirteen years later, he's a three-time Vezina finalist, not to mention a leading contender for this year's Conn Smythe Trophy.

Be It Resolved

Folks, there's a massive problem spreading across the NHL and we need to talk about it. It's happening in rinks all around the league. Tune into any game and if you know where to look, you'll probably spot it within seconds. Worst of all, the issue seems to be getting worse with every passing week, and nobody is doing anything to stop it. Well, no more. It's time to break the silence.

It's time to talk about people who wear bright orange to hockey games.

Seriously, people, what the hell? Who goes to a hockey game wearing neon? And why are they always sitting directly behind the net?

When this happens, your brain instinctively blocks out the offending color, but inevitably, someone else mentions it. (OK, fine, I mention it. Let's not get sidetracked with finger-pointing right now.) And from that moment on, Brighty McTangerine is all you can see for the rest of the game.

It's bad enough during the regular season, but in the playoffs, just about every fan base now does the "everyone dress in the same color" routine, so one outlier can ruin a whole game. And sure, maybe some of the orange people are wearing hunting jackets. That doesn't make it OK. You're at a hockey game. Are you actively hunting right now? No? Good, take your damn jacket off and put on some hockey fan clothes.

Let's just come right out and say it: Some of these fans are clearly doing this on purpose. Surely these people have noticed that literally every person around them is wearing the same color while they're dressed like a background dancer from a Frankie Goes to Hollywood video. They don't care. They like ruining the game for you. They're monsters.

So be it resolved: no more wearing bright orange—or pink, or lime, or whatever—to playoff hockey games. And be it further resolved that teams need to take a stand here. Politely ask people to remove their brightly colored coats once they're inside. Have a few properly colored T-shirts on hand just in case. And as a last resort, throw a burlap sack over their head, haul them out of the arena, and dump them on the side of the nearest highway. Don't worry, their stupid clothes will light the way on the long walk home.

Classic YouTube clip breakdown
The Predators' trip to the conference finals marks the deepest playoff run in the 19-year history of the franchise. At a time like this, it's important to take a moment to remember where they came from.

So it's October 1998, and Nashville is buzzing with anticipation over the very first regular season game in Predators history. It's time to get fired up with … [is handed a sheet of paper that just says "Remember, it's Nashville"] … oh lord, it's going to be a terrible hockey-themed country song, isn't it?
Oh, is it ever. Ladies and gentlemen, please enjoy "Hockey Tonk."
Our video begins with a closeup of a sabre-tooth tiger, and what sure seems to be the sound of an airplane toilet flushing. Weird. I would have gone with a roar, but I guess that's why sound editors get paid the big bucks.
We see a few Predators making their way down a red carpet while looking suitably uncomfortable. There's also a great shot of the expansion Predators coach, a disturbingly young-looking Barry Trotz. He still has most of his hair and has only developed a partial perma-scowl. Also, he's never once thought about strangling Alexander Ovechkin. Happier times, all around.
"Welcome to Dixie when you walk in the door, but you'd better be ready for the third World War." Uh, what? Guys, you're a terrible expansion team and it's your very first game. Maybe ease up a little on the threats of global annihilation.
I have to admit, I like the guy who brought a sign that says "NOISE." Most people would have just, you know, made noise, but this guy is mixing mediums. Also, I want that other dude's Predators mask. I would wear that on public transport just to make sure nobody ever talked to me.
At about the 40-second mark, we get our first look at what will become a running theme of the video: people awkwardly making claws with their hands. These are called Fang Fingers, and as we'll see, they don't quite have the whole concept down yet. Do you keep your fingers together? Spread them out? How much forward movement are we talking about? It's a work in progress.
Fang Fingers would eventually be perfected by Taylor Swift, seen here doing them while looking like she wants to swallow her own tongue.
Next up are two guys who I'm just going to go ahead and call the Way-Too-Excited Twins. They'll show up a few times, and will make everyone feel uncomfortable. I've never been as pumped for anything in my life as these two guys are about having tickets to a Nashville Predators exhibition game.
Not way-too-excited? This guy: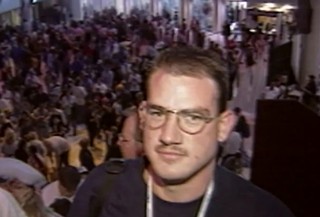 We get a quick shot of what appears to be an Indiana Jones impersonator riding on the back of a guy driving a lawn mower, because why not. This is also the part of the song where you realize there was only one actual verse, and now we're just going to repeat lines about hockey tonking all night long. Is that too much hockey tonking? That seems like too much hockey tonking.
Since I know you were wondering, this song was performed by country and blues legend Delbert McClinton, who also did the opening song from the movie Groundhog Day. [Turns earnestly towards camera] If you'd like to learn more about country music stars supporting the Nashville Predators, try this 1998 Sports Illustrated article that contains the phrase "Nashville not only can put fannies in the seats, but it also can put Grammys in the seats." I miss the golden age of sports writing.
We finish with a few uncomfortably close shots of Predators fans, including one last attempt at the Finger Fangs, during which somebody seems to be barking like a dog. When I write a book on the history of NHL expansion marketing, the Predators chapter is going to be called "Dog Barking and Airplane Toilets." (Other chapters in that book: "The Iceman's Final Guitar Solo," "I Think It Would Be Fun to Deafen Our Fans with a Cannon," and "Oops Our Mascot Caught on Fire.")
The epilogue here is that that first-ever game, against the Panthers, turned out to be a 1-0 loss. I guess it was important that Nashville fans got the full late-90s NHL experience right away. Miraculously, a few of them eventually came back, and will be packing the Bridgestone Arena this week to bark their team to victory.
Have a question, suggestion, old YouTube clip, or anything else you'd like to see included in this column? Email Sean at nhlgrabbag@gmail.com.