Watch a Missed Free Throw Turn into a Bank-Shot Corner-Three at the Buzzer
The Brazilian Basketball League saw quite possibly the most unlikely end to a game you will ever see, courtesy of Paulinho Boracini.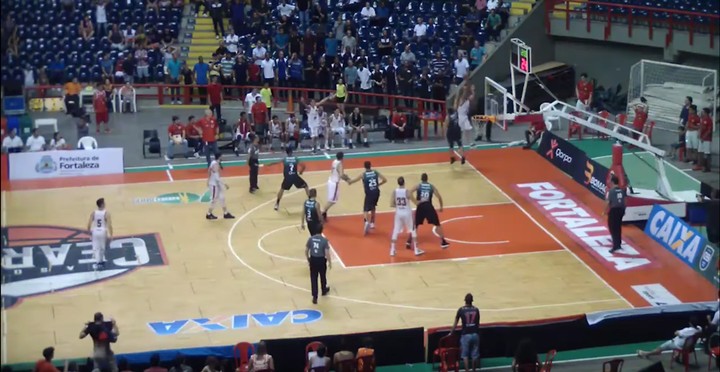 Screen capture via YouTube
This is the shit you always dream of as a basketball player. Trying to bend the rules of logic and physics and probability to get off a game winning shot. The only problem is that the degree of difficulty on this particular trick is such that no one really tries it. Enter: Paulinho Boracini.
In the Brazilian basketball league (NBB), Basquete Cearense's Paulinho—as he's known for short—was facing the impossible. Down by three with a scant couple of seconds left on the clock—against his old team Bauru nonetheless—Paulinho was fouled and made the first of his two free throws. But, of course, a second free throw here would be useless, so he went into the old bag of tricks and pulled out the intentional miss/pass to yourself play. With one, or two, really, big twists:
The amount of (possible) skill, good fortune, and just sheer insanity required to make this work out is staggering. First, it may sound easy, but drilling a pass to yourself off the rim is incredibly hard. To not only hit the rim, but in such a way that it bounces away from danger into the corner is almost unfathomable. One redditor suggests that Paulinho has actually practiced this specific play—which seems crazy—but it does look like he immediately took off for the corner, so who knows. But then it just gets wackier once he does get the ball: he has to shoot a fadeaway three, as he's falling out of bounds and—AND—he gets an every so slight touch off the corner of the glass before sinking it.
Basquete Cearense came away with the victory at 81-80, and best believe Bauru is regretting trading that guy.
This article originally appeared on VICE Sports US.