With or Without Caveats, Paul Kariya Is a Deserved Hall of Famer
Kariya's career has been measured before and after taking a vicious hit from Scott Stevens in the 2003 Stanley Cup Finals, but his place is in the Hall of Fame regardless.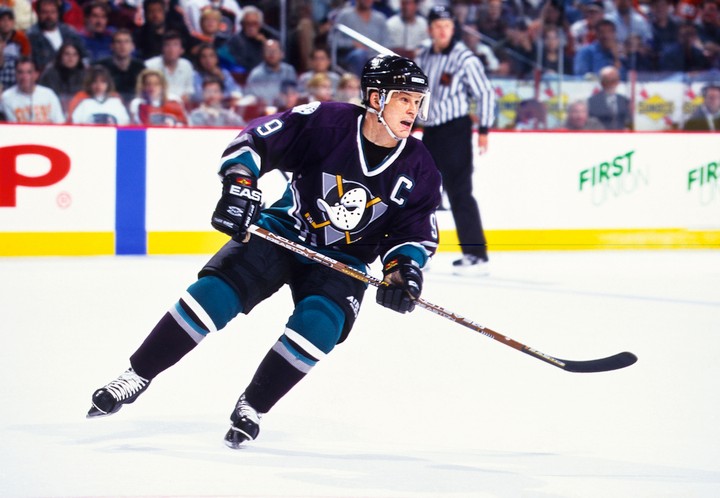 Lou Capozzola-USA TODAY Sports
Paul Kariya in the Hockey Hall of Fame? Everyone appeared to be on the same page after the announcement Monday. He was a deserving choice, seemingly the overwhelming consensus pick. Drop a "Kariya" search in Twitter, and you'll find nothing but praise and numbers that back the committee's decision to induct the Canadian winger.

This all seemed odd to me, because the one thing about Twitter is that there's always someone willing to take up the other side of an argument. "Peas and mayo on a pizza? This is good, because…" is probably a take that exists. Kariya had all the trappings of someone who didn't belong in the Hall of Fame—never won a Stanley Cup, had fewer than 900 points in his career, played in California for most his career.
As a matter of fact, when I saw Teemu Selanne was inducted along with Kariya, my first cynical instinct was to assume this was a similar situation to Sidney Crosby hiding Chris Kunitz in his luggage to bring him to the Sochi Olympics. Was Selanne such a dominant player for such a long period of time that he got to bring a plus-one to the Hall? Because I don't recall too many passionate defenses of Kariya's resume in years past, and now he was a no-brainer beyond reproach.
But if you gaze upon Kariya's numbers in a career shortened by concussions at a time when the league didn't care at all about them (today, you can say they sort of care), you can see he has a case, especially when you see where the bar has been set in recent years.
Sure, Sergei Zubov is the player most deserving of enshrinement who still hasn't gotten the call—he's more deserving than Kariya, Dave Andreychuk, and Mark Recchi—but I can't write that column every year and expect to get paid for it.
When focusing on Kariya, it's easy to see how he's worthy, but not worthy, but, in the end, worthy.
Much the way Sammy Sosa played during the heart of MLB's steroid era, Kariya joined the NHL when its concussion era was in full swing. Perhaps the most memorable highlight of his career came during Game 6 of the 2003 Stanley Cup Final when he was knocked unconscious at center ice by Scott Stevens of the New Jersey Devils and returned to the game minutes later to score a back-breaking goal.
Unpenalized head hit. Concussion. Allowed to return a few minutes later. It's easy to think of hockey as a game that has become more civilized over the years, but even as recently as 14 years ago the NHL had a stance on head shots that would make John Wick say, "I don't know, that seems a little extreme to me."
That laissez-faire attitude toward brain injuries, and that Stevens hit specifically, is why Kariya had his career cut short. But much like Eric Lindros, the numbers Kariya posted—989 points in 989 games played mostly in the Dead Puck Era—are a pretty good indicator of his talent and why he got the call from the Hall.
Although…
Lindros played in nearly the same era as Kariya and had his career ended by concussions but posted 865 points in 760 games while finishing top five in Hart Trophy voting seven times (and winning once). He is 17th all-time in points per game.
Kariya finished top nine in Hart voting three times (never winning) during the first five years of his career. He finished 26th in the voting in 2006 and 16th the following year. While concussions stole seasons' worth of games from Kariya, he didn't garner a single Hart vote between 2000 and 2003 when he was playing regularly.
---
More from VICE Sports on why Recchi, Andreychuk should have been elected to the HOF last year
---
The only trophies in Kariya's case are two Lady Byngs, which are the People's Choice Awards of NHL trophies. Doesn't it feel like voters simply like Kariya and feel sorry for the fact that he had the bad luck of playing at the same time as Stevens? Is that really a reason to put someone in the Hall of Fame?

No, but here's the thing: while trophies are great, they are voted on mostly by idiots, the same idiots who have ignored the beautiful defenseman god that is Zubov. So judging Kariya by an empty trophy case is like judging Susan Lucci by her empty trophy case (or a modern reference to an actor not winning awards because of voting by idiots).
There are two things that make Kariya a true Hall of Famer.
The first is what he accomplished before the Stevens hit. Between 1995-96 (his first full season) and 2002-03, Kariya had the seventh-most points (630 in 559 games) and sixth-most points per game (1.13). Before Kariya was tabbed, everyone ahead of Kariya and the player one spot back in those categories ended up in the Hall, so clearly Kariya had the credentials for eight years, which is the standard to which Lindros was held.
The second thing is the standard were have created for Hall of Famers in recent years, which includes the "Was he a Hall of Famer before a predatory hit from Scott Stevens that would result in jail time today?" standard that applies and works for Kariya. You can argue that the bar for the Hall of Fame should be higher—since Dino Ciccarelli gained entry in 2010, the whole thing has been devalued—but in the current reality in which we exist, Kariya deserves it.
Even without all those caveats, Kariya deserves to be in the Hall anyway.
Correction: A previous version of this article incorrectly identified Paul Kariya as an American-born center. He's a Canadian winger, and we've updated the story accordingly.