Kevin Pillar Made Another Sensational Diving Catch
The Blue Jays centerfielder has developed a bit of a reputation for "TV dives," however.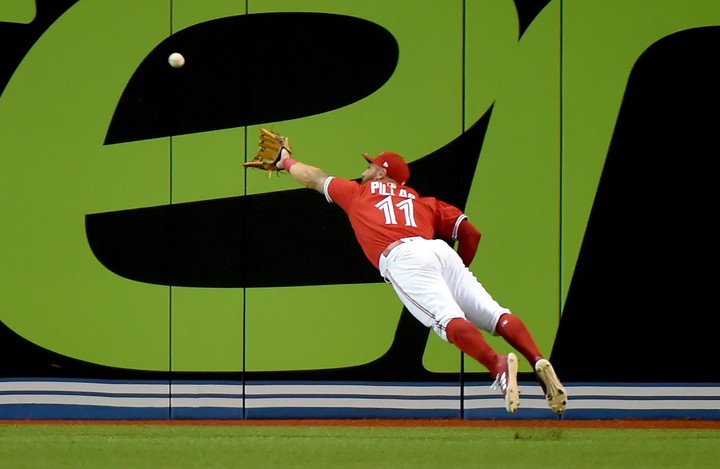 Photo by Dan Hamilton-USA TODAY Sports
Kevin Pillar made another ridiculous catch out in center field of the Rogers Centre Monday night. With two outs in the sixth and two men on, Cleveland's Jose Ramirez smoked a ball to deep center and Pillar had to race nearly to the warning track and then at the last minute, sprung forward and made a gorgeous diving catch. Just look at it, it's lovely:
Pillar has made his fair share of truly outrageous catches over his career, but he's also come under fire for maybe embellishing these plays and diving when it might not be totally necessary. Pillar is in good company, though. Even Jim Edmonds, himself known for dramatic, sprawling catches, had a rep for it. Blue Jays analyst Gregg Zaun even has a name for this particular phenomenon: TV dives. Search Twitter and you'll see people rushing to find out whether a particular catch was a TV dive.
Now, the last thing anyone should want to do is align oneself with perpetual baseball crank like Zaun, but I think I agree with him on this one?
Look at this moment here, right before the ball lands in his glove:
GIF via MLB.com
His right leg is still on the field, and he pushes off with it almost exactly at the same moment the ball is falling into his glove. Then he sprung forward into a fully horizontal Superman dive. Maybe he needed that extra bit of extension to get it, but then, why not just keep running? It's the equivalent of diving for first base, or making one final leaping lunge for the bag, instead of just running through it—it's easier and more efficient to just run. This, also like a dive after first, is way more dramatic, though.
And then look at the rest of the jump:
GIF via MLB.com

Look how far he went! For no reason! Even if you want to say that he had to dive to make the catch, he dove, like, ten feet to catch a ball inches away. Was this entertaining, and graceful, and athletically impressive? Yes, hell yes, and hell fucking yes. Was it a last ditch effort that he needed in order to make the play? I don't think so. And honestly, isn't that what makes those plays so exciting in the first place? That it was do or die? That the Blue Jays were going to give up two runs, and see their lead cut in half, unless Kevin Pillar did the impossible? We are splitting hairs here, of course, but it's not unreasonable to want your "Pillar's brilliant diving catch" highlights to be more function over form.
The thing that really bums me out, aside from being a grump complaining about a catch I could never make in my life, is that it takes away from the legitimately insane things this guy can do. If you watch the video, nearly all the broadcaster talk about how this was probably the best catch he's ever made. Watch this lateral diving sno-cone and tell me that's not a load of crap: