Crosby Hit Shows Limits to NHL's Concussion Protocol
The spotters didn't have the authority to pull Crosby from the game because his head hit the boards, not the ice.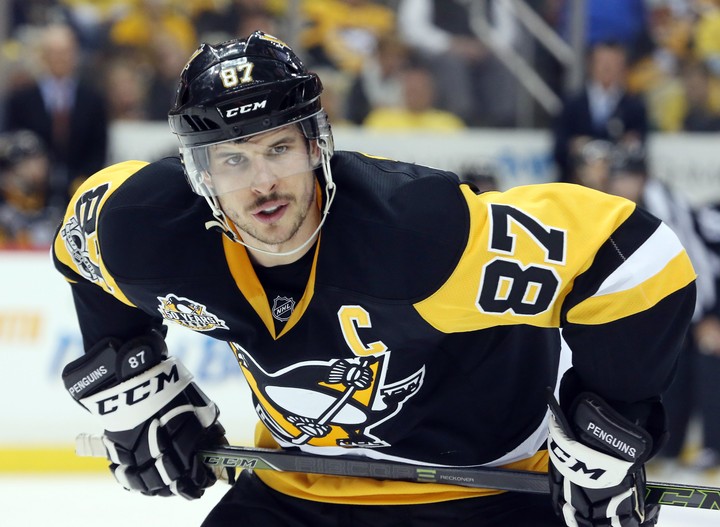 © Charles LeClaire-USA TODAY Sports
In the first period of Game 6, Sidney Crosby was checked by John Carlson and sent flying into the boards. It sure looks like he goes in head-first. After laying on the ice for a few seconds, he slowly got to his feet and skated gingerly back to the bench.
Despite checking off all the diagnostic boxes for potentially being concussed and requiring further examination—head impact, remaining on the ground, possibly dazed, generally lethargic and slow-moving—the NHL's concussion spotters did not pull Crosby from the game. Now, we know why, although the answer isn't particularly satisfying.
According to USA Today, the spotters didn't have authority to pull Crosby—who missed Game 4 due to suffering his fourth reported concussion—because his head hit the boards and not the ice. Why does this matter? I'll let NHL Deputy Commissioner Bill Daly field that one:
"The protocol has to be interpreted literally to mandate a removal. 'Ice' as compared to 'boards' is in there for a reason. It's the result of a study on our actual experiences over a number of years. 'Ice' has been found to be a predictor of concussions—'boards' has not been."
Is the NHL really formulating concussion policies over basic "correlation doesn't equal causation" fallacies? Do we really need to have a debate about whether Crosby's head hit the end of the ice or the beginning of the boards in order for him to receive proper medical attention?
In any event, Crosby played the rest of the game and, according to Penguins coach Dan Sullivan, never underwent a concussion evaluation.
If we take the NHL's explanation at face value and concede the spotters weren't permitted to pull Crosby, it still begs the question of why no one on the Penguins' medical staff put Crosby in the protocol. They were in the best position—medically and physically—of anyone given their knowledge of Crosby's history and position on the bench.
We all saw the hit at home and thought the worst, so it's instinctive to blame the spotters for not doing the same. But it also misses the larger point about why Crosby was allowed to continue playing.
No one is incentivized to care about Crosby's health. Not the league, not the spotters—who are employed by the league and, let's face it, are primarily there for PR purposes—not the coach, not his teammates, and not even Crosby (players have been known to flip a shit when pulled by a spotter). Even if the spotters were allowed to pull players based on any type of contact, I still would bet my money Crosby would have been out for the next shift.