Nonprofit Organizes Event to Show Support for Colin Kaepernick at NFL HQ
100 Suits for 100 Men, a nonprofit that helps parolees reenter the workforce is doing a solid for Colin Kaepernick.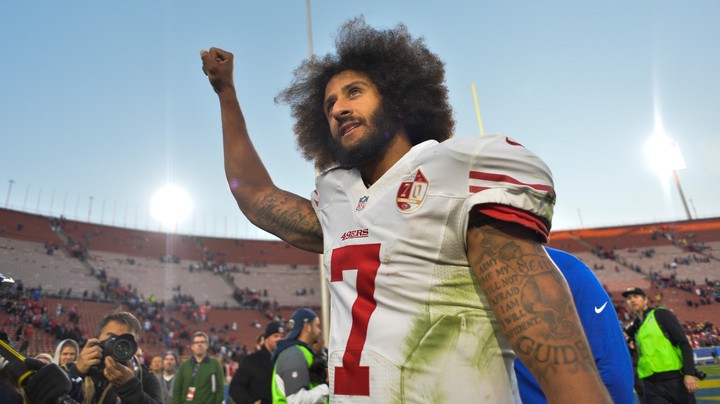 © Robert Hanashiro-USA TODAY Sports
Last month, Colin Kaepernick donated roughly 50 suits to an organization designed to help parolees. The free agent quarterback set aside some time to volunteer with 100 Suits for 100 Men, which works in conjunction with the New York State Department of Correction and Community Supervision and the Offender Reentry Task Force Initiative to make sure recently released prisoners are prepared to reenter the workforce by providing suits, mentoring, and other educational support.
Despite his not having a job right now, Kaepernick has become such a lightning rod in in the NFL that this became news at the time. Shortly thereafter, weirdly, stories began surfacing that questioned Kaepernick's commitment to the sport. Perhaps, anonymous NFL sources wondered, he would rather be a champion of social justice than of football. And perhaps that might explain why he has yet to find his way back onto an NFL roster after he parted ways with the 49ers in March.
League water mule Peter King floated the social justice theory on behalf of Kaepernick's former team, and the perennially late-to-the-party Jason Whitlock somehow made it into the Wall Street Journal ten days later to chime in, furthering his goofball theory that Kaepernick has been used by progressive Twitter users and that he is not on a team because owners don't want to come off as racist if he gets cut. Let that one bounce around in your head for a bit.
We can debate the reasons Kaepernick is not employed, but we can all agree that if he had not been discovered silently protesting the national anthem, and if he had not clearly and articulately explained why he was doing so, he in all likelihood would be on a team right now. This strikes many as fucked up, including the president of 100 Suits for 100 Men. So he's organizing a protest—though he is explicitly not calling it a protest—at the NFL office in Manhattan later this week, in order to show support for Kaepernick.
In an interview with ESPN, Kevin Livingston said the reason he settled on NFL headquarters was that "the league needs to see that Colin is being supported. And that we're buying consumers and that our dollars matter and I don't think it's fair the way he's being treated by the league. I just want to make that very clear."
"He stood up for us. It's only right that he took our issues in our communities and brought it to a national level and sacrificed salary and being ostracized by the NFL," Livingston told ESPN on Monday. "It was only right that we stand up for him. I started this, literally, when he came to my office -- I was moved. I work with parolees. People usually want to ostracize this particular population. Me working with him on the front lines and him coming to my office, this is not the first time I've worked with him.
"So I thought it was only right that I stand up for him."
Livingston made sure to say that he and his organization were not protesting the NFL, but rather showing support for, and solidarity with, Kaepernick. He is expecting about 40 supporters, so if you'd like to join them, head down to 345 Park Avenue Wednesday the 24th at 5:00 p.m.
[ESPN]