Damian Lillard is a Fashion Icon, Okay?
The Portland Trailblazer is crushing it in a three-piece suit with no shirt underneath and knows it.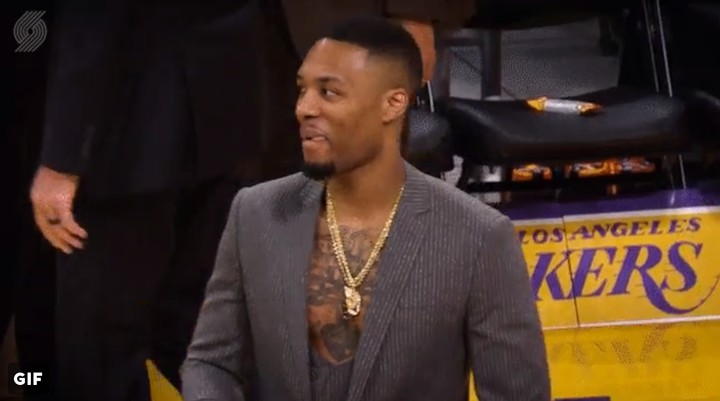 Screenshot via @trailblazers
There's a weird trend in sports where people feel obligated to dunk on players who wear something that isn't... boring as hell. When it comes to men's fashion, we often conscribe our creativity to "interesting number of stripes" or "fits nicely." These should be the jumping off point, and we should celebrate anything that splinters the box. But athletes have to be 'manly' in traditional ways, so let's clown on anything that falls outside of that, right?
If there's anyone out there at the frontlines of that battle right now, it's certainly Damian Lillard. Sure, we've gotten used to Cam Newton dressing like Darkwing Duck, and Russell Westbrook showing up to games wearing moccasins and a patchwork sack. And yet the world is trying to keep Lillard down.
That's where the shirtless three-piece suit comes in:
Check out those lines. The lapels are streamlined, it takes the whole T-shirt-under-suit-jacket vibe to a whole new level, and, yes, it's a nice number of stripes. Plus, its Tupac-style shirtless vest deal exposes his Oakland tattoo. All in all, it's a clean-ass look. And here we have the general populous taking up arms because they're afraid of coming perilously close to some male nip.
Dame didn't take any of the haters lightly, launching a small, but effective clap-back campaign:
Let's just get to this point: Dame is a fashion icon. You (likely) dress kinda boring. Look down at yourself. What are you wearing right now? Exactly.