The Bills Keep Finding New Ways to Rip Your Heart Out
After Buffalo made the bizarre decision to bench quarterback Tyrod Taylor, Nathan Peterman promptly threw five picks and the team got smoked by the Chargers.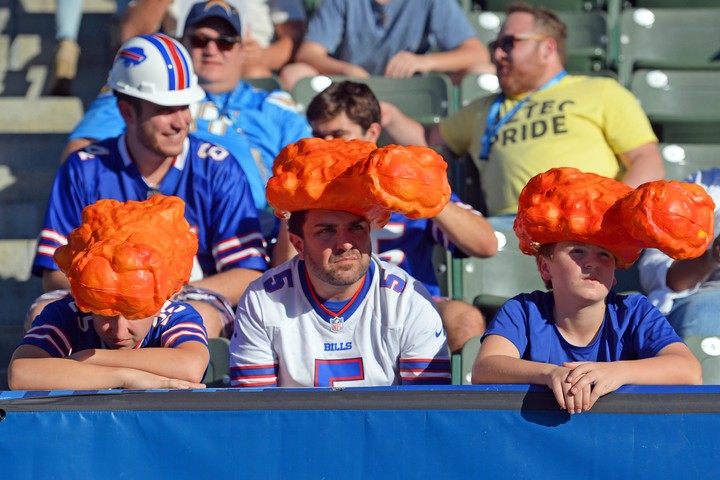 Jake Roth-USA TODAY Sports
It's impossible to ever fully understand the unique suffering that is the existence of a Buffalo Bills fan. The special torture that is cheering for a team that hasn't been to the postseason in 17 years and is best known for losing four straight Super Bowls. It's Lucy pulling away the football from Charlie Brown, only instead of crashing on his back he lands on a couch that's facing a TV set showing a Bills game.
Bills fans are trapped in a hell of their own choosing and can't bring themselves to leave the cult of sadness, so it's easy to understand why their coping mechanism is drunkenly doing backflips off car roofs and onto folding tables in parking lots in freezing temperatures.
Then the 2017 season got under way. There was a new coach, Sean McDermott, instilling hope into the shell-shocked fan base after a 7-9 season that saw Rex Ryan get fired. Through seven games, the Bills were 5-2 and looking like a playoff team. Sure, the Bills have done this before, but this time it would be different.
Then they got drubbed by the Jets. Then they allowed six rushing touchdowns to the Saints.
Suddenly, the rising Bills were 5-4. This was trampled territory for those who cheer on the Bills, with a brutal schedule on the horizon but hey, there's a winnable game this week, and if Buffalo can beat the Chargers, they're 6-4 and in a playoff spot with six weeks remaining.
And so, as if he were desperate to prove he could fit in with the organization's motto of Ripping Your Heart Out Since 2000, McDermott benched his starting quarterback, Tyrod Taylor, for rookie Nathan Peterman, a 2017 fifth-round pick from Pittsburgh, a school best known for not being Penn State. One week after allowing 11 billion rushing yards to the Saints, McDermott decided Taylor's 93.5 passer rating and 47-to-15 touchdown-to-interception ratio during his Bills career was the problem.
After a 30-point loss at the hands of the Chargers on Sunday, which included Peterman throwing five interceptions in the first half and completing six passes, what will McDermott determine is the problem after watching the film this week? Will he fire an equipment manager because the game balls were too shiny? Will he demand the traveling secretary be replaced by a hot-dog vendor? Will he remove all toilet paper from the practice facility because he wants his players to think their shit doesn't stink?
None of those things would be as stupid and destructive as what McDermott did with his quarterbacks this week for seemingly no other reason than he is an instrument of anguish for Bills fans, sent from a circle of hell inhabited by the devil himself and eventually O.J. Simpson.
McDermott didn't just derail this season; he likely did irreversible damage that will haunt Buffalo for years to come.
Peterman was set up to fail in his first start. The Chargers entered the day with a top-ten pass defense, so expecting anything other than a resounding loss would have been delusional. A deflection, two collapsing pockets, and one miscommunication led to Peterman's first four interceptions. Only an oversized ego on a man desperate to show he's the smartest person in the room could force Peterman back on the field to throw a fifth interception in the first half, and that's exactly what McDermott did.
If McDermott's coaching style were a meme, it would be the dog in the restaurant surrounded by flames saying, "This is fine."
This usually would be par for the course for Bills fans—seriously, if you see one on the street today, ask if they'd like a hug—but McDermott scorched the earth.
---
---
At 5-5, the Bills aren't exactly done, but they've found a way to make 5-5 seem hopeless. They've got two losses on the schedule coming at the hands of the Patriots, and you can be sure the Bills will lose one of their other four remaining games, probably as soon as this week when they visit Kansas City. Maybe the outcome Sunday would have been the same with Taylor under center for four quarters, but there was no other way it could have gone with Peterman starting.

The Bills tricking everyone into thinking they are for real in September and October only to pull out the rug in November and December isn't new, but McDermott proved he is an innovator.
While scorching the earth, McDermott burnt any meaningful bridge to Taylor. Even if he returns the reins to the quarterback this week in a desperate attempt to save the season—although what would be the point now?—it has to be inevitable that the team and Taylor part ways in the off-season. The stubbornness of benching Taylor—only the third Bills quarterback with a winning record since Jack Kemp retired in 1969—will go down as the second most stubborn act in the city of Buffalo's history behind refusing to admit that buffalo wings are overrated and the worst possible way to ingest chicken.
On top of that, what does a five-interception debut do to Peterman? The only other rookie to throw five picks in his debut was Keith Null, who either accomplished the feat in 2009 as a Ram or is a name I completely made up because you certainly don't know the difference. Do you think it's a good sign for Peterman that you have no recollection of Null (a real person) because his career was over three games after his five-pick initiation?
If McDermott reverses course and starts Taylor again, how do you start Peterman after that? If you go back to Peterman right away, how does he take the field next week in one of the toughest stadiums in the NFL with any confidence in either himself or the coaching staff to stick with him if he falters? What is the opposite of setting someone up for success?
In a way, McDermott has proved himself to be the ultimate Bills coach, as he has taken a page out of the Bills fan playbook by trapping himself in a hell of his own unnecessary creation.
Bills fans always had one thing that seemed untouchable—the idea that things could be better next year—but McDermott invented a way to take that away from them, too.