Darren Till Dominated Donald Cerrone
It took him less than one round to overwhelm Cerrone and punch his ticket into the division's top 10.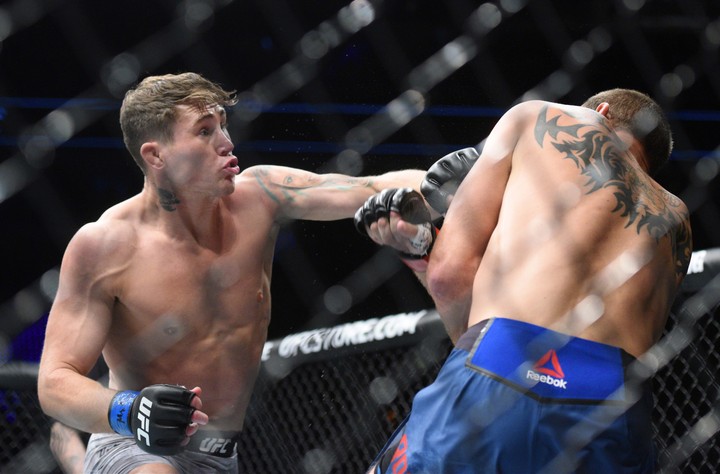 Per Haljestam-USA TODAY Sports
On Sunday night the Polish MMA promotion, KSW filled a stadium in Dublin for its biggest and perhaps looniest event to date ,complete with No Contest and World's Strongest Man, Marius Pudzianowksi. On Saturday night the UFC joined in to make an unofficial Polish fight week by heading to the port city of Gdansk for a Fight Night card. The UFC's card was largely lackluster, with the main card being entirely filled out by Polish fighters in showcase fights. The most egregious of which was the three round co-main event in whichtop ten ranked women's straw-weight and one time title challenger, Karolina Kowalkiewicz took on UFC debutant Jodie Esquibel.
The UFC's main card was hard to get through with each bout offering a meat-and-potatoes kickboxing match that looked as though it were lifted off a UFC card from ten years ago. Without fail each fight contained two fighters running in, pumping their hands alternately, with little subtlety. And then we were treated to an MMA first when Devin Clark swung, missed, and fell into a standing rear naked choke against Jan Blachowitz—a sequence that you won't see outside of Steven Seagal movies.
But when Darren Till hit the ring, the whole evening suddenly seemed worthwhile. In under a round the scouse striker put Donald Cerrone through the ringer and stamped his ticket to the welterweight division's top ten. The destruction of Cerrone was every bit as impressive as Jorge Masvidal's earlier this year, but accomplished in a much different way.
From the outset, Cerrone began to look for his step up left low kick—something he uses extensively against southpaws. It pairs particularly nicely with the right high kick immediately afterwards and this is something his team-mate, Carlos Condit does quite a bit too. But Till immediately retracted his lead leg and as Cerrone's naked power kick flew past, he found himself badly out of position. Till applied the pressure as Cerrone recovered his stance and suddenly they were on the fence. With Cerrone's back foot to the fence and nowhere to retreat, the fight began to take its shape.
Along the fence, Till held his distance and showed feint after feint to draw reactions out of Cerrone. Cerrone telegraphed a couple of ducks at Till's hips and suddenly Till was finding the uppercut.
We discussed Till's extensive use of feints in our preview on Friday, and they showed up here playing a vital role. Till will pump his shoulder and then fire through a legitimate left straight, or flick his hips to force a reaction before trying to capitalize on it, or simply feint to keep his opponent on edge. Along the fence the loss of retreat drastically limits a fighter's defensive options and feints play havoc with the trapped fighter's composure and force him to show his hand. Within two minutes of this fight Cerrone was breathing through his mouth and the moments where he was allowed away from the fence for more than a few seconds were few and far between.
Cerrone's loopy hands were largely absent in this fight—on the one occasion that he was flustered enough to try to punch his way off the fence Till almost caught him with that dangerous left hand from the open side.
When Cerrone attempted to kick off the fence, he was met with a left straight which quickly deterred him from trying again.
In dire straits, Cerrone went back to that step up left low kick. When Nate Diaz had walked Cerrone down in 2011, shooting left straights down the pipe, Cerrone had found out late in the second round that he could use the outside low kick to buy time. Of course, everyone in the fight game now knows that Nate Diaz will always be ultra-susceptible to low kicks because of his stance: they often knock his lead leg straight across him and force him to reset or even knock him off his feet.
Till, however, does not stand in a bladed stance, with his lead foot turned in and his hamstring presented to the opponent. Each time Cerrone tried to use the outside low kick to let off some pressure, it was caught and a left straight flew back up the centre as he was stood on one leg.
Another aspect of Till's game that looked sharp throughout this fight was his jab. As a southpaw Till should have had to contend with Cerrone's lead hand when jabbing, but through good handfighting, feints, and dropping his lead hand below Cerrone's vision, Till could sneak through crisp jabs that drew flinches and overreactions from Cerrone in the later going, and raised his head for the left straight in combination.
The finish came with just forty seconds remaining in the first round, but the action had been entirely one sided from the outset. Cerrone was sent wobbling by a stiff left hand and Till closed for the finish, flurrying against a shelled up Cerrone. Those unfamiliar with Till before this bout might have looked at his record and noticed that in the UFC he had only achieved one stoppage in four bouts. Till's fights haven't been short on occasions when he has hurt his man, but similar to a young Lyoto Machida, he seems to struggle finishing the job. A close look at his finish against Cerrone will reveal that his rushed blows mostly connect on Cerrone's shoulders or back, but it would be hard to argue that Cerrone was "intelligently defending" himself.
After the post-fight shenanigans that unfolded in the cage, fight fans are now buzzing for a match between Darren Till and 'Platinum' Mike Perry. Perry has been bamboozled by movement and long range kickboxing before, and often relies on simply leaping in on opponents who have never shown the same ability to manage distance that Till has. But with that being said, power is power and Till does like to fight with his chin up in the air. A more compelling tactical matchup for Till might be Stephen Thompson. Whether he wins or loses in his upcoming bout with Jorge Masvidal nobody wants to see Thompson versus fight Tyron Woodley a third time just yet. Till and Thompson share a lot of the same looks on the counter but have very different kicking games which could either make for a interesting clash of styles, or another staring contest.
Perhaps the next logical step for Darren Till in terms of testing what he's really made of would be a match against a strong wrestler. It was alarming how easily Till shook off Cerrone's takedown attempts, but Cerrone's wrestling often benefits from the element of surprise as he is known almost entirely for his striking. It would be fascinating to see how Till can handle himself against some of the stronger pure wrestlers of the division. Whatever the case, Till is now in a position to take any number of compelling, big name matchups in the welterweight division and each brings its own promise of excitement.
Pick up Jack's book, Notorious: The Life and Fights of Conor McGregor .